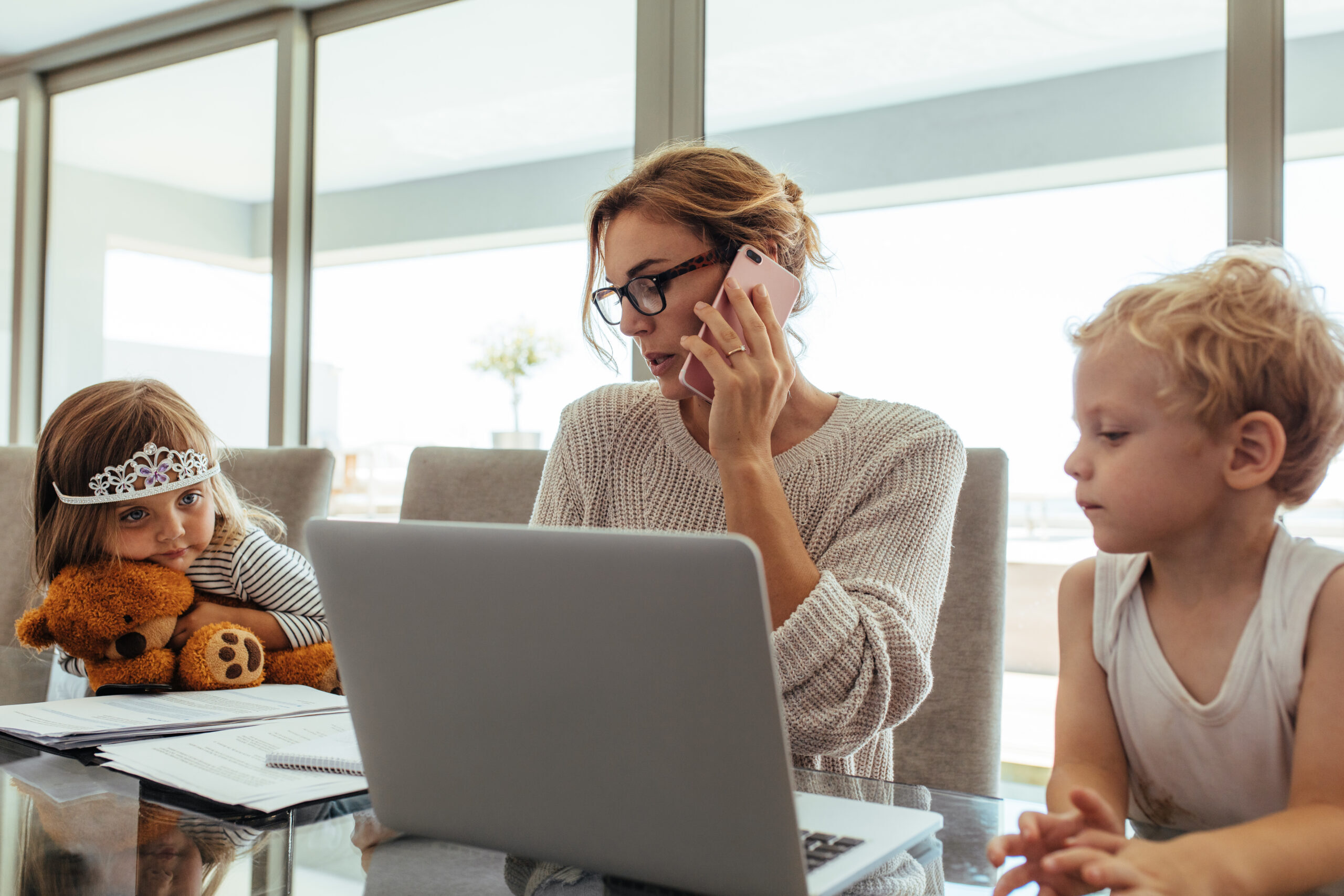 Many parents and guardians right now have been given the option – or a directive – to work remotely. They set up a corner of a spare bedroom as an office or set up shop at the kitchen table. They connected to the company's virtual network. They created a nice backdrop for video conferences – or chose a cool "virtual background" through Zoom.
And then… the schools closed.
Now, people everywhere are facing packets of work for their kids to do during the closing – along with their normal job duties as a worker, now expected to be performed remotely.
You thought the toilet paper panic was bad?
"How am I supposed to homeschool my kids while I work from home and be productive? And then there's Netflix. And the refrigerator. And the cat keeps climbing onto my lap.

HOW DO WORK-AT-HOME PEOPLE DO IT???"
Speaking as a work-at-home veteran of 19 years – 11 of those with children and all of those with persistently cuddly pets – it can be done.
Relax. Breathe. We will all get through this.
Create a schedule.
I'm really – really – not a strict schedule person but I can tell you, it will help. You may find it easiest to use micro-scheduling and divide your day into 10- or 20-minute increments. Or you can just create a loose outline:
First, we will eat breakfast, then we will do morning work, then kids get a break and screen-time while mom gets some deep work done, etc. etc.
Make sure to save time for the whole family to play outdoors, dance, or do some form of physical activity and exercise. That's important. And make sure to leave plenty of breaks for snacks.
Expect the Schedule to Go to Hell in a Handbasket
I know I made fun of schedules in my last post. But I'm not saying don't have one – I'm saying expect it to fall apart to some degree. It probably will. That's okay.
Mine did on the first day. Today, we opted for no schedule at all. No schoolwork got done, much Fortnite was played, and my daughter even decided to build a Leprechaun Trap. So yay, creativity!
If (or when) your schedule falls apart, just pick up at the next time increment or choose the most important thing you (and the kids) need to do that day and get it done.
If you can't even make that happen, extend exercise time. Play a game together. Bake. (Kids use math, measuring, and fine motor skills in baking!)
Be Flexible.
In a worst-case scenario, you can always stay up late and get your work done. It's not ideal, but it's 11:49 PM on a Tuesday and here I am writing this blog post for you.

A few moms have confessed to working during the day, leaving their kids mostly to their own devices, and doing schoolwork in the evening.

Depending on how much flexibility you have (or don't have) as a remote worker, it might make sense to flip that schedule around and get the kids' work done first.

Personally, even though I can work whenever I want, I like to get the kids' work done first. I find it much harder to get the kids back on track for school work after they've been playing all day.
Make a Plan for Work That Needs to Get Done – Theirs!
I am trying to teach my kids that the sooner you get your work done, the sooner you can focus on other things. If you're keeping a relatively normal daily schedule, I highly recommend starting the day with some easy worksheets, computer learning games, or even reading quietly to themselves.
You can use that time to check your emails and determine if you have any urgent work matters that will need phone calls, video conferences, or "deep work" time for the day.

Savor your coffee. You're five minutes into your schedule and you're doing this! 
My kids like to eat a late breakfast, so we'd do some work first and then they'd eat.
Next, I'll get them started on some of the more complex schoolwork for the day. Parents with younger children can get the kids set up on a fun and engaging activity – kinetic sand, play-doh, drawing, coloring, playing with blocks, or educational computer or mobile games. It's also a great time for them to Facetime Grandma.
While the kids do their harder schoolwork, I'll do "light" work – maybe uploading blog posts, copyediting, sending invoices, reaching out to clients via email, administrative work, SEO, social media, or checking in with the GTG team to see what we have on tap for the week.
For teachers who are staying home, this could be fielding emails from parents or students, answering questions in Google Classroom, grading papers, or scheduling notifications to go out for the rest of the day.
I put grading papers in this category because even though it's not exactly mindless work, you have natural breaks in between each paper. It may take longer to get it done, but you can be there for your kids and it won't interrupt your workflow.
My kids will know they can interrupt me if they have questions about their work – which could be math, science, or writing. The harder subjects.

The work I'm focused on is not urgent and not deep. No phone calls or video conferences, because this is the time where you are there for your kids but still being productive as a remote worker.
Depending on how much work your kids need to get done, you may want to schedule exercise breaks, snack breaks, or short family game breaks (a round of Uno?) in between subjects, much as you'd hang out at the water cooler or grab a cup of coffee at the office.
Make a Plan for Work that Needs to Get Done – Yours
Every job has some duties that require "deep work," uninterrupted time to get things done. For teachers, this may be developing lesson plans, taking calls from parents, or even making explainer videos for your students.
During this time, homeschool is OUT! They are dismissed (for now)! Send your kids in the backyard to play if you can. Let them watch a movie or play video games.
It's reasonable to expect 45 minutes to an hour of uninterrupted quiet time so you can finish your deep work – ideally, two to three times per day. If your kids are younger, expect just 20 minutes of quiet time a few times a day.
Disney+ is running Frozen 2, so that may buy you a solid 1 hour and 43 minutes – but probably not.
If you have very young children, you may have to reserve your deep work for nap time.

It's not you. You are doing everything right. Some kids just will not leave you alone – and if they aren't used to having you home during the day, they are probably excited to see you.
If you have to take phone or video calls during this deep work time, you may want to explain to the person on the other end that your children are home due to schools being closed.

Chances are, their kids are home, too, and they are also doing their best to navigate the situation. People should be a bit more understanding during this difficult time.
Reward Good Behavior
If your kids make it through a full 20 minutes, 45 minutes, or longer without fighting or interrupting you, give them a treat. This could mean they each get to pick a movie or family game to play. I'm not above bribing with money or VBucks for Fortnite, either.
You may decide that ALL the kids have to behave in order for any to get a reward, putting peer (sibling?) pressure in your favor. Or you can reward them individually. Since my kids are inherently competitive, I would offer separate rewards.
Set Them Up for Success
Before you attempt to work-at-home while homeschooling your children, it's important to set them up for success, so they can be relatively self-sufficient with as few interruptions as possible.
Make sure children can access healthy (or not-so-healthy) snacks on their own. You can even pre-fill sippy cups for toddlers and place them on a low shelf in the refrigerator so they can grab them and you won't have to fill cups or open juice boxes.
Make sure they have access to the TV remote and know how to choose their favorite shows or pick the shows they want on a mobile device. Even children as young as two or three can learn this skill.
Make toys and games easily accessible. They might pull out a bunch of toys that you will all need to pick up together at the end of the day.

That's okay. Don't stress about "putting away one toy before they take out another," or you will spend your day cleaning the playroom and not working.
Create an End to Your Day
When you work from home, work tends to bleed into every part of your day. Set a definitive end time for work shortly before dinner. Spend the evening relaxing with your kids, doing chores around the house, or however you may normally spend this time.

This will be harder if you're reversing your schedule to work in the evening, but consider your dinner time and evening family time as an extended lunch break. So, you might work from 2 PM to 5 PM, relax and hang out with the family from 5 to 8 or 9, and then get a few more hours of work in. It's not easy, but this has been my schedule for many years.

Even if you have to start working again after the kids are in bed, it's important to make sure you aren't working from morning until night every day. Take time for a family dinner. Take a bike ride together. Go for a walk.
As difficult as this is for everyone, it's also an unprecedented opportunity to slow down and savor your family.