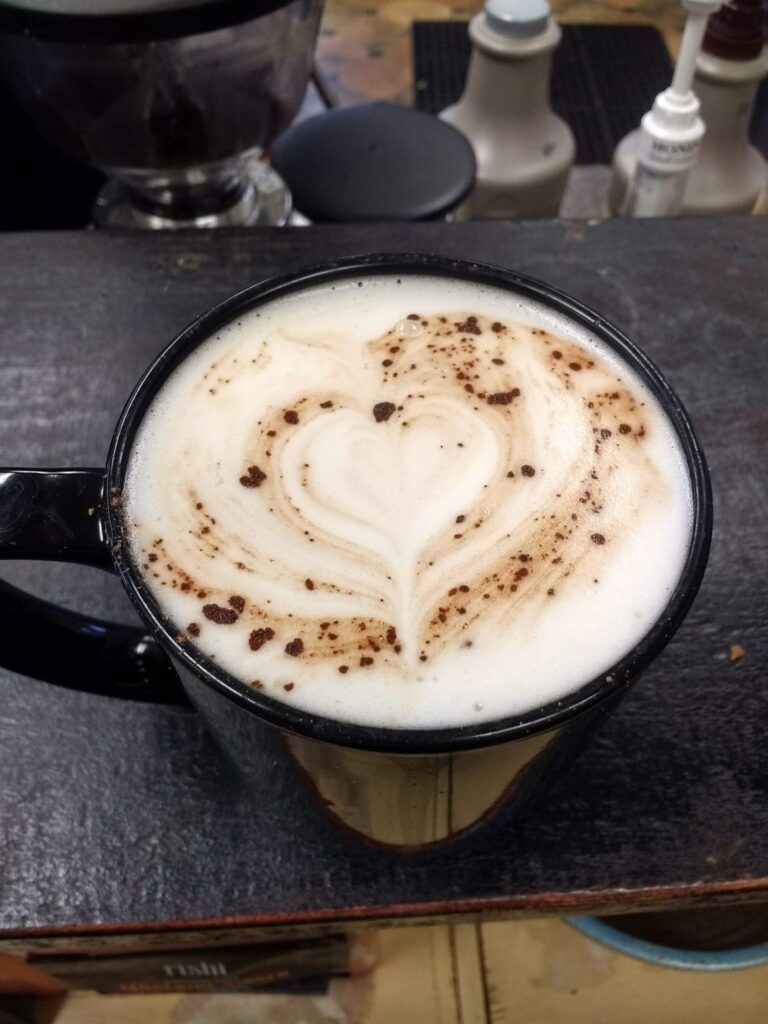 I've always been a cafe-hopper. I love the atmosphere and the way that each one I go to has something special as a local business. They're perfect for work, hanging out with friends, and relaxing.
Despite my cafe-wandering ways, I still have favorites. Somethin's Brewin' and The Better Bean in my Southeast Massachusetts community are two of the best local cafes I've ever been to. I've been going to both since I was in college, and I've watched them change ownership a few times.
Across multiple owners, the quality has remained consistent. They offer delicious sandwiches, pastries, and, of course, drinks from lattes to chai to smoothies. I've never had anything from either cafe that isn't delicious, and the portions are enough to fill you, even if all you get is a cup of soup.
During the pandemic, though, they've struggled, just like many other small businesses across the country. Jason Hebert, the owner of both cafes, shared with me how his way of doing business at The Better Bean and Somethin's Brewin' has changed in the face of COVID-19 and how his customers have responded to these changes.
Who Are They?
When I talk about how The Better Bean and Somethin's Brewin' are my favorite cafes in Southeast Massachusetts, I say this having been to many in the area. But TBB and SB are the only places I've been able to really settle in, as far back as my college days when I'd take up residence at a table between classes. Now, I grab a table, take out my laptop, and write from the time I get there until they close.
The Better Bean and Somethin's Brewin' have nearly identical menus, complete with sizeable sandwiches; a soup of the day (my favorite is potato leek); avocado toast piled with tomato, spinach, and vinaigrette dressing; delicious pastries; and too many drinks to name.
My go-to sandwich is the Vermonter—it's got smoked turkey, cheddar cheese, lettuce or spinach, honey mustard, and (stay with me) green apple. If you're ever in town, try it—it's worth it.

Most of the time, I order an iced vanilla chai along with it, and if I'm there long enough, I even get a raspberry square or peanut butter bar. The thing about these cafes is that you might go in hungry, but you'll never leave that way.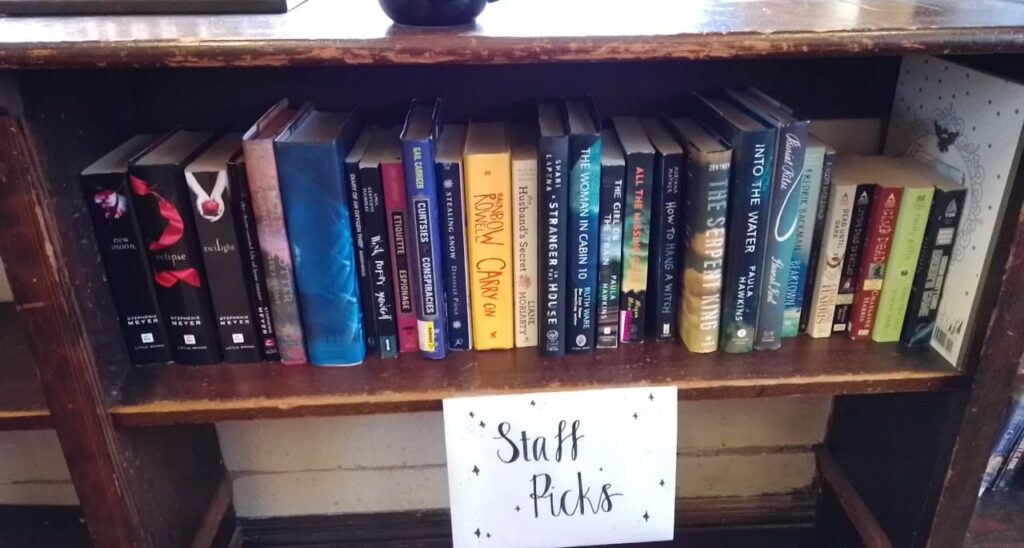 But what really makes these places special is their employees. I've seen tons of new people come to work at The Better Bean over the years, though now I frequent Somethin's Brewin' more often. In the months before the pandemic forced them to close their doors, I'd started talking with the baristas and trying to learn everyone's names. That's a big deal for me, and it speaks to the friendly, attentive service Hebert's employees provide. They do everything possible to make sure you're comfortable, that you get what you need, that your food and drink are exactly what you ordered.
Many people in the Bridgewater area know The Better Bean as a community staple. They provide plenty of coffee for the Bridgewater State University students and staff next door, and the artsy atmosphere and chill vibe keeps you coming back.
In 2019, Hebert acquired Somethin's Brewin' in Lakeville, extending their excellent service beyond the college town. Sometimes, you'll see Better Bean staff at Somethin's Brewin', but most of the time, you see the same faces—which isn't a bad thing.
I've spent hours of my life raving about both cafes and taking my out-of-state friends there when they visit, just to show them these places I love so much. Small businesses like The Better Bean and Somethin's Brewin' show how important it is to support these places. You simply can't get food, coffee, or service like this at chain coffee shops.
What's Changed?
At the end of March, The Better Bean and Somethin's Brewin' began offering contactless delivery services. You can order by email and they'll invoice you after you receive your order. They drive out to where you live (within reason, though they're known to go a few towns away to bring you great food), and you get a box of sandwiches, pastries, quiche, and anything else on their modified menu.
When asked what other changes they've made, owner Jason Hebert says, "We've scaled down our team to a skeleton crew of two, pared down our menu options, and required customers to order a day in advance for next-day delivery."
Having used this system myself, Jason and Kelsey, the manager at both The Better Bean and Somethin's Brewin', offer friendly and efficient service with the tools they currently have. Even with just two people, all food prep happens safely at their cafe locations.
"Food safety is our top priority at both BB and SB, so it's always top of mind," says Hebert. "That said, the use of masks and contactless delivery have changed the paradigm somewhat."
While the method of delivery has changed, the quality of their food has not. Their menu may be more limited, but its items include some of their best options.
What Are They Offering?
Somethin's Brewin' and The Better Bean, while their locations are different, offer the same items. They have many of their delicious pastries, boxes of coffee and tea, and a limited selection of sandwiches and soups (yes, my favorite Vermonter is included).
"Our contactless delivery program is discounted, so we believe we're building some goodwill," says Hebert.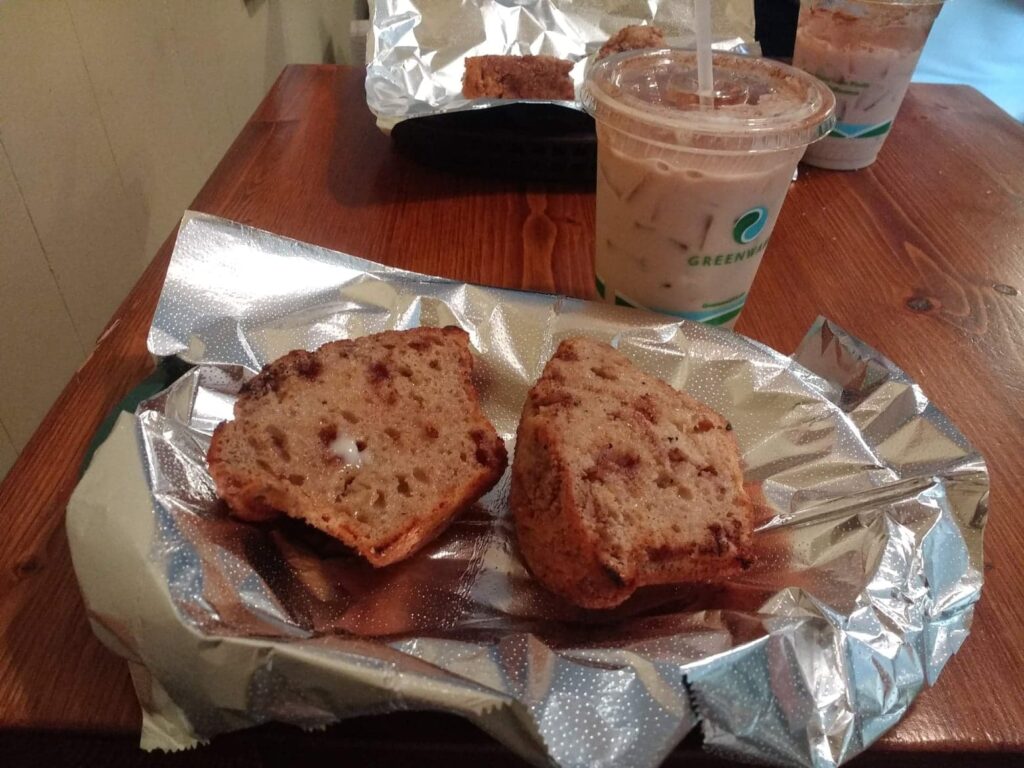 Both cafes are currently offering their menu items at wholesale prices. Their usual prices are reasonable as it is, but seeing small businesses like these consider their community during the pandemic shows that they care about the people who come through their doors. It's why I'm a regular customer—because the people running these cafes value their customers.
Right now, instead of single cups or bowls of soup, you can get it in batches and half batches. My partner and I always get a half batch, which equals out to about five or six cups—enough for a few good lunches for two people. Our favorite is the potato leek, a savory, perfectly seasoned, thick soup.
We've also ordered their spinach and kale quiche, assorted pastries, and some of their sandwiches. You can find the full menu on their Facebook page.
How Has the Pandemic Impacted These Cafes?
Like other small businesses across the country, The Better Bean and Somethin's Brewin' have felt the impact of the pandemic on their business.
"We chose to close the business and offer limited contact delivery service," says Hebert. "We thought that even if we offered limited counter service, it would still put our people at risk, and that was not something we were willing to do."
Hebert says employee health and safety is their priority, which led them to close and take the precautions they have even with contactless delivery. Hebert also said they have applied for business loans to support The Better Bean and Somethin's Brewin'. Applying for the SBA loans presented a new challenge for many small businesses to navigate during the pandemic.
"It was a cumbersome process," says Hebert. "Truth be told, in our experience, the greatest chance of success warrants an existing relationship with a bank, as well as having someone on the team who knows how to navigate an ambiguous process. We're very lucky to have both."
At the time of our interview, the cafe had been approved for funding, though they had not yet received it. Otherwise, the pandemic has created an entirely new way of doing business for these cafes, and business has slowed. They have advertised their new menu and services on social media, Hebert says, which has helped drive business. "It's been reasonably good," he says, "but volume is down significantly, which we expected."
How Can You Support The Better Bean and Somethin's Brewin'?
As we navigate the pandemic, many people wonder how they can support small businesses. With so many people currently unemployed, more are saving money and cutting back on eating out. But if you do decide to get takeout or delivery, supporting local businesses can help everyone.
The Better Bean and Somethin's Brewin', as staples in their communities, are no exception. If you'd like to support these cafes and you live in Southeast Massachusetts, you can place an order by emailing them at [email protected]. The process is simple, and Hebert and his team make every effort to accommodate your needs.
When I asked Jason Hebert how patrons can support them, he said, "They can remain positive, continue to social distance, and come back when we're open again!"
Why Support Small Businesses?
It's not just The Better Bean and Somethin's Brewin' that needs support during COVID-19. No matter where you live, your local small businesses are vital to the community and its network. Small businesses each have their own stories, and they connect with us more than any chain business can.
These cafes have scaled back a lot on ordering their supplies. They and many others order their coffee, produce, and other items from local businesses in the area, which means that if one local business suffers, so do the rest.
If we support one small business, we're supporting others, too. Small businesses offer opportunities and a unique experience you can't get anywhere else. It's not just cafes and restaurants. It's everything from auto repair shops to farmers to craft shops and more.
By giving them your business, you help them through the pandemic so we can continue enjoying their services and products. More importantly, you get the connection that comes with people who know and care about you beyond what you buy.
Do you have a favorite small business in your area? Tell us about them in the comments!