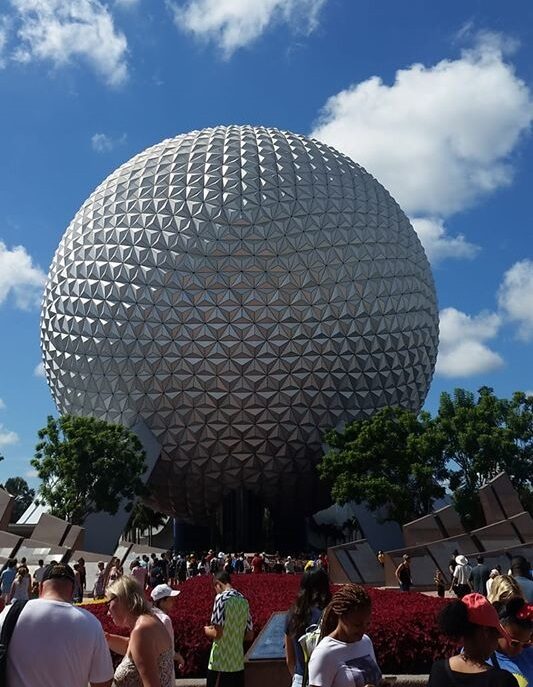 The other day on a bike ride, I asked my daughter, "What is the one place you want to go when we can go places again?"

Without skipping a beat, she said, "Target and Starbucks."

"Apple, meet Tree." ::bows:: I've raised a shopper with a caffeine addiction.

When I stopped laughing, I promised her a Deku Frapp and a trip to Starbucks. And then I realized that my children really don't ask for a lot.

I expected her to say another visit to Camelback or a trip to Kalahari or even Six Flags: Great Adventure, where we have season tickets. Maybe it's because we are still coming off winter so places like the beach or Adventureland, our local amusement park, aren't on her mind.

Or really – her desires are much simpler than I imagine.

Then I started thinking about all the places I want to go when the pandemic is over and we can start to travel again.

Maybe it's tone deaf to talk about vacations when so many people are unemployed or sick. But I don't think that's true. Instead, it's all about focusing on a better future.

Whether I'm planning for my next trip or just visualizing adventures that may not happen for years, travel is one of the things that keeps me going. It's one of the reasons I work as hard as I do.
It's my passion and one of the reasons I launched this website.
I believe in "experiences over things." Thinking about trips I could take in a theoretical, maybe not-too-distant future, gives me a reason to keep working, keep healthy, and follow the rules so this may all end by summer.

It's about finding the good… and I will never stop dreaming. I hope all of those reading this feel as I do about keeping dreams alive, setting goals, and working toward them.

If you, too, are thinking about your next trips, here is my list of pre-pandemic "happy places." Please share your "happy places" in the comments – maybe we'll be able to put together travel tips or deals to help you plan!
Target
Realistically, I'm not going to jet off to Kartrite Resort and Waterpark or even Six Flags: Great Adventure the first weekend we are set free.

A trip to Target where I can actually browse – not get in and get out following a carefully cultivated list – seems pretty close to heaven right now. Who's with me?
Belmont Park Bike Trails
Theoretically, we could ride our bikes on the trails right now as a family. But they're tight under the best of circumstances and usually crowded. So it's street riding past our neighbor's houses, counting rainbows and looking at sidewalk chalk drawings for now.
Kalahari Resort & Waterpark
Another water park trip was not in our vacation plans for the near future. But we visited Camelback right around the last weekend that it really felt safe to travel or be around large groups of people – before we had a clue what we were in for. I am very glad we did as it had been a while since our last family trip!

I often describe Kalahari Resort as the "Disney World of the Poconos" due to the quality, cleanliness, and immersive experience the park provides. The prices reflect that quality, but I have a feeling when this is over, hotels and resorts will be offering crazy deals to try to recoup losses while people may still be hesitant to travel or may have less money for vacations.

These local resorts missed a peak season with Easter break, and it's important to get back to supporting the travel economy, including hotels and resorts, as soon as possible once the pandemic is over.
Six Flags Great Adventure
Only three hours (give or take) from Long Island, Six Flags provides my theme park escape when we can't make it to Disney World.

Plus, Six Flags just upgraded all membership passes to the next tier, so Gold members get Platinum status and Platinum Members get Diamond Status for whatever remains of the season once they re-open. I suspect if theme parks don't re-open before summer, they may extend the deal further to keep pass holders happy.

I appreciate that they are taking steps to make customers happy, especially since many are locked into a membership or season passes for a set amount of months and can't cancel.

We were ready to cancel our membership when they made this offer, and the perks convinced me to stick it out.

Since I purchased Platinum memberships for the price of Gold in December 2018, we'll be enjoying steeper discounts, skip-the-line passes, free ride photos, and a lot more. It would be silly not to take advantage of as many of these perks as we can!

I'm especially looking forward to checking out the Diamond area – kind of like a little VIP section – at Hurricane Harbor waterpark, even though last time we went the park was ridiculously crowded and way too hot, with no sun shades so the only relief was when you were in one of the pools or on a ride.
Myrtle Beach, South Carolina
I love everything about Myrtle Beach, from the kitschy shopping at Broadway on the Beach to drinking wine slushies and, of course, the beach itself.
I want to eat at The Giant Crab buffet, visit Ripley's Believe It or Not museum, and ride the moving sidewalk in the Aquarium. I'm hoping not to see too many closed storefronts in the area if we make it down this summer. Their tourist season kicks off during April break, so there is still time to recover.
Walt Disney World Resort
This one kind of goes without saying. We skipped Disney World last year to visit Universal Studios, instead. And I have no regrets about that because we had so much fun. But then Disney closed, and knowing that I can't visit it right now (well, can't visit anywhere but that's kind of beside the point) is kind of killing me.

Disney World is my ultimate happy place and even with Epcot under construction, it's always worth the trip. Dan Kline, host of the I'm Bored Podcast (among many, many other endeavors) says I have to experience Star Wars Rise of the Resistance at Hollywood Studios. It's going to be a long wait until August.

Where would you go right now if you had the permission and the means to go anywhere?