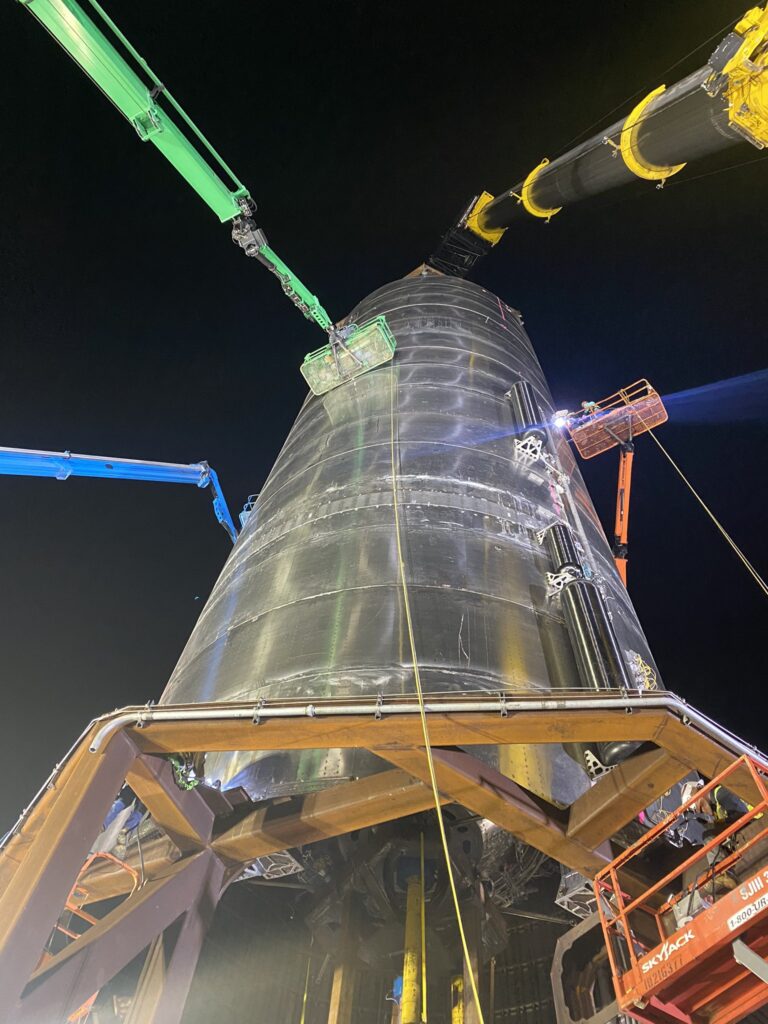 A week has passed since SpaceX's Starship SN3 collapsed due to a test configuration error. Basically, the lower liquid oxygen tank wasn't pressurized while the upper methane tank was full of liquid nitrogen.
Without that added rigidity, think: Unopened can of soda. You can stand on an unopened can of soda because the internal pressure adds to its rigidity and strength. Once you open it, it's only liquid and your weight can crush it.

SN3 wasn't able to hold the weight of the liquid nitrogen, which happens to be denser than methane. So that tank full of liquid nitrogen was heavier than the same tank would have been with liquid methane.

Elon Musk explained it in response to a question on Twitter:

As usual, a lot of people were eager to jump up and immediately criticize the whole Starship program. That's to be expected, as the Starship program is completely unlike any large rocket development program any of us have ever seen. We are also are seeing far more of the SpaceX Starship rockets being built than any rocket I can ever remember seeing – which opens SpaceX and Musk up to criticism simply because they are sharing so much.
It makes me laugh when the critics pop out of the woodwork trying to justify their opinions that, "This isn't how this is done." They really don't get what is happening.

First of all, failure is always an option at SpaceX. Pushing the envelope, failing, and learning, is how they will make things better. The best products are the ones that are tested extensively, going through several iterations and improvements until the manufacturer gets it right.
But the truth is, no matter how many setbacks SpaceX has… It doesn't matter.
SpaceX building a single Starship, or four, or five, at Boca Chica is really a side effect of the real project Elon Musk is building there. A functional, flying Starship is definitely a primary and necessary goal if he is going to achieve his ultimate objective of getting to Mars in his lifetime.

But the number one priority is to build a Starship Factory.
Elon wants the capability to build a Starship a week out of Boca Chica. Seeing the rapid appearance of SpaceX Starship SN4 after the collapse of SN3 is a sure sign that they are on the right path.
You can also see three additional bulkheads near completion toward the end of this late night video on the NASASpaceflight YouTube channel:
I want to see a Starship, any Starship, fly as much as any SpaceX fan. And the sooner the better.
I'm still hoping to see a stripped down Hot Rod Starship make a flight to Phobos this Summer. If that can't be done, seeing that hypothetical Hot Rod Starship land on the moon before the end of the year would also be fantastic. There are a lot of factors holding back flights and production right now, admittedly.
But making a Starship – as important as that is – isn't as critical as getting the Starship Factory up and running. If a few prototype Starships are lost before one actually flies, it's not going to matter in the long run. Keep in mind, "the long run" for Starship mass production is looking to be about a year, even considering all the other factors to account for.
Now for the speculation fun…
There are an awful lot of Starship parts here and there at the Boca Chica site. There's the outrageously visible MK1 upper section, the SN2 test tank, something like three other nose cones that have been spotted, plus enough ring segments appearing and disappearing to probably build two or three more Starships. The landing gear section of SN3 was moved back to the yard while the thrust puck section of SN3 is still next to the launch platform.
So…
Thrust puck section from SN3, a few rings, SN2 test tank, a few more rings, nose cone, a couple of header tanks, a week or two of welding with some rudimentary folding landing legs, along with the flight controls and miscellaneous hardware, and that Hot Rod Starship I would love to see could be a reality.

I know that a Super Heavy booster would have to be built and tested before that window to Mars opens up this summer. That would mean construction and testing would have to start any day now to have any hope of that happening. But that doesn't mean a fall lunar landing is out of the question for my dreamed-of Hot Rod Starship. It is probably not in the works, although no one really knows for sure.
But it's fun to imagine.

Even in these uncertain times, innovation continues to happen and, for SpaceX fans, the fact that the SpaceX team just keeps putting together rings and other parts in tents in Boca Chica gives us hope for the future that is needed more than ever right now. It's exciting to think about what will be learned and what progress will be made as production on SpaceX Starship SN4, SN5, and beyond continue.