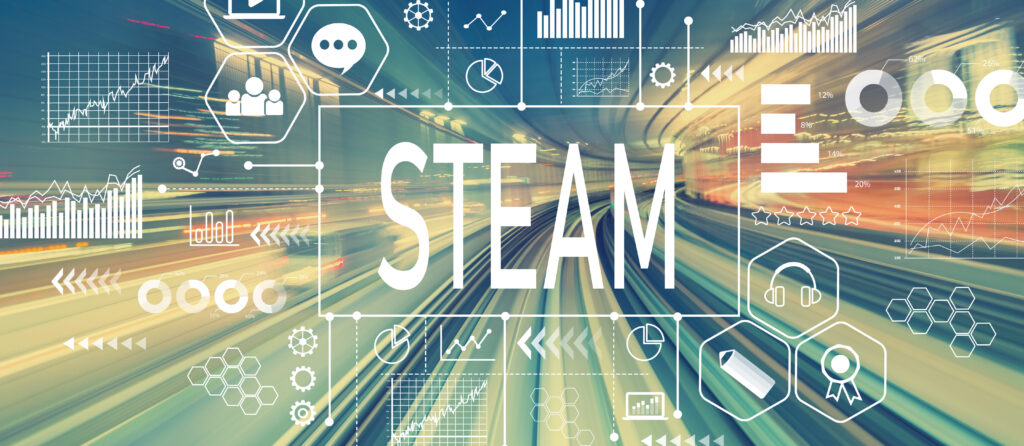 By Monica Herald

As states begin to reopen, some businesses are also inviting customers back in. But entertainment venues remain in the final phase of reopening for most states, which means it could be a while until we can visit our favorite museums again.
Here are Geek Travel Guide's recommendations for six of the coolest, STEAM-focused museums around the United States offering virtual tours right now. Our selections are great for children and adults, alike.

Check them out and maybe use the virtual tours as inspiration to select the destination for your next real-life trip!
New York Hall of Science Museum (Queens, NY)
Constructed for the 1964 – '65 World's Fair, the original New York Hall of Science building still stands today. The collection boasts more than 400 exhibits designed to offer hands-on experience with Science, Technology, Engineering, Arts, and Math, aka STEAM.

Online, the museum has curated exhibits such as "The Science Behind the News: COVID-19" and tons of resources for at-home learning.
The resources are organized by age group (Pre-K-Elementary, Middle School, and High School). There are ebooks exploring the role of science in convictions (any true crime buffs out there?), digital interactive comic books, and more than 10 video Maker workshops you can do with your kids at home.
My favorite is the DIY lightsabers, which teaches a lot of hands-on information about electricity.

Instructions are available in English and Spanish for most projects.
Nikola Tesla Museum (Serbia) / Tesla Science Center (Shoreham, NY)
The Nikola Tesla Museum exemplifies what is great about museum virtual tours. The museum is located in Serbia, which means most GTG readers would not have the opportunity to visit it in person. But the museum has gone above and beyond to provide an insider's look at not just exhibits at the Serbia location, but within the Tesla Science Center on Long Island. (Not to be confused with Tesla electric vehicles or the Tesla EV showrooms scattered across the island.)

The tour of the science center is, hands-down, the ultimate virtual video tour because of its interactive elements. Instead of someone else controlling the experience, you can click to any point in the lab and you'll zoom right there to explore. It's the next-best thing to transporter technology we are likely to see in our lifetimes.

The museum streams a video daily and also has several new exhibits available virtually, including some you can't see in the actual museum. The Serbian site is available with an English translation.
Children's Museum Houston (Texas)
Described as "A Playground for Your Mind™" the Children's Museum Houston will reopen with the safety of their guests in mind on June 5. The museum continues to offer their "Learn at Home" curriculum, which includes daily interactive activities on Facebook, Instagram, and YouTube.
If you're looking for a bit more flexibility with when you visit virtually, check out their free resources database, which has activities ranging from how to engineer wind vanes to making a light bulb out of pencil lead.

Ready to venture out and explore the exhibits in person? Review the list of FAQs for what to expect under new CDC guidelines for safety. Parents of children with ASD or similar processing differences should let staff know, so that all guests may enjoy a safe and comfortable experience.
Adler's Planetarium (Chicago, Illinois)
Are you passionate about the science behind the stars? If so, Adler's Planetarium, located in Chicago, delivers the perfect night sky experience straight to your desktop or mobile device. Adler's Planetarium has put together a great page with lots of options for a virtual visit, including a blog, virtual exhibits, and a podcast.
You can check out their YouTube Skywatch Weekly episodes, which run five to ten minutes. I found the videos soothing to watch; they use the same software as their in-person dome and so you see the sky "forecast," accompanied by a narrator explaining which stars and constellations are highlighted.

Adler's partnered with Google and has 12 online exhibits, spanning topics such as the Milky Way, Women in Science Communication, and one of their newest exhibitions, 13 Stories with Captain James Lovell. The exhibits, much like in-person ones, tell stories using text and multimedia.
Maybe you can see the stars from home, but Adler's Planetarium allows you to delve deeper into the science. You can also supplement your virtual visit to Adler's with a night-sky app for your phone for a hands-on experience.
Exploratorium (San Francisco, CA)
The Exploratorium, located in San Francisco, has a wealth of resources gathered for you to virtually visit. From experiments you can conduct at home, to informational videos, you won't run out of exhibits to check out.
My recommendation would be to explore by subject. They've categorized them on the left side of the page by content type and by subject. There is something there for everyone, whatever your age, whatever your interest.

I thought one of the coolest things was that a lot of the videos are "science snacks." They're short, informational, and if you want, you can go further with them. I looked at one that was about a fog chamber and then made my own fog chamber at home.
Smithsonian National Air and Space Museum (Washington, D.C.)
A trip to Washington, D.C., wouldn't be complete with a stop at the Smithsonian National Air and Space Museum. Like, a round-up of top STEAM museums across the country. The free museum's virtual resources provide incredible amounts of education, insight, and fun multimedia programming that surpasses even what you'd find inside the venue.

Click K-12 resources on the home page to tap into topics like Engineering and Technology, Flight, and, of course, Space. Take virtual 3D tours of aircraft or learn how to create a kite. It's all here.

With our country's renewed interest in space travel thanks to the collaborative efforts of NASA and SpaceX, the Smithsonian's National Air and Space Museum website is certain to keep kids captivated for hours.

Virtual Trip to Mars
It's not a museum, but with the U.S. so intensely focused on space travel right now thanks to the Crew Dragon Endeavor's successful flight, this virtual trip may inspire future astronauts.

A partnership between Google and NASA brings us a virtual trip to Mars based on a 3D replica of the Curiosity Rover's recording of Mars' surface. Until SpaceX makes Mars travel for ordinary citizens a possibility, this virtual visit is the next best thing to spark our imaginations.
Stay Tuned…
None of these virtual visits can replicate the in-person meandering and experimenting that happens during a real-life trip to a STEAM museum. However, they bring exploration home in a way that's accessible and affordable to more people.

The Geek Travel Guide team can't wait to start actually traveling again – and these 5 STEAM-focused museums are tops on our list. But we also hope virtual museum tours remain available as an alternative to bring these fantastic exhibits to anyone with internet access.

Keep an eye on GTG and subscribe to our newsletter to receive free weekly updates as theme parks, museums, and entertainment venues across the U.S. begin phased reopenings.

About the Author: Monica Herald works for a tech company by day and pens words by night. Most of her writing these days is as a content marketing writer, however, her work has appeared in print in publications such as Guideposts. Her first foray into online paid writing was in the early 2000s for content sites.
A lifelong geek, Monica grew up reading sci-fi and fantasy novels. She's spoken on panels at AwesomeCon and helped with programming for Capclave, two annual D.C. conventions. One of her most prized possessions is an Earthsea bookplate that Ursula LeGuin signed for her.