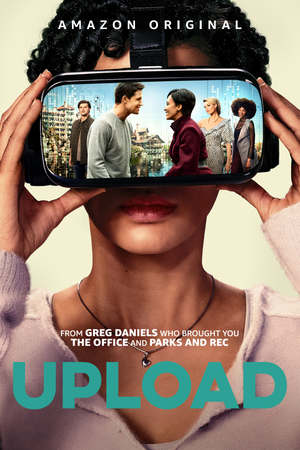 If you like your comedy sprinkled with sci-fi or your sci-fi with a pinch of humor, you're probably really stoked to watch Amazon Prime's Original, Upload. I was.

If you're a fan of the recently released HBO series Avenue 5, this near-future satire is probably on your radar.
The premise is simple. (Feel free to skip this if you already know the plot.)
Upload on Amazon Prime: Plot Synopsis (No spoilers)
The year is 2033, which isn't really that far away anymore. Yikes, right?

In this fictional version of the future, dying people make arrangements to upload themselves into a virtual afterlife. Instead of spending tens (or hundreds) of thousands of dollars on funeral arrangements, humans use their entire savings to choose their very best version of heaven.
Main character Nathan comes from a financially unstable family. His girlfriend Ingrid plays a Paris Hilton-type spoiled rich girl. When Nathan finds himself near death after a freak self-driving car accident, Ingrid rushes to his side as he's wheeled into the hospital.
Ingrid pleads with Nathan to "upload." His lungs are punctured. If he doesn't upload, he'll die – forever.

Without words, Nathan understands that if he's uploaded using Ingrid's account, he's tethered to her forever. He doesn't even know if he loves her yet, so the struggle to choose between eternal life and death is real.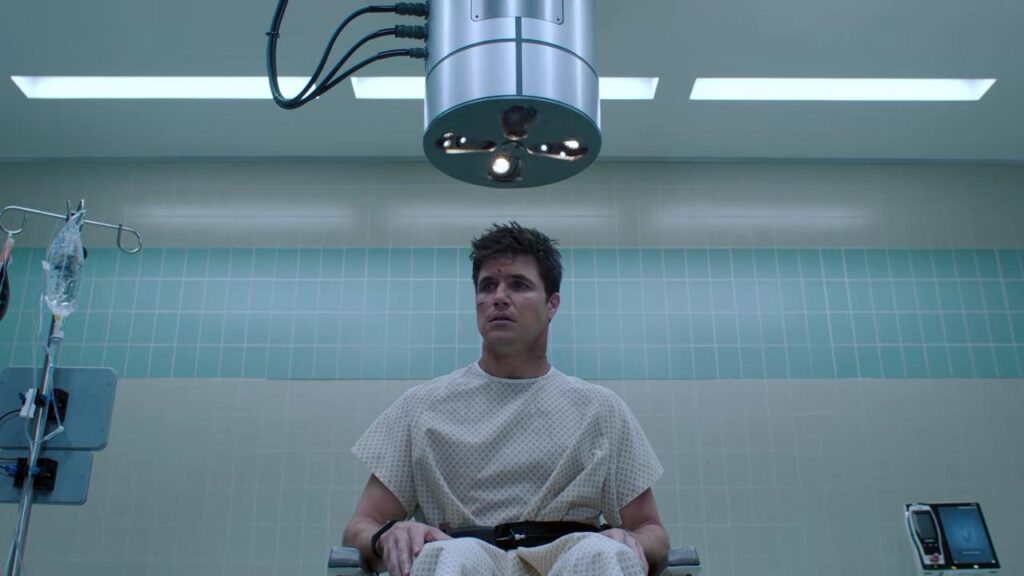 He chooses to upload via Ingrid's account, obviously, or we wouldn't have Amazon Prime Upload advertisements plastered all over the homepage.
Sounds incredible and exciting and super entertaining, right? Especially for fans of Greg Daniels and everything he does.
If you don't know Daniels by name, he began as a writer for The Simpsons and King of the Hill. Most importantly, and the reason I couldn't wait to binge Upload is that Greg Daniels is the artistic juggernaut who created The Office (UK and US) and Parks and Recreation.
How could fans NOT be so freaking pumped to see what he was about to unveil on Amazon?
Is Amazon Prime's Upload Worth Watching?
Yes, you should watch it.
Did I like it? Yes and no.
I am mostly disappointed, extremely underwhelmed, yet still entertained enough to watch the whole first season.
(No spoilers ahead.)
Why Upload Fell Short For Me
Upload is anything but groundbreaking. In fact, it's the opposite. After watching the trailers and brief clips of the upcoming show months before it finally aired, I thought This is going to be so cool and innovative! I wonder who the new Leslie Knope or Michal Scott will be! And maybe that's why I was so let down. I expected a certain level of character development, giving me someplace to put all my hopes and emotions as I lost myself in the TV show.
Instead, it was like eating a cold hot dog after ordering a porterhouse.
I'm dissatisfied with Upload not because I was expecting to discover new and clever fictional ideas. In fact, I was pleasantly surprised that Upload is almost a carbon copy of a sci-fi world and vision by renowned author Peter Watts, specifically his Firefall series.
However, there's the rub. The disconnect between Watt's vision and Greg Daniels is annoying. Daniels is obviously talented enough to create fantastic worlds and characters that viewers immediately love and root for. So, what was lost in translation, and why didn't it work for a wider audience?
Unfortunately, Upload writers took a fascinating, high-concept science fiction storyline and diluted all its comedy and drama in lukewarm water. This show should have allowed us to explore things like what it means to be human while following likeable characters who find themselves in absurd situations.
Classism couldn't be more heavy-handed in Upload. It's clear that the rich, forever getting richer, upload themselves into magnificent sprawling properties. Golf courses, gourmet meals, a crisp change of the seasons with a dial…the wealthy afford anything and everything they want in their chosen heaven. Meanwhile, poor and marginalized communities hold rallies and protests, proclaiming upload rights for all!
Nathan, the main character, is supposed to be lower-class and struggling, but there are very few things that suggest that's the case. He's surprisingly arrogant and continues to live his life using his machismo and charming smile to get by. He isn't struggling to eat or pay bills, and he has his own self-driving car. But we're supposed to believe that this privileged white dude can't afford to "upload" himself.
Did I forget to mention he's also a super talented coder and tech genius?
I felt no connection to this protagonist. I didn't care about Nathan at all because nothing made him special. Hell, nothing even made him likeable, although I'm sure the writers wanted to create a character to cheer on.
It seems that Upload deliberately attempts to make a point that white privilege isn't real.
Look, we're poor too! See how hard it is to be Mister Handsome White Guy with perfect hair and a beautiful girlfriend? Existence is so hard for me!
Luckily, there are many additional interesting characters, any of whom could have (and should have) been the central character. Every other person has far more depth and is significantly more enjoyable.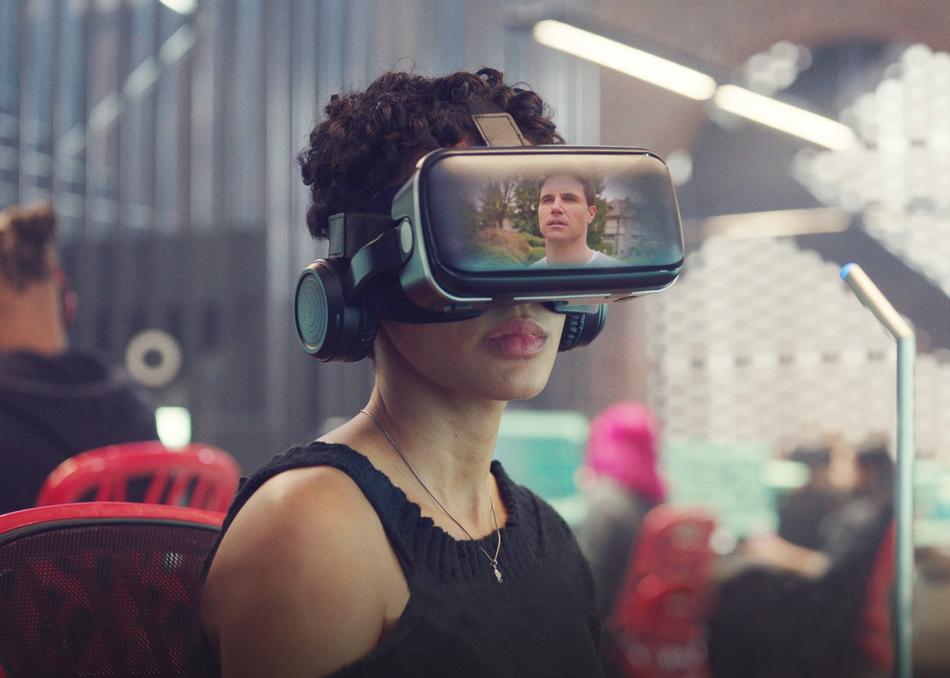 For instance, Nora, Nathan's customer service representative, is the lens through which we're meant to view Nathan. She sees him as a silly but kind goofball who needs a little help adjusting to all the pop-up ads in his afterlife. Nora is likeable, even through her semi-rebellious flirting with a narcissistic turd.
The "telling not showing" themes of capitalism, the value of our private data, and income inequality were hamfisted and weak at best. Have you ever watched a TV show or movie where you felt like the writers dumbed everything down? Upload felt a lot like that.
Why Upload Is Still Worth Watching
In spite of all its shortcomings, Upload is not all bad.

In the final two episodes, I began to care for Nathan as writers push him into The Good Place frame of mind. He doesn't become a good guy until he dies. He doesn't make any kind of philosophical or moral transformation that I'd hoped to see.
By the final episodes, I even felt compassion for Ingrid- the rich shallow girlfriend that owns Nathan's afterlife. She shares a sweet scene with Nathan's niece and helps Nora in an adventure to save Nathan's uploaded consciousness.
It's just a shame that I had to slog through eight episodes before I really cared. When the final episode of season one ended on a cliffhanger, I audibly groaned. So I can assure you I will watch season two.
Even though I spent 1000 words berating the show, I was entertained. I binge-watched it all in two days. I can't tell you how much I appreciate streaming services that drop entire seasons at one go. Even more, I love it when every episode is an hour long.
Upload was a good ten hours spent, even if my review is negative. Although nothing made me laugh out loud or tear up, I was entertained while I sat in my living room and cross stitched.
Believe it or not, I encourage you to watch it. I want to know what others think about it. Even if you are mildly annoyed at characters or themes, I promise you'll be entertained. Worst case scenario, you'll be distracted by your own exasperated displeasure.

Oh, and one last teensy, tiny note. Although the previews may make Upload look PG, there is nudity, sex, and over-the-top violent head explosions. If you sit down to watch this with your tween, consider yourself warned.
Have you watched it? Are you going to? Do you think I am totally, completely, horribly wrong in my assessment? Tell me below! Let's talk about it.