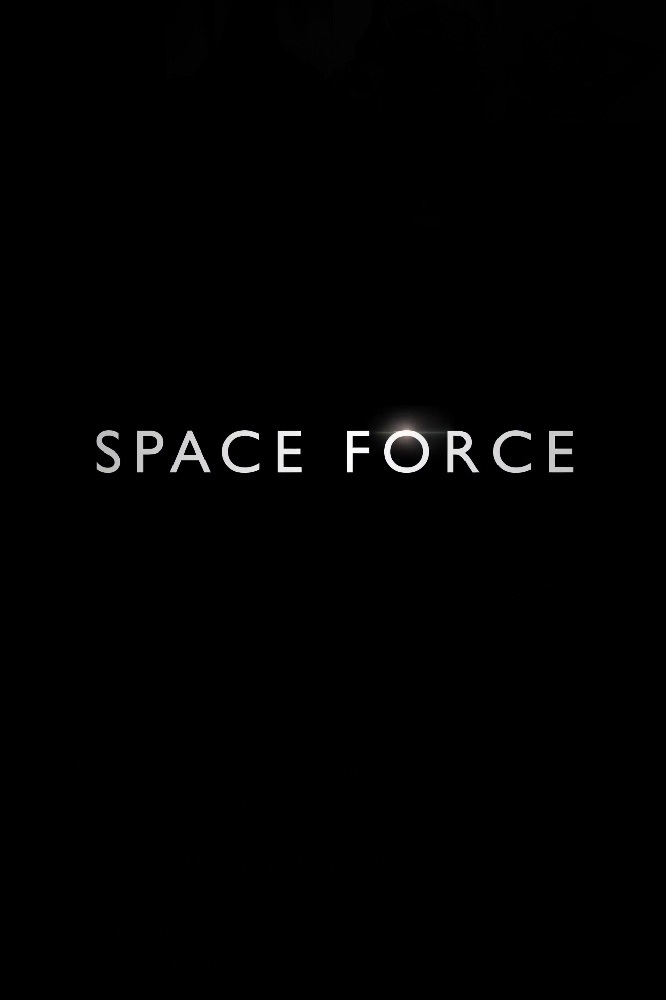 Have you been waiting your entire life for a Friends-The Office-Parks and Rec smash-up? It's here, folks, and it's glorious. Steve Carell, Lisa Kudrow, and he of the Jean-Ralphio fame, Ben Schwartz, all tumble together for an incredible first season of space hilarity. Did I mention that John Malkovich also stars in Space Force on Netflix?
If you're easily persuaded by the opinions of others, I highly suggest you watch the show before reading any reviews. This is how I operate, and it's to make sure that whatever opinion I have at the end of a movie or TV show is my own. I am easily swayed, which is why I could never be on a debate team. (It would be a very quick debate.)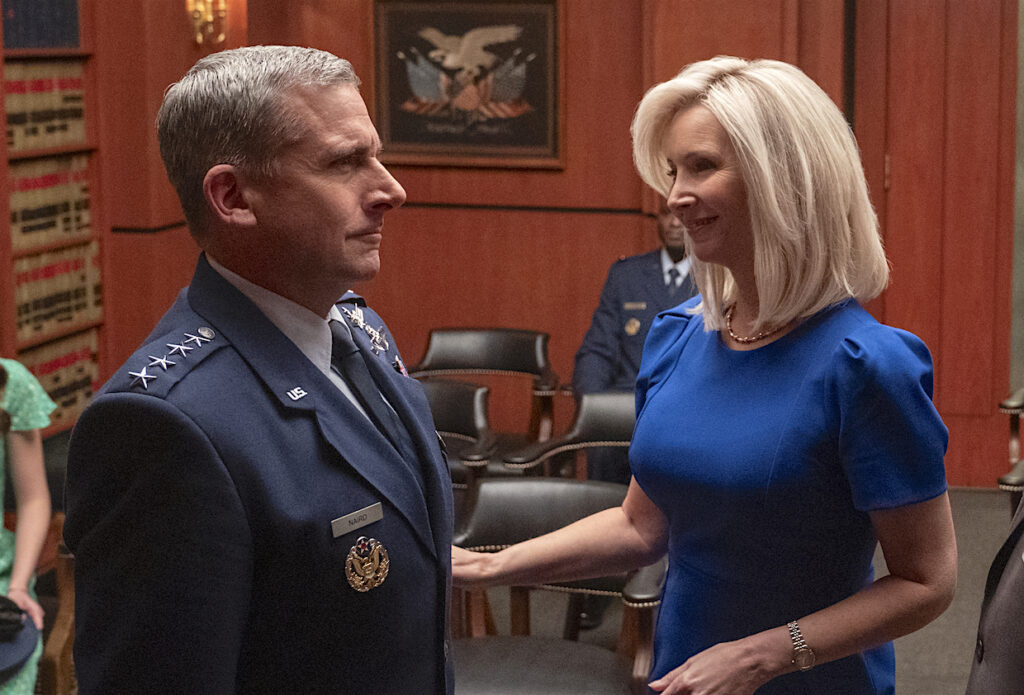 If you've read my previous article on the Greg Daniels Amazon Prime TV show Upload, then you know how I adore him (even though I thought the show was tepid.)
Last week Space Force, a satirical comedy series also created by Daniels joined by Steve Carell, dropped on Netflix. I was a little worried, thinking that good ol' Greg's sense of humor had waned over the years.
Thankfully, I was so, so wrong. I absolutely adore Space Force and everything about it. In fact, I love it so much that I wrote WAY too much for this article and had to whittle it down into a readable chunk.
(Mild spoilers ahead)
The Breakdown
Steve Carell plays Mark Naird, a newly-awarded four-star General that is immediately assigned to head up the president's new military branch, Space Force.
John Malkovich plays Adrian Mallory, a calm and contemplative civilian advisor providing brains and a team of scientists. The Malkovich signature deadpan and deliberate delivery made him my favorite character to watch.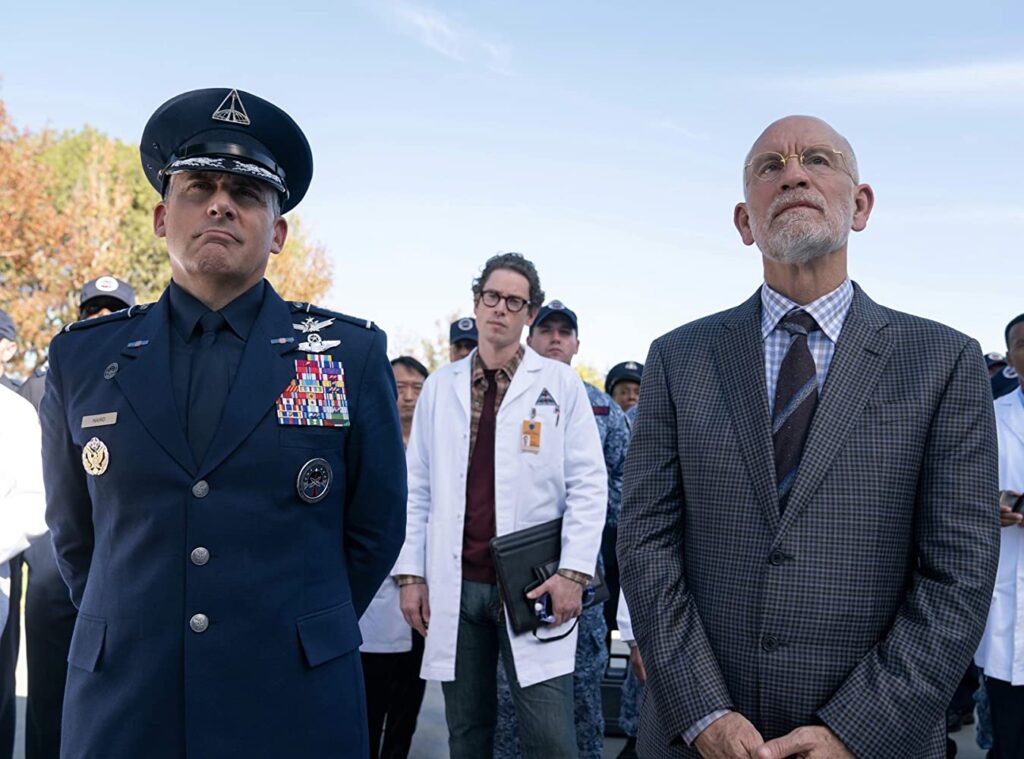 Together these two must navigate uncharted territory to get "boots on the moon" by 2024.
Blast Off
From the jump, it's clear that the comedy comes fully loaded with satirical avatars of real-life politicians. No actual names are ever used, but the writing makes it obvious who each character represents.
For example, actress Ginger Gonzaga plays Anabela Ysidro-Capos, a member of the House of Representatives. Her embodiment of real-life activist AOC is spot on – hilariously and flawlessly executed without being mean-spirited.
There's also an episode featuring Kaitlin Olson playing Edison Jaymes. This character runs an empire of scams and is equal parts Elon Musk and Elizabeth Holmes, the notorious businesswoman who founded Theranos. She meets with General Naird to offer her rosé-colored rocket fuel to help get his spacemen to the moon.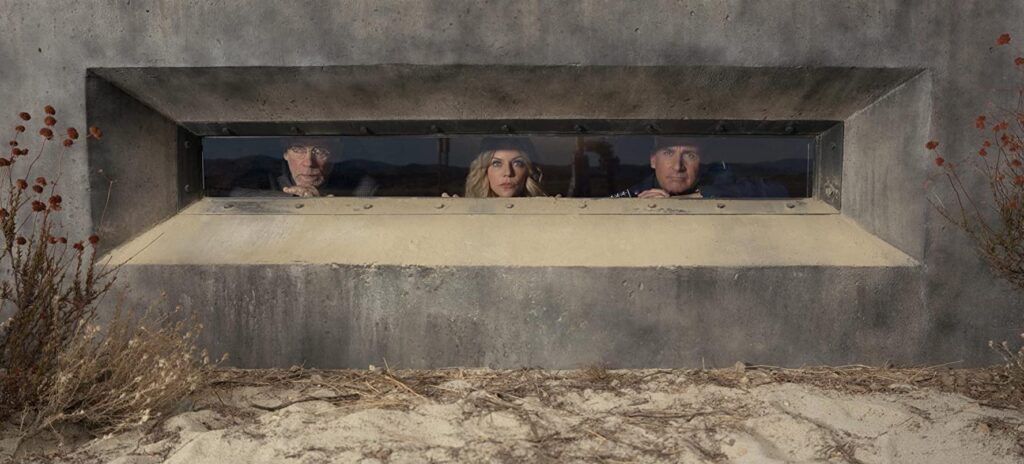 While it is political satire, the writers made sure not to offend one side or the other.
And maybe that's what more viewers were hoping for. I see the hate circulating on other blogs, and I can't help but think that what they really wanted was a surrogate smackdown of a real-life chaotic government. The show toes a thin line without breaking party lines.
The Constitution Meets Caricatures
There's no Michael Scott incompetence, but there are flashes of five-seconds-on-the-clock genius that garner well-earned love and applause for Carell's new character. There are fleeting moments in which I see Michael, Carell's character from The Office. It's sometimes noticeable in the way he scratches his cheek under his right eye while thinking of an answer, or in small instances of his frustrated growls and angry scowls.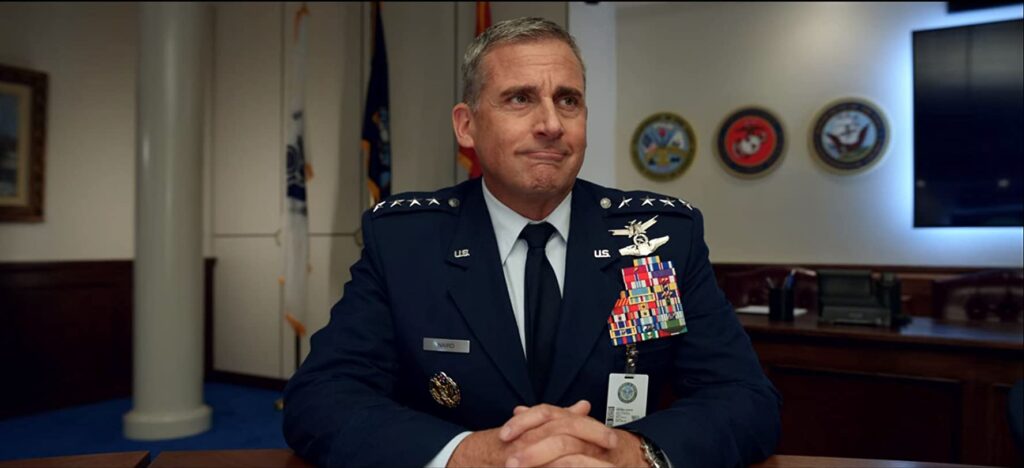 That's where any resemblance ends, and that's a good thing. I wanted to see Carell's General Naird as a whole character that stands alone and makes me forget he was the star of one of my all-time favorite TV shows.
Ending the first episode with Naird solemnly singing and dancing to "Kokomo" sets the tone for the show. In his eyes, you can clearly see a resigned acceptance and sadness wrapped in the hopes of good luck and tinged with optimism.
The Leading Man and Masculinity
Naird is a family man with two families: one by blood, another by duty.
He's a man raised under the false emotional safety of masculinity. Stubbornness is valor, and emotionlessness is the mask of the strongman. Being compelled to run Space Force, however, requires him to actually examine these things called feelings. At one point, Naird watches Mallory (Malkovich) sing for his beloved partner. Tears pool in his eyes at this simple declaration of love, reminding viewers that, yes, he has a heart and boy is it big and in need of healing.
Naird, along with everyone else on the Space Force team (known as Spacemen and addressed as such), take their jobs very seriously. That's why in the second episode, watching Naird sincerely attempting to communicate with a chimp in outer space is one of the funniest moments in the series.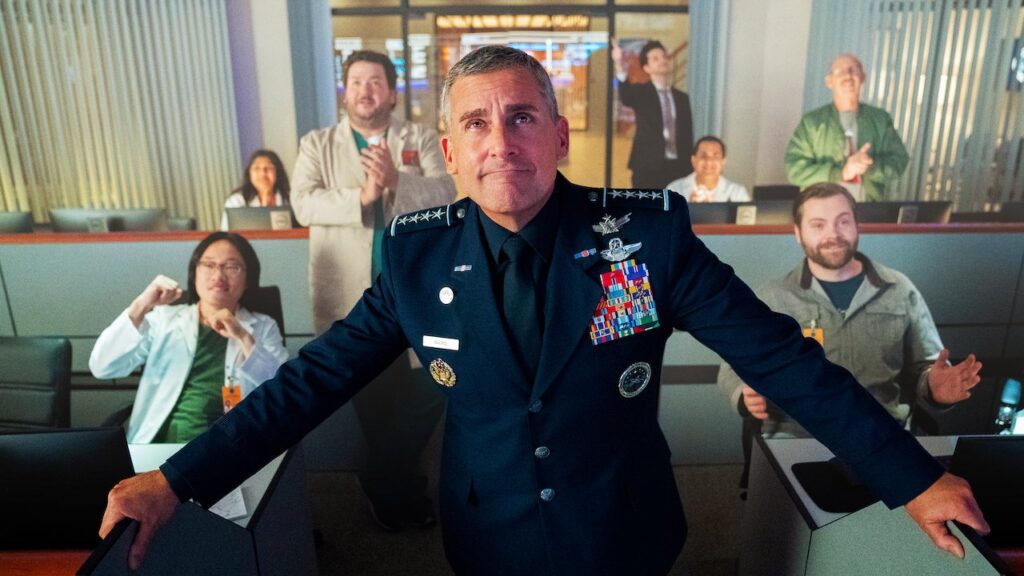 The earnestness of Carell's character shows that what he lacks in scientific or biological knowledge, he makes up for in the unwavering belief that his plan will prevail.
During this comical scene, a bewildered animal expert endeavors to relay messages to the chimp in outer space using limited sign language skills. General Naird chastises the chimp in full display of hundreds of subordinates, who gaze solemnly at the spectacle. It's fantastically hilarious and classically Carell.
Side note: The second episode features a dog and a chimp in outer space, but I was relieved to see that both were (excellently rendered) CGI characters.
The contrast in the absurdity of failed human-to-animal communication mixed with actual human-to-human communication fiascos epitomizes the heart of the show.
The well-written farce, subtlety, and depth of characters, plot, and dialogue don't go unnoticed. The show is filmed as if it were a serious West Wing type drama. But the comical characters and dialogue create a dichotomy that enriches the show's tongue-in-cheek humor.
Mark Naird: Steve Carell's New Character
So, what do I make of Steve Carell's newest role? I've always loved him for his comedy, but he also plays serious roles just as well. I really enjoy his version of General Mark Naird. This is a man who has earned top honors by living, embracing, and now, promoting, military rules and culture. He rarely had to make decisions on his own thanks to Uncle Sam's guiding hand.
But now, the guiding hands are his alone. It's a messy, spontaneous juggling act in which he's found only ill-equipped support, which is what creates the humorous and often ridiculous situations he finds himself in.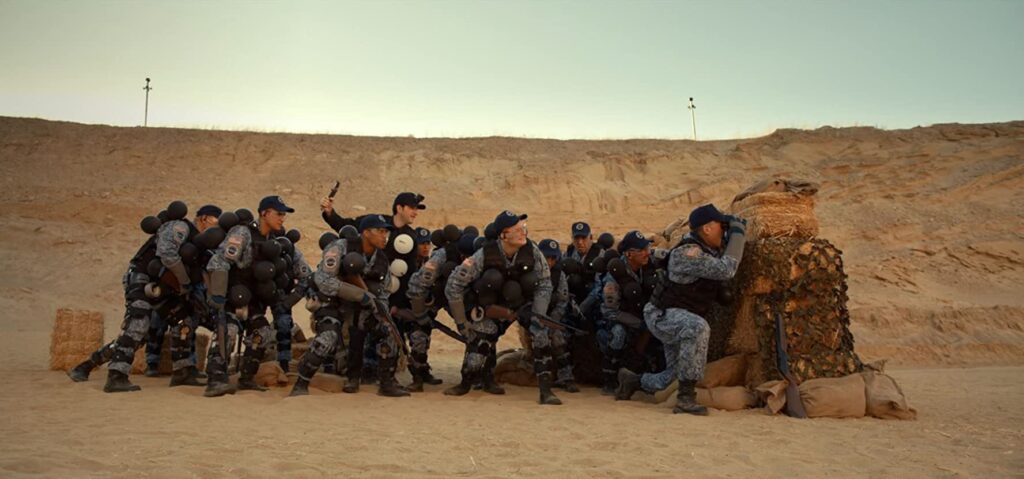 In the very first episode, we see a shot of Naird wake up in the middle of the night to check on something unimportant. When he returns to bed, he performs one of those "about-face" rigid turns, heels together, and spine straight. His military career is seen in the way he walks, the way he talks, and the way he views the world. It's all woven into the fabric of his soul.
But when we see tender moments with his wife, his daughter, or his subordinates, you realize it's not exactly a strongman facade. The tough guy trying to run the 6th branch of the military is only playing a role that isn't totally authentic to who he really is or wants to be.
Naird is bound and even comforted by strict adherence to the rules. He confronts and contends with these rules as he tries to be a good father, husband, and leader.
Final Thoughts
The Space Force soundtrack is wonderful, especially because Naird uses soothing tunes to decompress from his demanding role as General.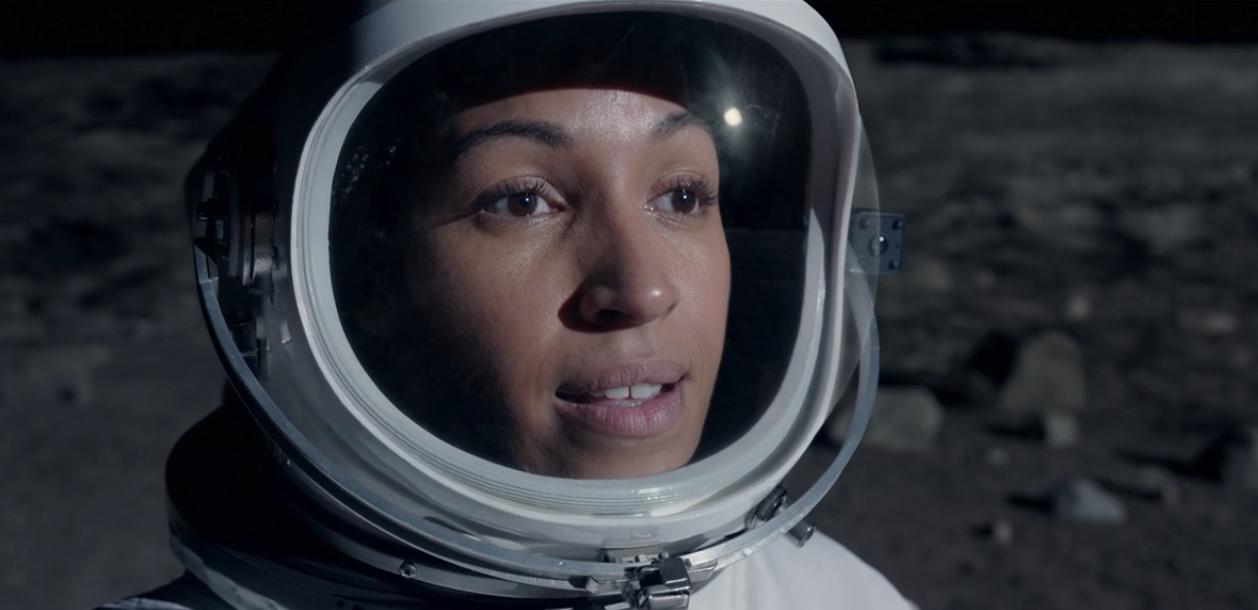 Paul Lieberstein, famous for playing complacent and soft-spoken Toby Flenderson on The Office, and for writing and directing many of The Office's episodes, also wrote the season finale. It was a great ending to season one, leaving me completely satisfied. There aren't a lot of shows that end with a sense of closure in a season finale, but Netflix's Space Force pulls it off effortlessly.
There's no information on a second season, yet. But even if you didn't care for the first season, I'd recommend giving the show another chance if we get a Season 2. Remember how many shows really found their groove in their second seasons: Classics like Seinfeld, Parks and Rec, and Community.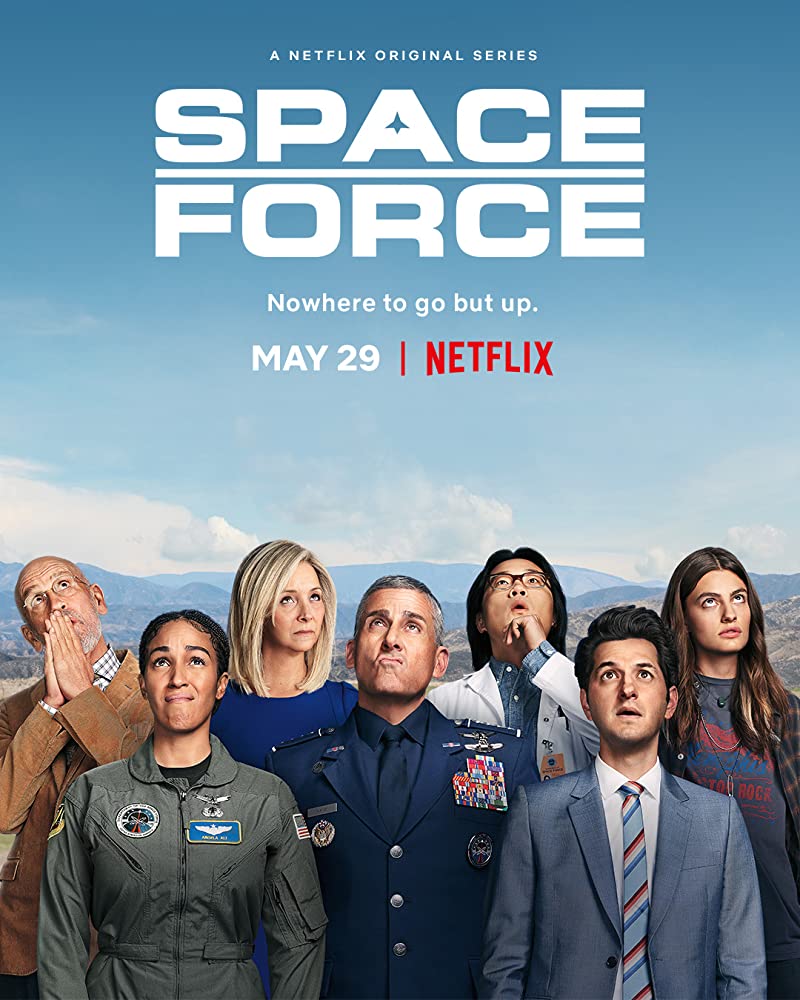 You could probably watch this with your kids, although I don't think they would enjoy it as much as an adult. There is some tame sex talk and plenty of cursing, but nothing else that would make Space Force R-rated. In the spirit of shows like Big Bang Theory and Friends, apart from the aforementioned episode two chimp scene and a few others, inappropriate jokes are likely to go over children's heads rather than eliciting questions. But watch with tweens at your own risk.
This new Netflix original fills a hole we've so desperately needed since shows like 30 Rock have abandoned our TV line-ups. Space Force truly captures the zeitgeist of an era and its unknown future.
Tell me what you think of Space Force, especially if you disagree. I'd love to hear from you!