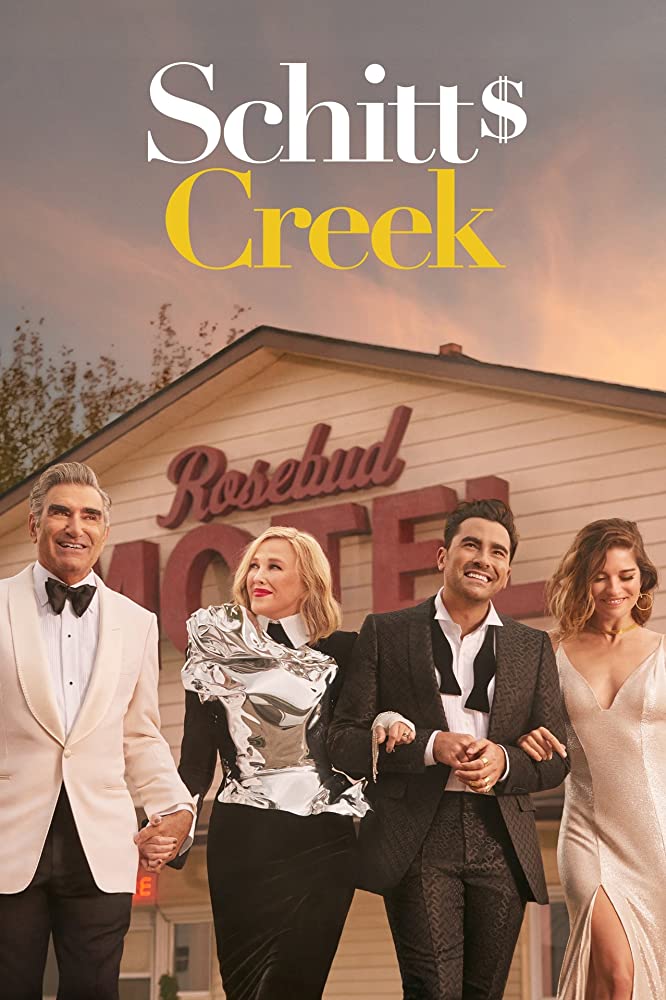 (SPOILER ALERT: There are very minor spoilers here discussing small events between seasons one and five.)
Schitt's Creek is the best binge-able show that's been released in the last five years.
This Canadian sleeper hit of the highest order has stunned audiences worldwide by sweeping the Emmys at the recent 2020 award's show.
The Canadian production began on Pop TV and eventually landed on Netflix, garnering a new enormous audience. The show struck gold repeatedly in the comedy categories as the Hollywood elite celebrated virtually due to the pandemic.
And The Winners Are…
Best Comedy Series
Schitt's Creek
Best Comedy Series Screenplay
Schitt's Creek
Best Direction in a Comedy Series
Schitt's Creek
Best Supporting Actress in Drama Series
Annie Murphy for Schitt's Creek
Best Supporting Actor in a Comedy Series
Daniel Levy for Schitt's Creek
Best Actress in a Comedy Series
Catherine O'Hara for Schitt's Creek
Best Actor in a Comedy Series
Eugene Levy for Schitt's Creek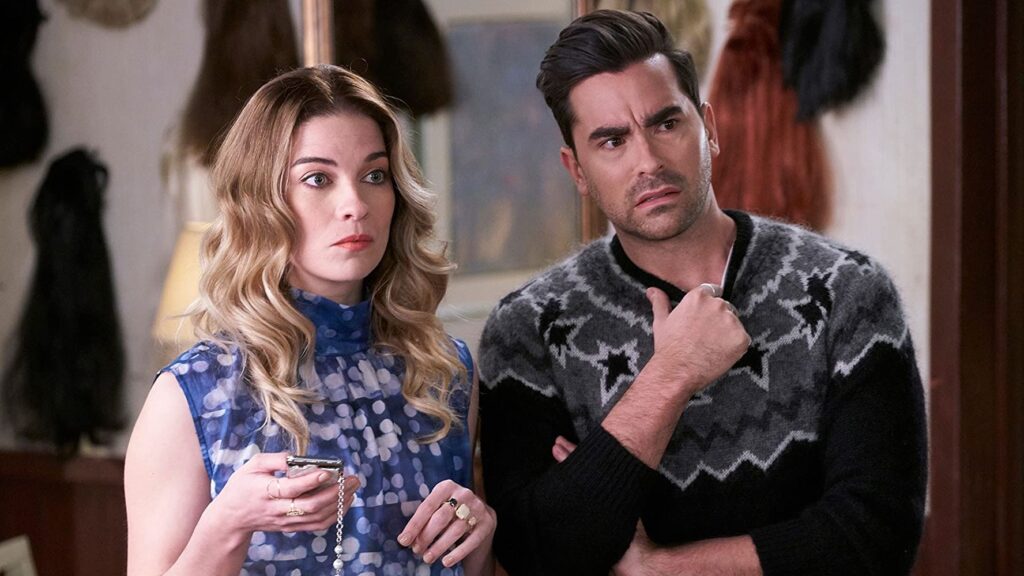 What is Schitt's Creek About?
To be totally honest, I saw Schitt's Creek appear on Netflix years ago and never bothered adding it to my queue.
I thought the name was stupid and ham fisted.  The synopsis didn't sound interesting, and in fact, it seemed pretty cheesy.  I even watched the first five minutes of the first episode at one point and thought, "Nah, no good."
This series doesn't take the fast track to viewership. In the beginning, it carries a premise that falls flat with clumsy execution and characters that are immediately unlikeable. They're all so intolerable that the first episode feels like a chore.
However, sometimes the difference between loving and hating a TV show is timing. Because years later, I gave it another go. By the end of the first episode, I was hooked.
The creators of Schitt's Creek, Dan and Eugene Levy, are father and son in real life and on the TV show. Together they wrote the story of the Roses, a privileged millionaire family who once owned a thriving video store franchise empire.
The story begins on the day they lose everything.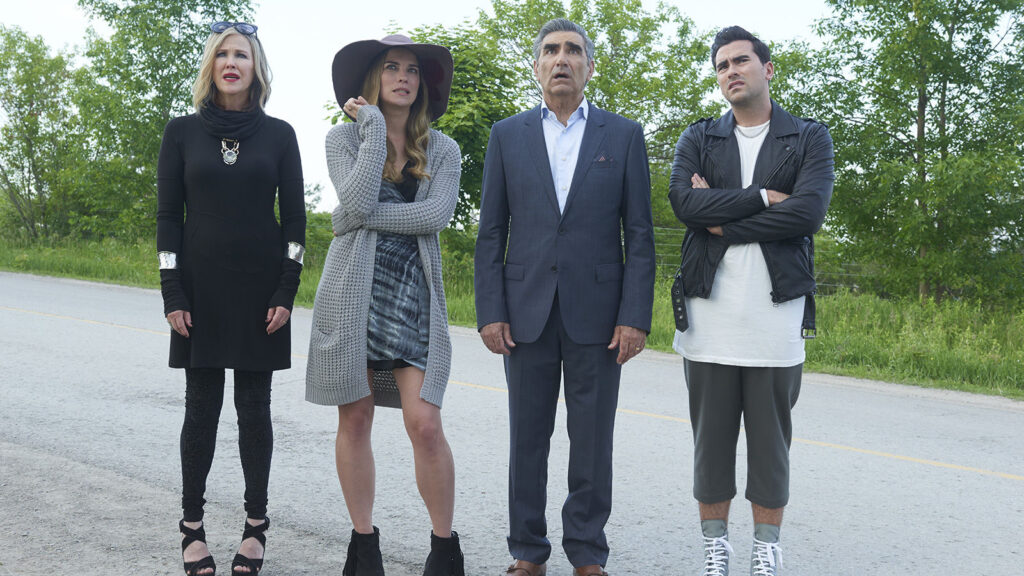 They're forced to relinquish nearly all their possessions from cars to art, clothing to jewelry, furniture, and finally, their house. All of their houses.
However, the Roses are allowed to keep the deed to a town (an entire town!) that patriarch Johnny purchased as a humorous and cheeky birthday gift to his son many years prior. Of course, the gifted village was quickly forgotten until it was all they had left to their name.
They head off, reluctantly, to Schitt's Creek, a shabby and peculiar town where they're offered free lodging at a rundown roadside motel. 
And that's how the story of the Rose family making a new life in Schitt's Creek begins. Viewers get to experience the newly-poor Roses grapple with their uncomfortable reality and unknown future right along with them.
Every episode is better than the one before it. That's precisely why it won ALL the awards at the Emmys this year.
The hype is real, people.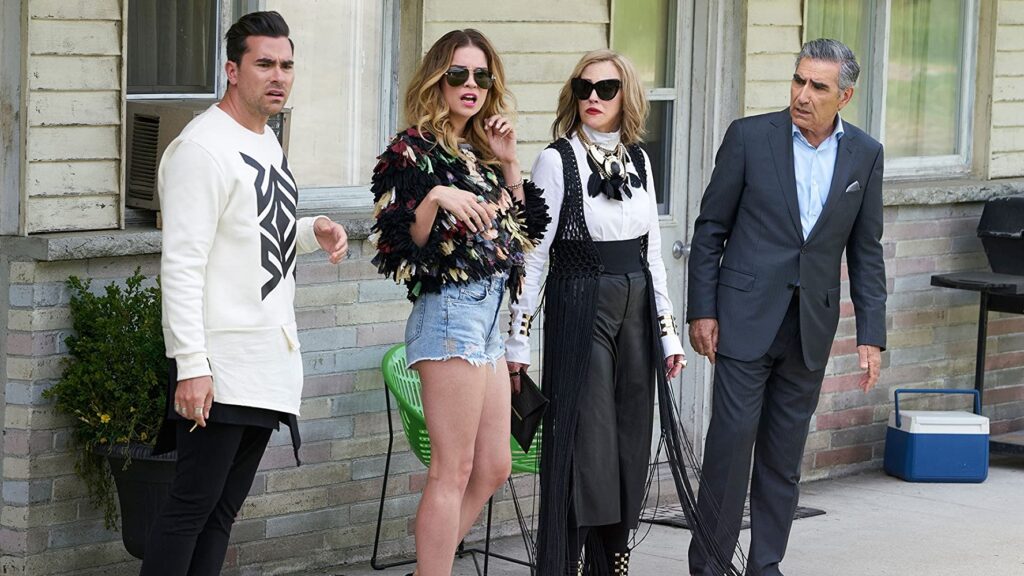 Here's Why You'll Be Hooked, Too
Matriarch Moira Rose, a once-famous actress (Catherine O'Hara), steals the show and my heart in every scene. Moira is over-the-top, eccentric, and her dramatic performances are the highlight of every episode.
She spins comedy gold with every word that comes out of her mouth, adding extra emphasis and syllables that are as unnecessary and hilarious as her hair. I haven't even mentioned her ridiculous wardrobe and wigs that deserved a nomination of their own.
(In fact, the series was nominated in the hairstyling category for that reason alone).
Moira's loyal husband, Johnny (Eugene Levy), is hashtag husband goals. He remains frustratingly calm amid the upheaval of their privileged lives, attempting to soothe his overly-theatrical wife and spoiled children with every new problem that arises. 
Their unshakable love and unending support showcase a truly equal partnership, which is rare to see in most comedy series'. Usually one partner is the bumbling idiot or completely irresponsible, while the other holds everything together with perpetual perseverance.
Moira and Johnny share in each other's failures and successes, which is beautiful to watch.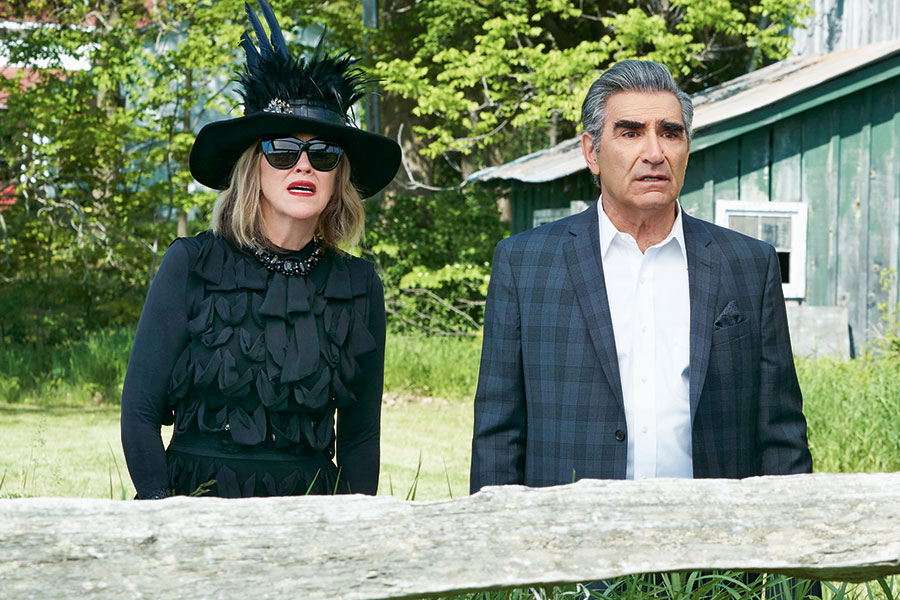 (Confession: I now have a crush on both Eugene AND Dan Levy. Not even ashamed.)
Their son David (Dan Levy) is difficult to put into words, and I'm a writer for goodness sake. However, that's exactly what makes him so special. David is unlike any character I've ever encountered, and I have watched all the things.
"I like the wine, not the label." David uses this metaphor to explain to his new friend Stevie that he's pansexual. It doesn't serve as a dramatic plot point, but instead adds another layer of genius character development that's paving the way for future TV shows.
I've never been more mesmerized by wardrobe choices, nor have I ever been more confused when attempting to choose between contempt and love for such a unique character.
Alexis (Annie Murphy), the one and only Rose daughter, is nearly punchable upon introduction. Her outlandish allusions to celebrity friends, drugs, arrest records, and parties had me rolling my eyes in the exact way the show writers intended.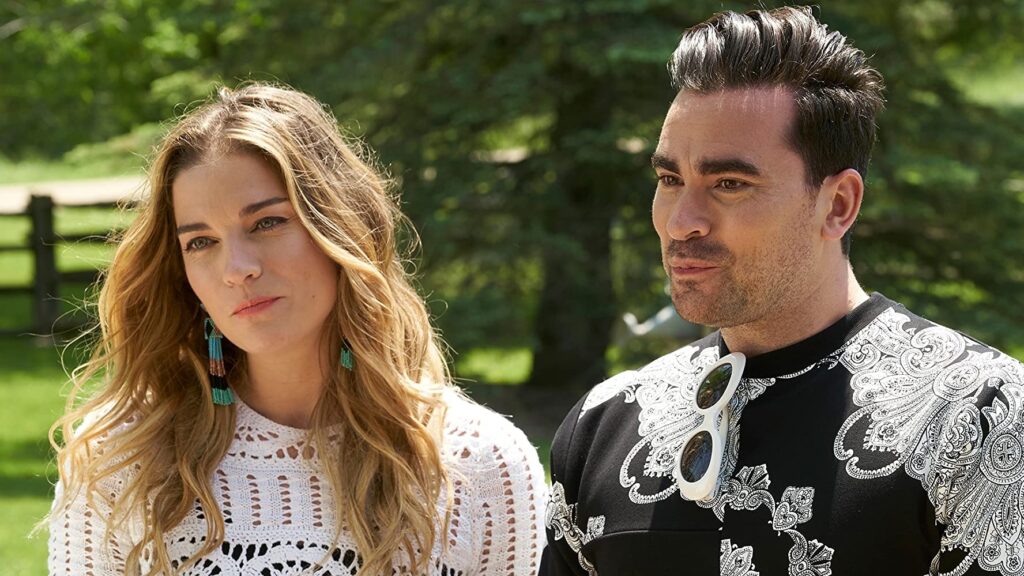 The progression from hating to loving the Roses happens slowly. Just as each member of the Rose family rediscovers who they are and learns how to love the new versions of themselves, the viewers begin to understand and love them as well.
I could write entire dissertations on each character and their separate journeys throughout the show. Still, I really think you should watch Schitt's Creek yourself and make your own judgments.
All four characters begin as instantly unlikeable people, and their transformation is nothing short of genius-level writing and storytelling. Spoiler alert, I absolutely promise you that you will adore and love every single person introduced on Schitt's Creek. If you don't, you may want to check your pulse.
I'm only halfway through the sixth and final season of Schitt's Creek. I'm taking my time to savor each episode because I know I'm going to miss the show terribly. (Aaaaaand, I'm done. I'm not crying, you…okay, it's me. I am crying.)
Here are 7 Things We're All Going to Miss About Schitt's Creek
1.      Alexis's Wardrobe and Accessories
How can I start this list with anything else? No matter the occasion, this soft-hearted, sassy, undercover smarty is always serving up elegance in her boho-inspired clothes, bags, jewelry, and shoes. Her impractical clothing choices are fabulously out of place in the tiny folksy town of Schitt's Creek. And she doesn't give a damn, making every ensemble as fierce as can be.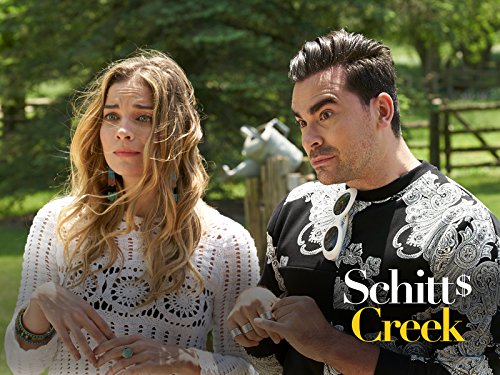 It looks like viewers can even find select wardrobe pieces from websites like Shop Your TV.
2. The Rose Siblings
It's equal love/hate and hate/love between David and Alexis. I will never stop hearing Alexis in my head saying, "Ew, David!" every time I think of the on-screen brother and sister duo.
Outwardly, they annoy and sometimes even mock despise one another. It's evident the siblings haven't spent much time forming a familial bond as brother and sister, especially once they're forced to begin sharing one small motel room. However, as they're essentially reintroduced to one another, David and Alexis soften.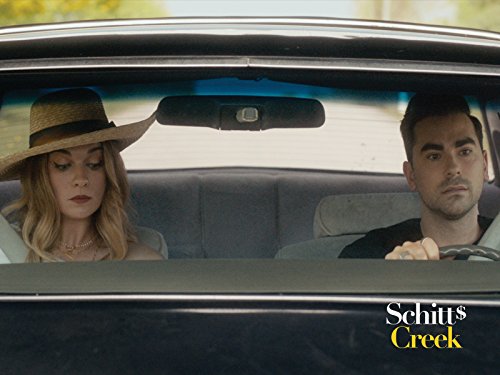 Through glimpses of vulnerable and unwavering support for one another, their deep love and devotion are heartwarming as much as it is tear-inducing. I dare you to make it to season six of Schitt's Creek without reaching for the tissue box at least once.
3. Ronnie Lee
Ronnie Lee is the puzzle we just can't figure out, and we love it.
She's the hardass with a secret heart of gold stashed away deep down inside. This town council member and singer for the Jazzagals pretends she doesn't care about her community or the people in it. But her kind and thoughtful actions prove Ronnie possesses an understated, softer persona. She never misses a special occasion and always volunteers to help organize a party or set two friends up on a date.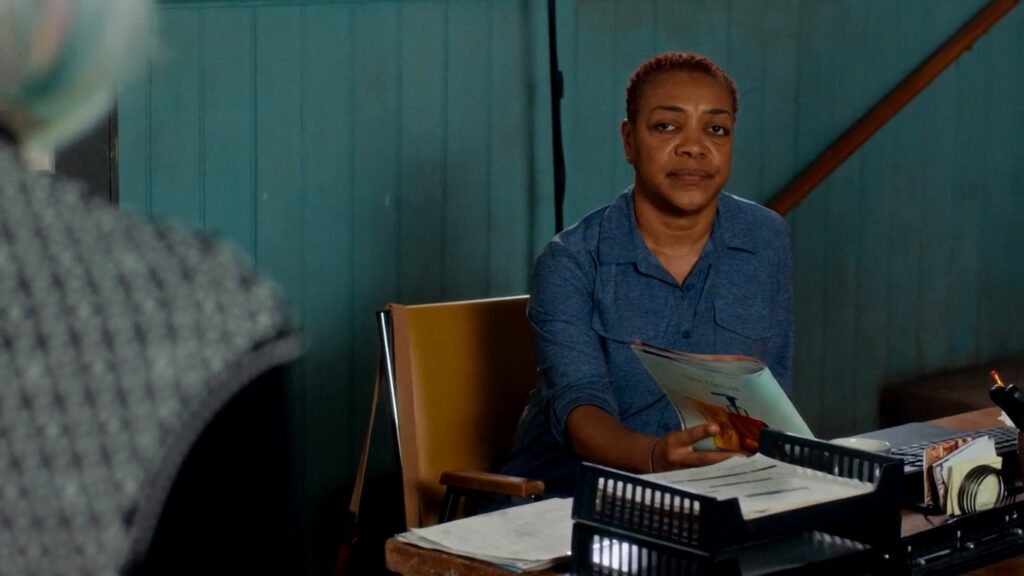 With Ronnie's no-nonsense approach to the Rose family's pampered attitudes, they quickly learn from her that authenticity is more important than appearances. She leads by example.
4. Chris Elliott as Roland Schitt
I think Chris Elliott's most memorable role for so many of us is Hanson ("Take my good hand!"), the caretaker in Scary Movie 2.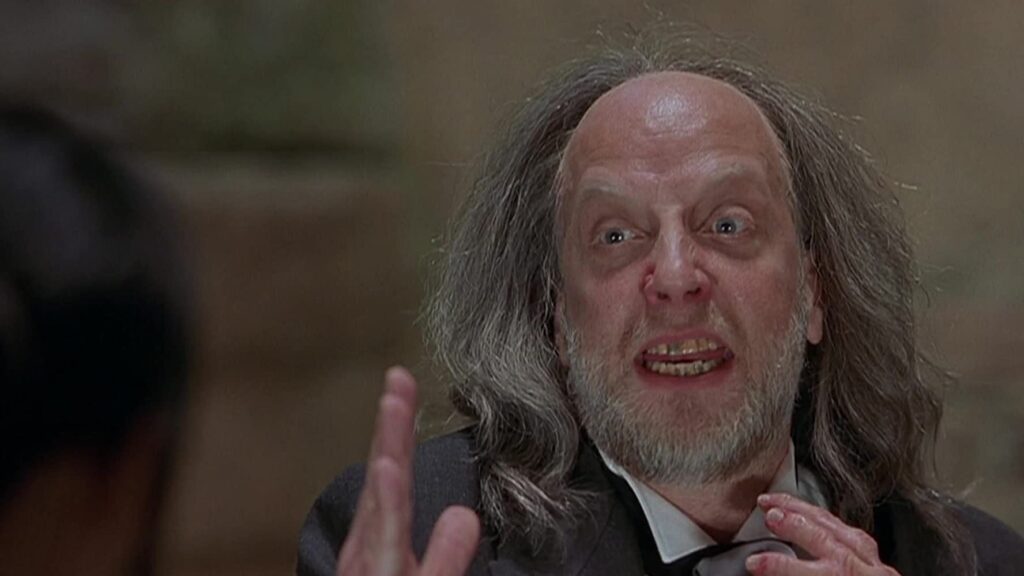 As overconfident Roland Schitt, however, he has usurped Hanson as the dedicated, if underqualified, mayor of Schitt's Creek. Usually filled with good intentions, he's too oblivious or selfish to follow through with his mayoral goodwill.
He's a bumbling fool who always somehow wins at life. And if he isn't winning, that's okay, because he's unaware of what's happening anyway. With a beautiful and kind wife, Roland remains the ideal prop for sudden comedy relief at the most random and delightful times.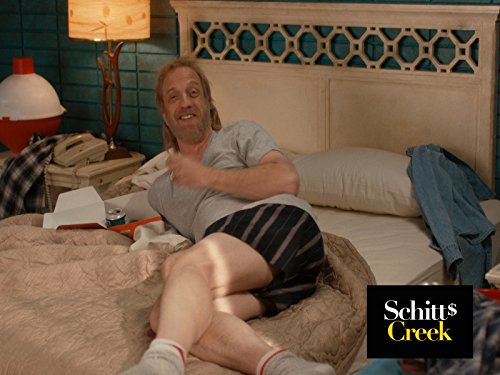 5. Moira's Wigs
I should have probably listed Moira's wigs as number one on this list.
Every strand in place, a home for each piece, Moira's wigs even have their own names (Kristen, Robin, and Maureen to name a few). Her eccentric and ever-changing wigs range in styles from mullets, piles of lush green hair, ringlets, bobs, and hairstyles that defy description. 
The theatrical Mother Rose dons them backwards, sideways, and askew, depending on the mood that strikes. She strolls around town in ridiculous, sometimes hideous, but always dramatic wigs as if she's playing a fantastic part in a new movie every day.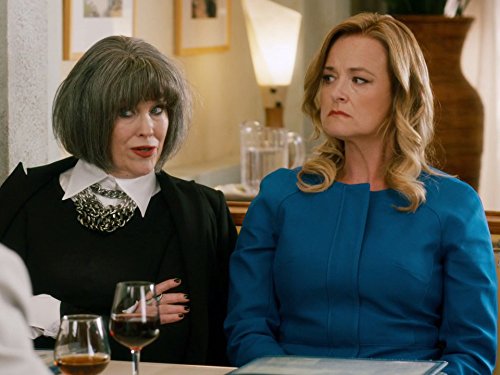 That's the exquisite beauty of this artistic choice made by Canadian treasure and comedic mastermind Catherine O'Hara.
Ana Sorys, the hairstylist for the Moira character, never planned the wigs Moira would wear for each scene, adding to the absurd randomness of every new look.
The wigs fall anywhere between hideous and glitzy to downright absurd, an evident expression of Moira's playfulness and willingness to be fearlessly creative. Seriously, Catherine O'Hara is a living legend, and I squealed with delight after the news that she won an Emmy. No one deserves it more.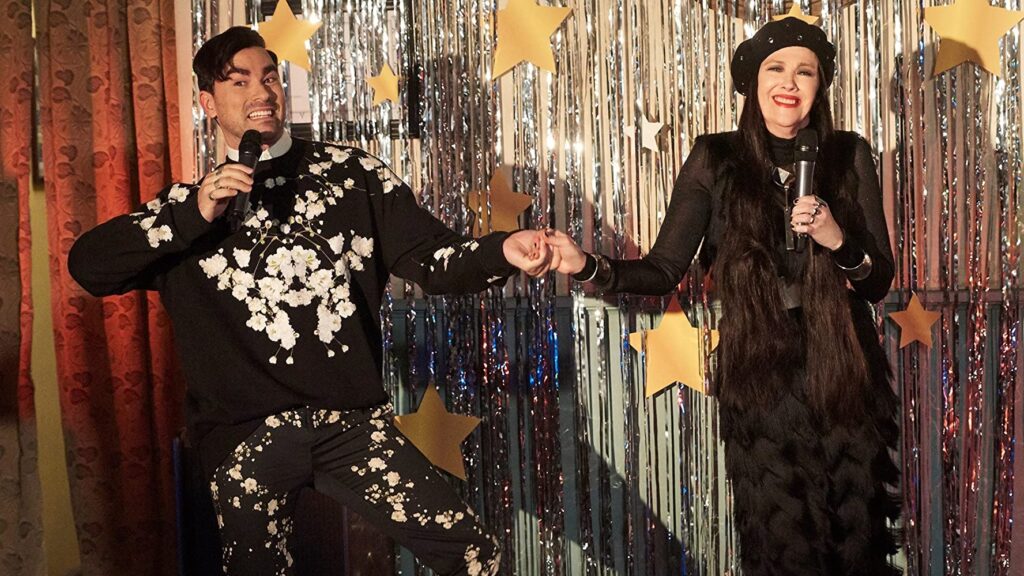 6. Twyla
Twyla's real name is Sarah Levy, and she's actually Eugene Levy's daughter (and Dan's sister.) Is Twyla is quirky, weird, innocent and naive in a sweet "oh, honey" kind of way.
However you label her, Twyla has some of the best, strangest lines in the whole series. I've even got examples.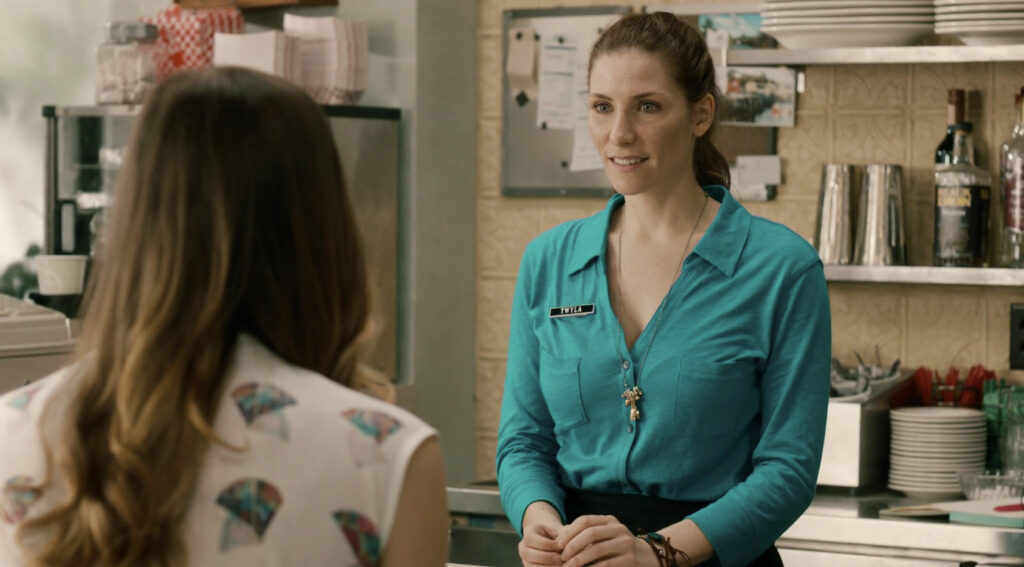 Some of her very best lines (courtesy of TV Quotes) include:
"Between you and me, I know how hard it can be to pay off debt. My Uncle Ken only has three fingers now, which is too bad because he's deaf, and he only speaks using sign language, but he made his choices."
"Just so you're aware, Mr. Rose, the special is cream of mushroom soup. We don't actually have to-go containers for that, so I've just double-bagged it. Would you like a spoon or a straw?"
Johnny: "Uh, Twyla, do you get along with your parents?"
Twyla: "I did. It's a little different now. My mom has this thing where half the time she thinks I'm her cousin Angela. And it's getting harder and harder to coordinate visitation times with my dad in prison."
"My uncle had a parrot that just kept asking me to take my bra off."
Jocelyn: "Sorry, gals. I just got caught up on the phone. I have good news and some bad news."
Twyla: "Oh. Is the bad news that there is no good news? My aunt used to play this game with me a lot".
"Oh, one of my mom's ex-boyfriends was a magician and a gambling addict. But he was also really good at reading tarot cards. He predicted when he was going to leave my mom, like, to the day."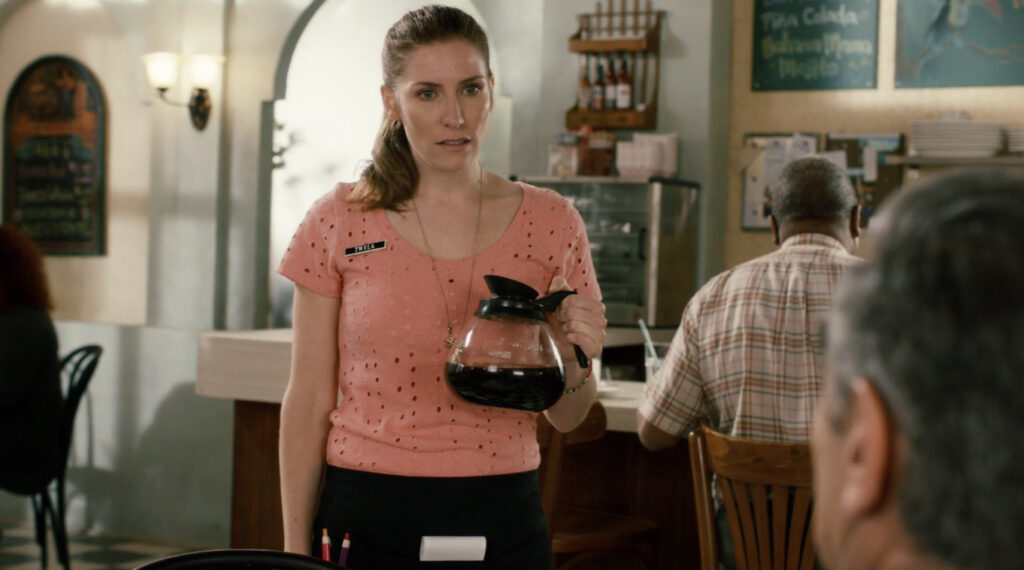 7. The Rose-Budd Relationship
As self-absorbed as Moira and Johnny are, they're still clearly loving and supportive without being arrogant or mollifying. They truly know and understand David and Alexis, only wanting what's best for their two children.
Then along came Stevie Budd (Emily Hampshire), receptionist and eventual owner of the Rose's new motel home. The standoffish loner, not interested in making friends or being friendly, eventually finds herself pulled into the orbit of the town's newcomers.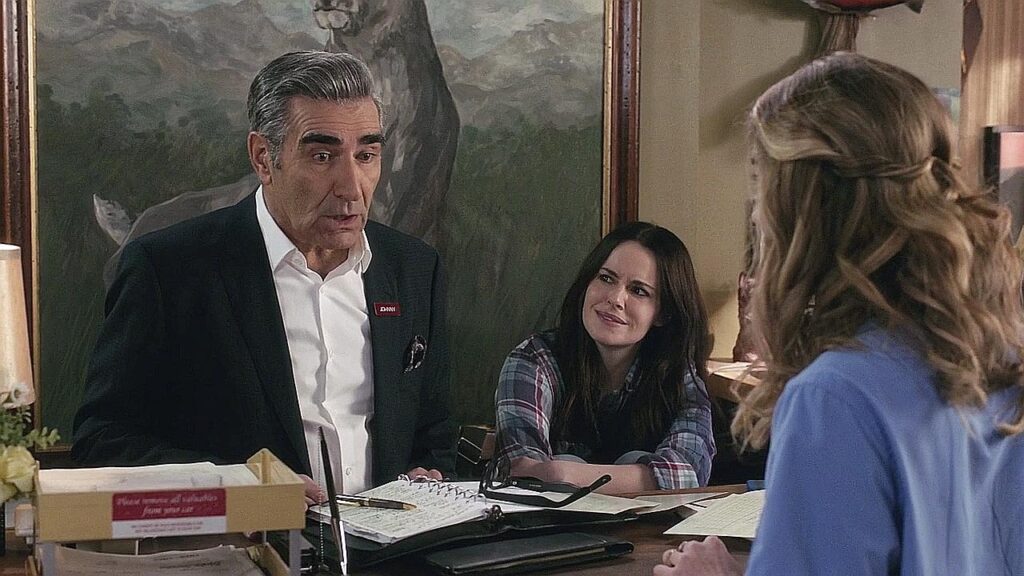 Dry and sarcastic, Stevie comes to realize that maybe there is more to life than surviving on small scraps of opportunities and fleeting relationships. As Johnny begins spending more and more time with her helping run the motel, he becomes not only a career mentor but a loving (from a distance) father figure, even though Stevie would be loath to admit it.
Johnny champions her development, gently caring for the staunchly independent woman in a subtle and unassuming way, giving her room to grow at her own pace and on her terms. Stevie, for once in her life, contemplates a future beyond Schitt's Creek, and she eventually shows her deep appreciation in her spectacularly aloof way.
Put Down the Laptop and Phone to Watch Schitt's Creek
Schitt's Creek isn't a "leave it on in the background" TV show. No, this is a series in which you'll want to put down your phone, shush everyone else in the room, and really pay attention to the gradual, hilarious-but-sweet, development of characters.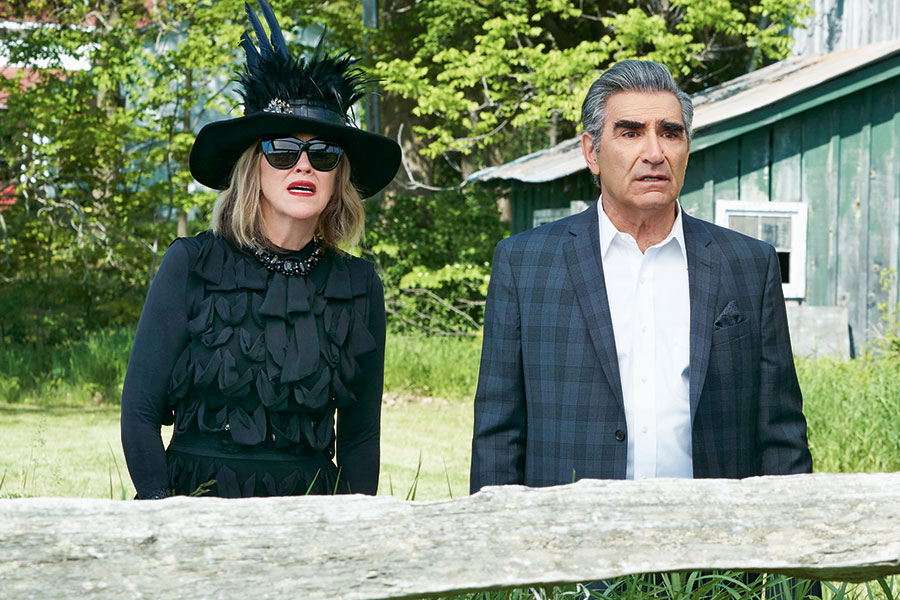 It's not often that a TV show successfully pulls off a story and characters that are equally hilarious and heartwarming in perfect harmony. Plus, you'll never hear a more beautiful rendition of "Simply the Best."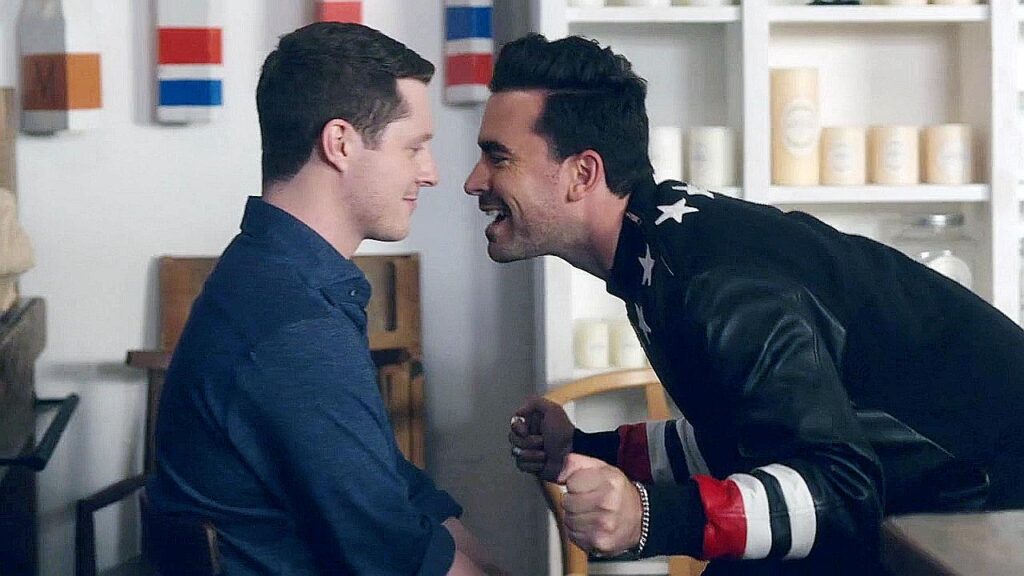 The show is family-friendly, save for some minor sexual themes and discussions. A central but subtle component of the show is addressing gender and sexuality. If you aren't ready to broach that subject with little ones, get a babysitter ASAP so you can watch Schitt's Creek alone.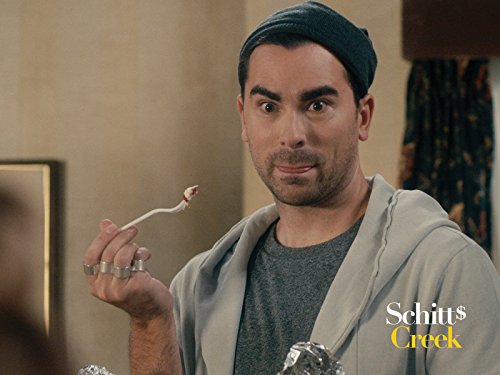 I only have one question left now. When will I see Letterkenny in all of its Canadian glory finally win an Emmy?
Let me know if you agree or disagree with my Schitt's Creek assessment in the comments below. Remember to tag your comments with SPOILER ALERTS if necessary. I can't wait to hear what you think!