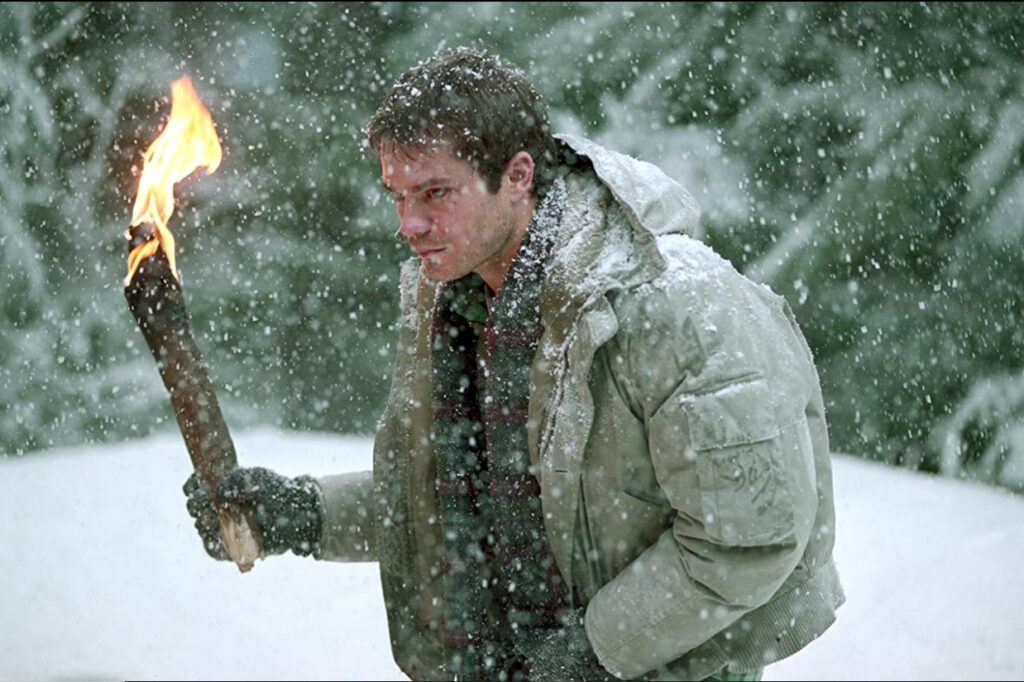 Halloween is only the beginning of holiday horror. It's challenging to narrow down some of the best chilly and chilling films for those looking for horror Christmas movies. Here's a short list of some well-known holiday horror movies that pack a plum pudding punch, plus hopefully a few you've never heard of.
Let's get on with this jingle-bell SLAY ride.
Dreamcatcher
I find Dreamcatcher to be one of King's under-rated and under-appreciated books, making it a good read if you've already devoured everything else in his collection. But you're not here because you want to read. You want one of the best, blizzardy holiday horror movies filled with carnage to sink your teeth into.
You don't need to know anything about the book or its author to enjoy this snowy, alien-filled creep-tastic adventure that includes old pals and lots of snowmobiles. This holiday horror movie gets bonus geek points for its cast that includes Morgan Freeman, Jason Lee, and Thomas Jane.
The Shining
When you combine Kubrick and King, something magical happens in the cold, dead winter.
This ain't no love story. But there are lots of pine trees and popcorn strings. There's no happy ending for the Torrance family foolishly spending their holiday at the empty Overlook Hotel, either.
Don't worry, though. Take a trip to the hotel's Gold Room, and bartender Lloyd can pour you something special to chase away the chill. Make sure to snuggle under extra blankets before the spooky labyrinthian finale.
The Thing
Speaking of movies that have held up for decades (The Shining is 40-freaking-years old!) The Thing is still one of the best holiday horror movies to watch during your Christmas break – or any time, really. This John Carpenter flick has everything that makes you shiver: shape-shifting aliens, a small team of researchers alone in the Antarctic, and cold, cold snow.
Did I mention the strange creatures? The ones that shape-shift and look exactly like your buddies? If you haven't seen it, I suggest staying away from trailers or spoilers. The Thing was cinematically game-changing, much like The Sixth Sense.
30 Days of Night
Snowbound circumstances set the scene for my all-time favorite American vampire movie. Starring Josh Hartnett, my imaginary husband from 1998 to 2002, 30 Days of Night takes place in an isolated Alaskan town where the sun disappears for a full 30 days. The endless night gives voracious vampires the perfect bitter winter buffet.
If you like more "realistic" depictions of vampires in movies, you'll love these baddies. It's open season on human flesh for these bloodsucking beasts. Leave all your lights on for this one and grab some garlic just in case.
Let the Right One In
If you like foreign films, and especially foreign films in the horror genre, you do not want to miss Let the Right One in. Based on the novel So Dark of the Night by John Ajvide Lindqvist, this is one of the best, creepiest, and most beautiful vampire movies made in the last… well, ever. Under cover of cold nights, vampiric bloodlust is shunned for a carefully blossoming young love.
Don't let the love story fool you, though. Beyond a seemingly tired vampire genre, this film effectively mixes scares with poignant and intelligent storytelling. The gorgeous cinematography carries a quiet, restrained approach to the sometimes bloody and violent subject matter.
Edward Scissorhands
Johnny Depp at his finest? Yes, I think so. Blonde Winona Ryder smiling in winter wonderland reverence as Edward makes it snow for her and her alone. I know it's not exactly a horror, but it can be pretty creepy for a kid. It's also sad and sweet, and it is the height of remarkable storytelling. We should all send Tim Burton grateful Christmas cards every year.
Better Watch Out
This one is a little less known, and super underrated. Comedy clashes with cloak-and-dagger payback in a jingle bell bloodbath that's super fun but legitimately scary. Remember your greatest fear as a teenage babysitter? Hanging out in a stranger's house, eating all their best snacks, until home invaders ruin the night? If you love suburban horror with houses ablaze in Christmas lights, you'll be happy to watch this one.
Unfortunately, this list comes nowhere close to all the Christmas horror movies I recommend, but these are some of my favorites that I've watched and rewatched through the years.
As always, if you're a parent, check the ratings to make sure you're cool with your children watching. (Edward Scissorhands, probably alright to watch with your kids. The Shining, not cool for kiddos.)
What Are Your Favorite Holiday Horror Movies?
Leave me a comment and let me know which of your fave holiday horror films keep you awake at night.