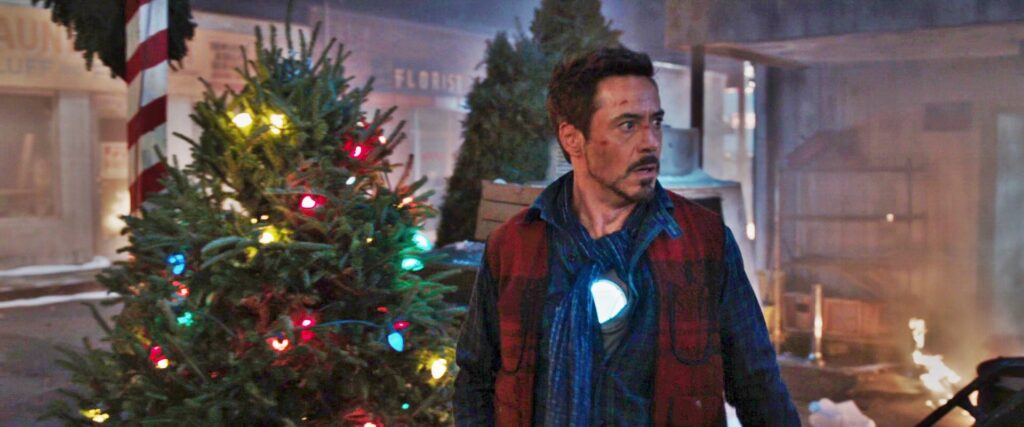 When I polled Geek Travel Guide readers about their favorite classic holiday movies, about six people named Diehard. Most people already know this Bruce Willis action/adventure flick is a Christmas movie; my friends were being factual, not edgy.
After all, countless memes circulate every holiday season where people tout the virtues of Diehard as a Christmas movie. In 2011, Forbes declared Diehard "the best Christmas movie of all time."
But did you know there's a whole list of movies on their way to becoming Christmas classics that also have absolutely nothing to do with a guy in a red suit? Unless, of course, that red suit is made of armor and has rocket thrusters on the heels.
Resident TV and movie expert Chandi Gilbert talked about the best holiday horror movies here. Today's list, however, contains more selections for the whole family.
You won't necessarily find cozy sweaters and sugary sweet happy endings. But if your family has an offbeat sense of humor, you may appreciate these "non-holiday" holiday movies. Grab a cup of eggnog, roast some chestnuts, and settle in for laughs. You had nowhere to go this holiday season anyway, right?
Addams Family Values 
The 1993 sequel to the 1991 Addams Family theatrical release, both based on the 1960s television show of the same name, Addams Family Values is a great film to kick off the holiday season.
It begins with Wednesday and Pugsley Addams shipped off to summer camp. The seminal moment revolves around a Thanksgiving pageant and Wednesday delivering a Thanksgiving speech that was decades ahead of its time in challenging cultural norms and the mythos of Thanksgiving here in the U.S.
It's funny, deep, dark, thought-provoking, and entertaining all in one—the perfect film to get into the holiday spirit.
Planes, Trains, and Automobiles
The late actor John Candy is practically synonymous with Christmas movies. He's credited with roles in titles like National Lampoon's Christmas Vacation and Home Alone. But not many people think of the 1987 hit, Planes, Trains, and Automobiles as a great holiday flick.
Starring Steve Martin alongside Candy, the movie is a quintessential holiday classic revolving around two men trying to make it home to Chicago for Thanksgiving. Hilarity ensues in ways you could only expect from the comedic genius of Candy, Martin, and writer/director/producer John Hughes. The heartwarming ending might make you appreciate being home for the holidays this year.
Iron Man 3
One of the earlier movies in the massive Marvel Cinematic Universe (MCU), Iron Man 3 takes place against the backdrop of the holiday season. While Christmas is not a focal point of the film, Robert Downey Jr. dances to Jingle Bells as he suits up in one scene and gifts Pepper Potts with a giant bunny in another. What more do you need in a holiday classic to enjoy year after year? 
Kiss Kiss Bang Bang
Long before RDJ gyrated into his Iron Man suit, he starred in another "non-holiday" holiday film. Kiss Kiss Bang Bang is a film-noir murder mystery set against the backdrop of Christmas in Los Angeles. It offers laughs, intrigue, and razor-sharp dialogue.
Holiday themes of friendship, forgiveness, and believing in miracles are also featured prominently, placing this film firmly on our list of must-see holiday classics you wouldn't think of as holiday movies.
Lethal Weapon
Set three decades earlier, Lethal Weapon shares a lot in common with Kiss Kiss Bang Bang as a holiday film. Both take place in Los Angeles, which means no snow, but other holiday cheer features prominently. Both are dark yet humorous. And, let's face it, both have leading men who faced their share of difficulties—both in real life and on-screen.
As any classic holiday movie should, Lethal Weapon ends with a heartwarming Christmas scene that drives home the importance of family—and extended family—during the holidays. If you haven't seen it in a while Lethal Weapon is a great film to add to your holiday playlist.
Better Off Dead
Better Off Dead looks and feels like a John Hughes film, and even stars John Cusack as an angsty, awkward teenage boy in the Midwest. However, it's directed by Savage Steve Holland.
Better Off Dead is another dark comedy. It details the life—and suicide attempts—of a teenage boy (Lane) who got dumped by his girlfriend right before Christmas. 
Made in 1985, the movie makes light of Lane's attempts and his oblivious parents. But if you can overlook the glaringly insensitive treatment of suicide and depression, it is a heartwarming movie with a fairy tale ending suitable for most holiday gatherings. 
Gremlins
If you are thinking that many of the best non-holiday holiday movies came out of the '80s, you'd be right. Nothing says "holiday cheer" more than mischievous furry creatures that can't be fed after midnight and should never, ever get wet.
Gremlins begins when Billy's father gives him a Mogwai as a Christmas present. Other quintessential holiday moments follow, including Gremlins singing Christmas carols and wearing Santa hats.
Sure, there's also a ton of violent killing, blood, and gore, but you can use it as a teaching moment. Perhaps it's best viewed by parents and children just before Christmas as a cautionary tale and an explanation of why Santa shouldn't deliver live pets as a gift. 
Batman Returns
Long before Iron Man hit the superhero scene on the big screen, Tim Burton's Batman Returns set the stage as a Christmas movie for those who eschew sugary sweet holiday flicks. Not only does it feature a tree lighting ceremony interrupted by bad guys, but it touches on the important holiday theme of family (or lack of).
With Danny DeVito's Penguin in one of the starring roles as an antagonist, it's no surprise there are lots of snowy scenes. The brightness of the holiday setting plays a stark contrast to the usual darkness of Gotham, a juxtaposition characteristic of Tim Burton films. And when Alfred and Batman wish each other Merry Christmas at the end of the film, it's impossible to deny the movie's role in the holiday season—especially for comic book geeks. As ComicBook.com says, "It's a Christmas Movie by, for, and about total weirdos."
That makes it perfect to wrap up this GTG guide to the best non-holiday, holiday movies!
Which "non-holiday" holiday movies did we forget? What will you be watching with your family this year?