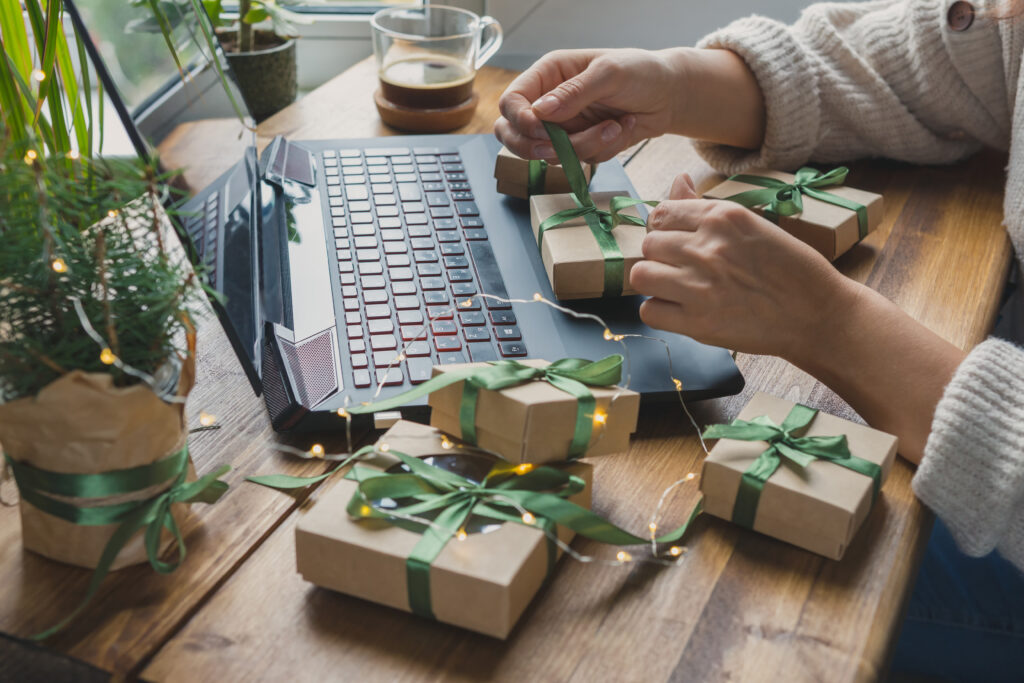 We've all had a challenging year. (That might be an understatement…)
But the entrepreneurial spirit in geeks everywhere doesn't diminish.
Here at GTG, we all feel passionate about shopping local when possible. We understand Amazon's convenience and the low prices you can find on large e-tailer sites like Wayfair. We are even fortunate enough to be Amazon affiliates. (Thank you for helping support this website by shopping through our links!)
But we try to shop local whenever possible – from supporting our local coffee houses and restaurants to buying through Etsy, local boutiques, or even our friends with Facebook pages showcasing their handcrafted wares.
What Is a Small Business?
"Small" business to us ranges from solo-preneurs to slightly larger, lesser-known e-commerce sites (like one of our favorites, Svaha, for geek clothes!) Even direct sales has its place in the small business community; as independent contractors, direct sales business owners have the freedom and flexibility of a small business with the support of a parent company behind them. For many, it's the first step to becoming a completely independent entrepreneur.
Our Ultimate Geek Holiday Gift Guide emphasizes small businesses of all types over mass-market retail whenever possible. I mean, we couldn't exactly launch a geek gift guide without including the Playstation PS5 or the hottest new digital photo frames. But we also showcase custom leather products, tea and treats from Etsy shops, and custom candles for geeks!
(Have we got your attention yet? Check it all out here!)
Ideas for Shopping Local
Sure, it's tempting to pour your adult beverage of choice, open the Amazon app, and get all your holiday shopping done in one click. It takes a bit more effort to shop local. Here are a few ideas to make it easy.
Shop in Stores Near You
As the country potentially faces another shut-down due to the coronavirus pandemic, it's more important than ever to shop in person at your favorite local stores while they are still open.
Call ahead to check hours as many places now have different opening and closing times due to the pandemic. And dress appropriately in case the store reaches capacity and you have to wait outside a few minutes before shopping.
GTG's Guest Geek Anna Lindwasser shared some of the best places in New York City to buy anime merch and books. And Books Editor Sarah Wood shares the best indie bookstores in Boston here.
Don't want to leave your house but still interested in supporting local booksellers? Wood suggests visiting Bookshop.org to buy online through indie bookstores across the U.S.
Shop Craft Fairs
If your community is still holding craft fairs, consider yourself lucky! Grab your mask and a cozy hoodie, invite a few friends, and support the vendors with a few purchases.
Craft fair vendors invest in their booth set-ups and spend a fee to attend the fairs. Not to mention giving up their weekends in all sorts of weather! Like our local bars and restaurants during the pandemic, if we don't support craft fairs now, they may not come back when the pandemic ends.
Order Through Etsy
Not sure what type of gift you're looking for? Etsy provides a great place to browse all sorts of merch – from geeky candles to custom clothes. If you're commissioning a special order, shop early to give the small business owner plenty of time to put their heart into creating the craft that's perfect for you or your loved ones.
Buy Direct from Your Favorite Solo-preneur
In exchange for providing added search engine visibility, an easy-to-use interface, and a trusted website, Etsy takes fees from every purchase from the small business owner that lists on their site.
Fair enough, right?
If you have the choice of ordering through Etsy or buying from the small business owner, perhaps through a Facebook page or even a personal connection, consider placing your order directly. You'll enjoy personalized service, your friend will avoid additional fees, and you'll get the gifts you want.
Attend Online Vendor Fairs
Online vendor fairs may not be as much fun as real-life craft fairs. I mean, there's no greasy food truck fare or roasted corn. Also, no porta-potties, so that's a plus.
Online vendor fairs have become a staple of Facebook for small businesses. Most stay open a few days to a week and provide a chance for you to interact with vendors, play fun games, and even win prizes!
GTG is organizing and co-sponsoring an online vendor event to coincide with Black Friday, Small Business Saturday, and Cyber-Monday. Held from November 23 – November 30, ten women-owned businesses will be presenting their products, playing games, and sponsoring giveaways. Visit https://www.facebook.com/groups/ShopSmallBlackFriday/ to join us!
Small business owners! Feel free to share your link in the comments below and let the GTG team and our readers check out your geeky stuff!