Kartrite Resort & Indoor Waterpark in Monticello, NY bills itself as a classic Catskills Mountains resort.
It provides activities for the kids and a tight-knit atmosphere that you don't find at the bigger water parks. The resort's overall vibe leans toward modern and upscale, yet still family-friendly. Sections like the arcade and Harvey's Wallbanger sports bar offer a more laid back feel.
In a prior post, I offered an overview of the four water parks in the Poconos Mountains. Kartrite is located in upstate New York in the Catskills. It's about the same distance from metro New York or Long Island as Great Wolf Lodge, Kalahari Resort, Camelback, or Split Rock Resort.
You won't get the benefit of being close to other Poconos attractions like the Crossing Outlets or American Candle Factory. However, just a mile down the road sits Resorts World Casino.
It gets even better for parents, too. Kartrite has a three-hour chaperoned activity program for kids, which means you can slip off to the casino or grab a romantic meal at Bixby's Derby, Kartrite's upscale dining experience.
The Rooms and Décor at Kartrite
Kartrite looks like no other indoor water park in the area. Fun and contemporary décor, characterized by bright, funky colors and geometric shapes make Kartrite feel brand new – which it is. The resort opened in April 2019.

When we visited that May, it looked like the water park had space for additional features; the park could use another hot tub, as both were continuously full to capacity when we were there. The park was also notably missing a wave pool – a staple at most water parks. That, alone, would make me choose another park with all things being equal, such as sale prices and room availability.

Overall, the rooms were clean and spacious. With single-room, two-bedroom, or three-bedroom suites, there are plenty of choices for larger families or to share a room with friends. I went with a friend and her daughter, plus my two kids – five of us in total. We stayed in a Junior Suite Double Queen, with two queen size beds and a pull-out sofa.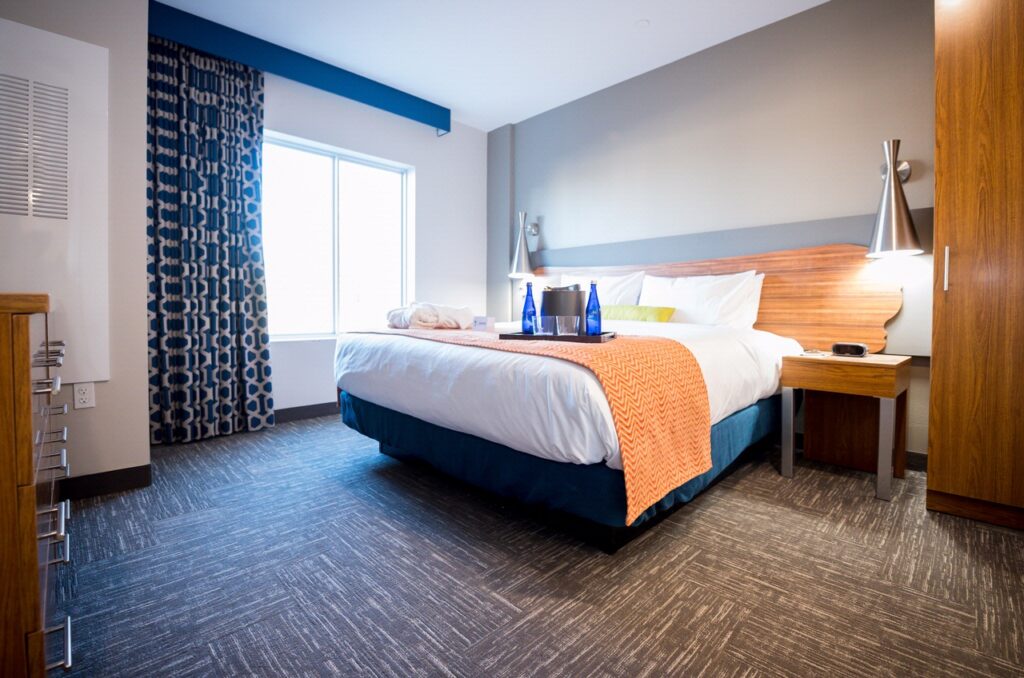 Waterslides at Kartrite
Four outstanding waterslides provide enough adventure for thrillseekers. The Krakken allows two riders per tube and provides high-speed water adventures for kids 42 inches and up and parents whose water park adventures involves more than just drinks at a swim-up bar.
Even for this roller coaster enthusiast, The Krakken created the adrenaline rush I needed to call our weekend stay a true vacation.
The Nor'easter is a 2- or 4-passenger tube slide that offers wet, fast fun! The spiral was amazing; I felt like a coin rolling down one of those coin spiral games. I didn't feel unsafe but it definitely delivered the adrenaline rush I seek on any water park or theme park vacation.
If you like single-rider waterslides, the Jiggerty-Jaggerty and Endless Summer FlowRider offer all the stimulation you need. Let's just say that for the price, Kartrite has all the adrenaline rushes water park junkies crave.
A Lazy River Worth Mentioning
Kartrite Water Park has the Most. Amazing. Lazy. River. Ever. First, it wasn't overpacked like Six Flags Hurricane Harbor in New Jersey. You could find a tube when you needed it.

Secondly, it was (as advertised) the fastest lazy river I've ever had the pleasure of riding. My daughter (the family roller coaster junkie) usually abandons her tube to swim the lazy river because it's "too slow."

She rode this one in a tube happily, rejoicing in the speed bursts – jets of air that shot your tube even faster down the river. We felt like we were playing a real-life, water-based version of Mario Kart and my son and I yelled, "speed boost" whenever we encountered a jet.

The lazy river spans a good portion of the park and is visible from every section of the park. If you have older tweens or teens, you can grab a drink in the mezzanine bar and still have visibility of your offspring as they coast the not-so-lazy river.

What Else Is Good for Kids at Kartrite Water Park?
My son is not an adrenaline junkie like the rest of the family. (Really? Where did he come from?) He does not like roller coasters or intense water slides. Kartrite offers the Lator Gator Crossing and other activities for younger kids or anyone that doesn't revel in heart-stopping water slides.
If you have littles, they will have a blast at Kartrite Island, with mini-slides, buckets of water, and more, and the Puddle Ducks area, all perfect for younger water park adventurers.
Activities and Amenities at Kartrite Resort
Just like the other indoor water parks in the region, Kartrite has a snack bar within the water park, an arcade, an all-you-can-eat buffet, and a coffee shop. It also has a candy store called Pops Sweet Shoppe that serves delicious gelato – but no ice cream!
The resort features an indoor ropes course that spans the area over the gift shop, a sports bar, and a spa.
Other indoor activities include a rock-climbing wall, a mini bowling alley, a virtual reality experience, a 3D gaming experience called The Darkside, and laser tag. The add-on experiences are actually reasonably priced for a New York-area resort, ranging from $6 for a game of bowling to $12 for the indoor ropes course and zipline adventure, called Carabiners.
An outdoor hot tub is open seasonally, and there are also fire pits, a playground, and a big lawn outside for kids to run around and play. Kartrite Resort & Indoor Water Park doesn't come anywhere near Kalahari or Great Wolf in size or amenities, and it's not themed out in a way that immerses visitors in any sort of fantastical experience. But it's still a fun weekend getaway easily accessible to New York tri-state area travelers, at a reasonable price if you score a deal on the website or through Groupon.