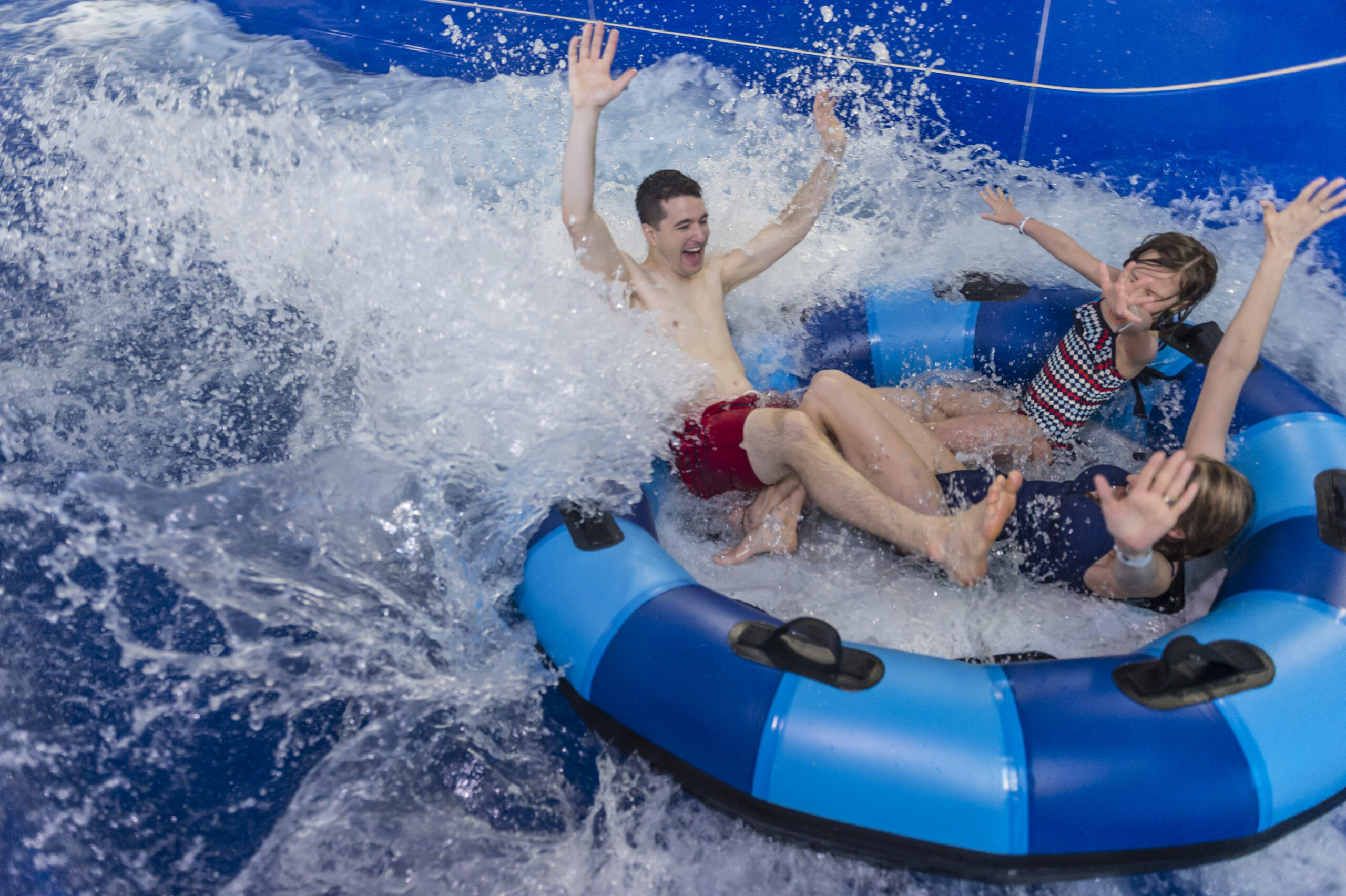 It's that wonderful time of year.
We've restored our homes to their pre-holiday state, sent the kids back to school, and got our email inboxes down to a nice, manageable, five-figure number. (Or wait, is that just me?)
But now winter break looms. The novelty of their Christmas gifts has worn off. How are we going to keep these kids busy in the house for a full 10 days? Let's hope Fortnite doesn't decide to hold another "black hole" event.
Instead of wallowing in the cold and counting the days until spring, might I suggest heading north to the warmer climate of an indoor water park in the Poconos?
Those who live in New York City and its surrounding suburbs can access four Poconos water parks within a three- to five-hour drive. But which one is best for a weekend getaway or a longer stay?
Great Wolf Lodge
Great Wolf Lodge was the first indoor water park I visited with my family. With a 79,000-square-foot indoor water park and plenty of other activities, Great Wolf can keep your whole pack busy for days. From storytime for the littles to wine-down time for the grown-ups, Great Wolf is great for people of all ages. Wiley Wolf and his Northwoods Friends wander the resort, which is a great thrill for younger kids. None of the other Poconos water parks have costumed characters.
Since the resort's opening in 2005, MagiQuest has been a main attraction at Great Wolf Lodge, bringing out the live-action role-playing gamer in us all. Buy a magic wand and traverse the halls of the resort on a magical quest. It's a great way to unwind after dinner and a day in the water park. Family bonding while you exhaust the kids. It's a win all around.
With six water slides, kiddie water areas, and hot tubs, the water park will also keep the whole family busy. I would say it ties with Kalahari as the best of the four Poconos indoor water parks reviewed here.
In recent years, guests had complained the rooms were run down, but Great Wolf Lodge recently renovated for a fresh, clean look. All the rooms are suites, which is great for giving parents some privacy.

Deals for Great Wolf Lodge seem harder to find than the other indoor water park resorts on this list, but you can sign up for the mailing list and keep your eyes open for low rates.
Kalahari Resort
The moment we pull off the highway and see the unassuming Kalahari Resorts & Conventions sign beckoning, I feel as if we're coming home.

The kids sit by the lobby's water feature as I check in. I know we're about to embark on an adventure where all our dreams come true – including my craving for red meat and king crab legs from Double Cut, the resort's high-end steakhouse.

The resort boasts three signature restaurants as well as several choices for casual dining. Marrakesh Market offers a unique shopping experience, including a convenience store that features grab-and-go food selections plus coffee refills for 99 cents if you save your cup.

Kalahari is the closest thing the Northeast has to Disney World when it comes to creating an immersive experience with stellar service. The rooms and hallways have the atmosphere of luxury you'd expect in a fine resort.

As soon as you set foot in the 220,000-square-foot indoor waterpark, hailed as America's largest, you know you're someplace special. The indoor/outdoor hot tub is especially interesting to experience in the cold or rain. Relax with a drink in hand from the swim-up bar as you watch the raindrops fall into the water, disappearing in puffs of steam.

At last count, there seemed to be 14 waterslides, ranging from heart-pounding twists and turns to family fun. There's also a sizeable lazy river with currents that are anything but lazy at times.

Kalahari also has a massive arcade, mini-bowling, an outdoor waterpark, a ropes course, a spa, an escape room, miniature golf … and I'm sure I'm forgetting something.

I've visited Kalahari three times and feel like I could go back twice a year and still never experience it all.

Since we last visited, Kalahari introduced an underwater virtual reality snorkeling adventure that I have to try. During our first visit as a family, my daughter got mermaid training lessons where she learned to swim with a tail.

Intrigued? Make sure to check their website for exclusive deals and pay a lot less than you might think for such a memorable experience.
Split Rock Resort
At just 53,326 square feet, Split Rock Resort's H2Oooohh! Waterpark is substantially smaller than the others on this list.

That's a benefit if you have kids old enough to enjoy some level of freedom, and you want to be able to see them across the park. There is also virtually no fear of losing a little one who decides to wander off in this park, either.

With only four water slides, the park isn't necessarily designed for water thrillseekers, but it does have a flow rider and a wave pool. The water park only kept our kids busy for about half a day. Fortunately, we found plenty of other things to do.

One of the oddest experiences was watching turtle races. We saw it on the calendar of events and decided to make sure we were in the lobby at that time. Of all the memories from this trip, my kids still talk about cheering for their turtles of choice.
The resort has two sit-down restaurants as well as a food court for a quick bite, and another restaurant within the water park to grab pizza, hot dogs, and more.

There is also an on-site movie theater. Although the theater was old, it offered a nice break from the water activities and the tickets were much cheaper than anywhere in our region of New York.
If you're into skiing or snowboarding, Split Rock Resort provides a nice balance between snow sports and indoor water activities. There is also a regular swimming pool for hotel guests that is separate from, but adjacent to, the water park.
If you're looking for a weekend getaway that's not far from home – and not too crowded – consider a trip to Split Rock Resort. You can book a room for as low as $99 (not including waterpark tickets), which is a great rate for the area.
Check the website for deals, though, because the Ski.Splash.Stay package, which includes ski lift tickets plus water park entry for all guests, may be a better value.
Camelback Mountain Resort
Like Split Rock, Camelback Mountain Resort is best known for its skiing, snowboarding, and snowtubing. But if you prefer the wet stuff to the cold stuff, you can fill an entire weekend – or more – at Aquatopia, Camelback's 125,000-square-foot indoor waterpark.
The resort spans 170,000 square feet of indoor family activities, including rock climbing, an adventure course, an arcade, virtual reality gaming, mini-bowling, and bumper cars, which is an attraction you won't find at the other indoor water parks in the Poconos.
Aquatopia boasts 13 exciting waterslides, a FlowRider, seven pools – including a wave pool – and lazy river. The waterpark has plenty to keep the kids busy all day long. I know my son won't want to leave the wave pool when we visit in March.
You'll also find excellent dining options, including an all-you-can-eat buffet, an Italian family-style restaurant, a gastropub, and Trails End Pub & Grille, which features outside dining around the fire pits.
Second only to Kalahari in size and amenities, Camelback was hailed as America's #1 waterpark by USA Today in 2019. Check the website for special deals of up to 30% off.
Which Poconos Water Park is the Best?
All four Poconos indoor water parks provide fun for the whole family. But which is better? Camelback or Kalahari? Great Wolf Lodge?
As the smallest water park, Split Rock offers fun for a quick overnight trip – especially if you have children under 12. Kalahari is breathtaking in its size, scale, and service. Great Wolf Lodge was the original Poconos water park, launching in 2005 to kick off a trend. It's still a hot vacation spot with plenty to offer. And Camelback offers a wide range of activities, especially for those who want to merge ski and sun during the winter.
If you have the opportunity to get away to any of these Poconos water parks during winter break or even for a weekend, it's worth the trip.
Read GTG's tips for planning the perfect water park getaway here.