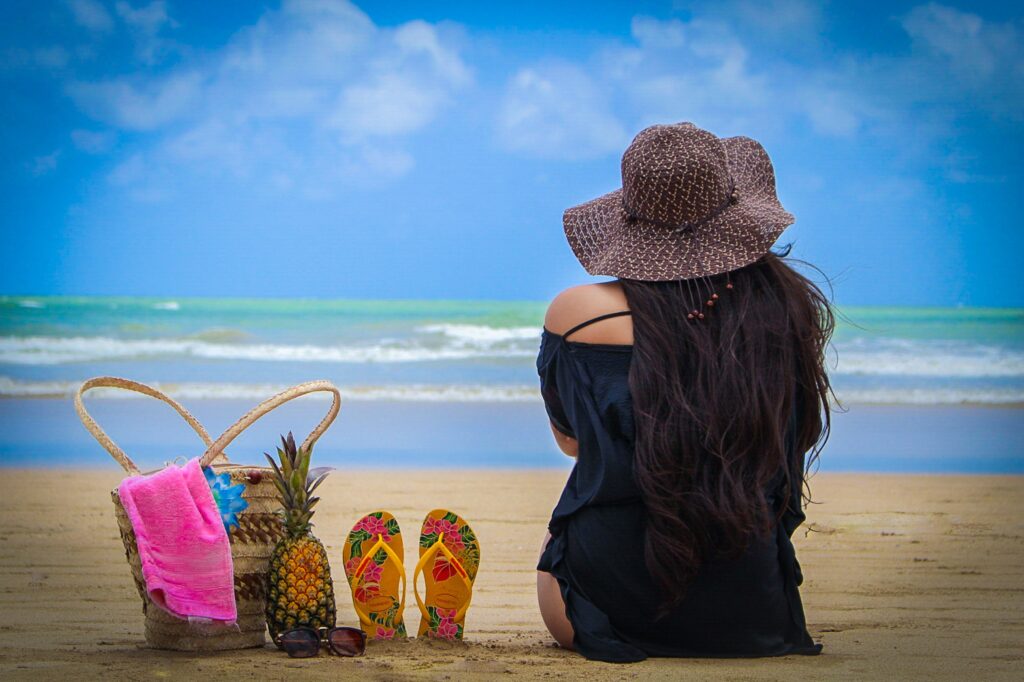 My husband and I have been traveling together since we met. We've planned budget weekend getaways and splurged on Florida vacations. We've traveled with plenty of money in the bank, and we've traveled when cash was unexpectedly tight. Now, we try to vacation on a budget so we can afford to take more frequent trips.
We recently headed to Camelback Water Park & Resort in the Poconos for a budget weekend getaway. It's about a two or three-hour drive from our house, so we could relax in a warmer climate without traveling all the way South. We didn't ski, snow tube, or even step outside the resort once we put on our bathing suits. But that's just us.
Best of all, we took this vacation on a budget, so we can continue saving for our Disney World trip this summer and, you know, also pay the bills.
Maybe you prefer to ski on your budget weekend getaway. Or if you live someplace warm, you can plot a theme park vacation on a budget – probably not Disney or Universal, but perhaps somewhere like Cedar Point in Ohio or a local Six Flags park. Maybe your idea of an ideal budget weekend getaway takes place on a beach.
Wherever you live and whatever you enjoy, you can find budget travel destinations for a fun weekend getaway.
Follow these tips to plan your own weekend vacation on a budget.
Seek out budget travel destinations.
We booked Camelback in January – typically not a month when people have a lot of money to spend planning a vacation. I spotted the Groupon and acted fast. Before I even had time to share the link with friends, it was sold out.
Make sure to set up email alerts for great Groupon deals in your region – or places that are farther away that you'd like to visit.
Also, check the websites of theme parks, water parks, and other attractions to find great specials available.
Comparison shop.
Always search several travel websites to get the best prices. When my sister and I both traveled with our families to Binghamton last fall, she found a comparable hotel on Booking.com for $50 less than I was prepared to pay on either Expedia or Travelocity. I used to always rely on Expedia as they seemed to have the best prices and I would accrue rewards. Now I check at least four sites for the lowest rate.
You may also be able to take advantage of free rooms as part of credit card benefits and, of course, look for ways you can leverage your credit card rewards points to get the most value.
Entire websites cover how to maximize credit card rewards points; using frequent traveler rewards is a geek culture of its own. Suffice to say, it could be worth your time to familiarize yourself with rewards programs if you use credit cards and want to take a vacation on a budget. As long as you pay your credit card bill on time so you don't accrue interest, credit card rewards basically represent free money.
Plan your budget weekend getaway with other families.
It's often nice to have a hotel suite with a full kitchen when you plan a vacation on a budget. But that's not usually the cheapest option – unless you book a suite, AirBNB, or VSBO property with another family or two.
If you gather enough families together, you may even be able to snag a group rate on tickets to attractions—and you might discover a few perks.
When we visited Kalahari Resort & Water Park a few years ago, we traveled with two other families. We opted not to share a suite, but we did splurge on a $300 cabana. The cabana gave us a private place to rest, relax, eat, and store our stuff. It's not something we would spend $300 on for a single day, but at $100 per family, it was well worth it.
Stay off the beaten path.
You can find tremendous value with an AirBNB or VSBO property. But you may also find a hotel a bit farther from the main attractions at a discounted price. When we went to Split Rock Resort a few years ago, we stayed at the nearby Best Western, about 20 minutes from the resort.
We got a free continental breakfast and only paid $99 for the room. Best of all, because we had to leave the resort, we weren't tempted by the pricey resort cuisine. We saved money buying coffee and ice cream at WaWa and ate meals off-site to create a budget weekend getaway.
Plan some cheap meals.
If you have a suite or even a room with a refrigerator and microwave, you can plan some cheaper meals during your budget weekend getaway.
Even if you only have a mini-fridge in the room, you can serve cereal for breakfast, sandwiches for lunch, or an easy microwave meal. Just remember to pack disposable or cheap reusable plates, bowls, and utensils. If you eat out one day, you can always have your leftovers for lunch or a snack the following day.
If cooking – or even serving food – on vacation is totally not your thing, consider planning a few less expensive restaurant meals, whether that means fast food, quick-service, or a family-friendly restaurant nearby.
On our upcoming Camelback trip, we will be arriving at the resort right around lunchtime. My daughter asked for Red Robin for lunch, so we will plan to eat before we check in. I'm a member of the Royalty club and I have a gift card, so we'll save some money on our first meal.
Pack everything you need.
When I'm not trying to plan a vacation on a budget, my favorite expression is: Every place we go has stores. But this can get expensive.
On our last weekend getaway to Six Flags Great Adventure and Hurricane Harbor, my husband forgot to pack sneakers since we visited the water park on the first day of the trip. I also forgot a few necessities. We spent a fortune at Kohl's.
Since we have Six Flags season passes, I don't worry about splurging a little when we make the trip. But we definitely could have done without that Kohl's excursion.
In short: Take a careful inventory that you have everything you need. Things like toothpaste, contact lens cleaner, extra articles of clothing, and phone chargers can cost a fortune if you have to buy them at the resort or hotel. Even if you visit a local Target or Wal-mart, those purchases can add up.
Check the clearance racks for souvenirs – or buy them off-site.
If you're on a really tight budget, of course, you can skip the souvenirs completely. But if you'd like to bring home a few mementos from your budget weekend getaway, check the clearance racks. I scored a $9 Camelback t-shirt and a gorgeous, warm hoodie for just $21—about 1/3 of the price of the original hoodie I picked out.
If you're traveling to a hot tourist destination like Myrtle Beach, South Carolina or Orlando, Florida, you can find great deals on souvenirs off the beaten path. Orlando gift shops sell autograph books for Disney characters for a few dollars.
You can find Disney, Harry Potter, and Marvel superhero merchandise at Wal-mart, Walgreens, and tourist shops along International Drive and save a lot of money off park prices. (Read more tips on things you can get cheaper outside Walt Disney World gates here.)

If you are visiting a state near you and just want a t-shirt or mug, check gas stations, Flying J, or T&S stores along the way.
Look for fun and free (or cheap) things to do.
If you're staying in a resort, the hotel probably offers tons of free activities, including swimming in the hotel pool.
Some of my best vacation memories were free, including night-time swimming at an outdoor pool in Boston, watching turtle-racing at Split Rock Resort, and building LEGO figures with the kids at Disney Springs. Most recently, my daughter and I decorated donuts at Camelback for just $3.
Ask about free or cheap kids' crafts and activities when you check in, because resort-style hotels and indoor waterparks probably have plenty of them. Six Flags theme parks also offer free add-on activities and discounts for season ticket holders and members.
Invest in a toll pass for the area where you're traveling.
Invest in an E-ZPass or the equivalent for whatever region you're traveling in. You'll save time on your trip, increase your overall gas mileage to save money, and even save money on tolls.
E-ZPass, SunPass, and E-Pass all offer discounts for passholders. If you're a frequent traveler in Maine, you can enroll in the state's E-ZPass discount program for even more savings. Plus, if you don't have a pass and end up in a pass-only lane, the tickets and fines cost even more than the toll.
Even if you aren't a local, it pays to invest in a pass wherever you're traveling. Plus, more states are completely phasing out cash tolls, so you may not have a choice.
You might think you can save money by planning your trip to avoid tolls. But this can get expensive fast – both in gas and wear-and-tear on your car, if you're traveling out of your way. Plus, if you're traveling with kids, the longer they're in the car, the more food they will need. Minimize stops with kids and you will save money.
On a recent trip, my husband and I laughed when Google Maps pointed out that we could switch our route to avoid tolls but would end up traveling farther. In one case, the GPS suggested we could circumvent the Delaware Water Gap, saving $1 on the toll. The route took us 30 miles out of our way. My Toyota Rav4 hybrid gets 30 mpg, so it would have cost us $2 to $3 more to avoid the toll.
Plan your gas stops ahead of time.
It's tough to avoid tolls in many areas of the country, but it is possible to save money on gas stops along your route. Use an app like Waze or GasBuddy to find the lowest priced gas stations without veering off course from your fastest route.
If you're a Northeast-region traveler, this might mean stopping in New Jersey for gas before you reach New York. In general, gas will be cheaper at stand-alone stations than those you find at rest stops or service areas.
Relax and enjoy yourself.
Even if you've planned a vacation on a budget, you can enjoy yourself without stress if you stick to your limits. Plan restaurant meals in advance so you know approximately how much you'll spend, and "just say no" to the overpriced hoodies, stuffed animals, crappy toys, and things you and your family don't need in the gift shops.
If money is really tight, that's okay.
Who says you still can't enjoy a vacation if you plan ahead? Just make sure you set aside cash or a credit card for gas and food for the ride home.
It's probably also a good idea to have an emergency savings account to deal with a catastrophic breakdown or other issues on the road. But when you think about it, your car could break down just as easily on your way to work as on the highway to a relaxing getaway.

Remember, you're on vacation to make memories. Your hotel and attraction tickets represent your biggest expenses on a budget weekend getaway. Make the most of your time (and money) by taking advantage of all the included amenities your budget vacation destination has to offer.