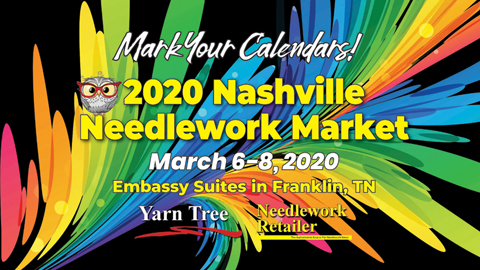 Every year beginning in February, the cross stitch world perches on pins and needles as we wait for the Nashville Needlework Market pattern reveals. Cross stitch patterns are, essentially, the visual instructions you follow while stitching.
The largest wholesale cross stitch event in the U.S., "Market," as we call it, happens every year in Tennessee. Combination cross-stitch convention, buyer event, and trade show, Market combines a cash-and-carry seller's craft fair with a buyer's paradise alongside useful classes for those attending.
Pattern designers, fabric and floss dyers cross stitch retailers, and embellishment and accoutrement makers all mingle in the Embassy Suites in Franklin, Tennessee, for two fun-filled, exhausting days. This year more than 136 vendors are attending.
Cross stitch crafters, however, have been eagerly strung along for weeks with sneak peeks, flosstube videos, and requests for pre-orders on social media. (For a look at most of the Market releases, check out #nashvilleneedleworkmarket2020 on Instagram.)
Most of these patterns will be available from your local needlework store or favorite online cross stitch retailers. I found that Top Knot Stitcher had the most organized site if you want to browse all the Market designs without needing to know pattern or designer names. If you know which pattern or designer you want, check out Threads Entwined. They ship quickly, and their customer service is remarkable.
(Geek Travel Guide receives no monetary or product consideration from any designer or store mentioned in this article.)
Now that the designers have, for the most part, shared their releases, here are the top trends we noticed.
Bigger is Better
Of the more than 300 new cross stitch patterns being released, the majority of them are larger than 100 x 100 stitches.
Heartstring Samplery's "Consider the Lilies," measures a whopping 435 x 363 stitches and uses 25 different colors. The beautiful, delicate design features flowers and animals all gathered around a central tree and a brick home. "Consider the lilies of the field they neither toil nor spin" is stitched across its width.
Autumn Lane Stitchery's brightly colored (and colorfully named) "Horrid Old Hag," is a more modern pattern and only uses six or seven colors. Skillfully designed, the pattern doesn't look flat despite the short floss list. It measures 140 x 196 stitches and is full coverage.
Ink Circles never fails to impress with their striking designs. The "Modestly-Sized Red Ship of Life" measures a respectable 299 x 269 and is stitched with only two colors of Gloriana Silk. A primitive ship graces the center of the design, housing an elephant with a fabulous bushy tail and three riders. Below the ship, plants and sea life swim gracefully. The air is full of different birds. The pattern is well worth the cost of the called-for silks.
As patterns became more available, cross-stitchers used samplers as teaching and practice pieces. There was an expectation in society that young women would be skilled needleworkers. Girls began practicing their stitching as young as five.
The oldest sampler still intact was stitched in 1598 by an English girl named Jane Bostocke upon the birth of her cousin in 1596.
While samplers today are not used to preserve patterns or for training, they still keep some of the same features and layouts of their predecessors. The alphabet is usually featured prominently, sometimes more than once in different styles. Others are bands of different stitch patterns or scattered motifs across the design.
Some modern sampler designs are direct recreations of antique pieces, while others mimic the motifs and art styles while still being completely new.
One such sampler is Michelle Bendy Stitchy's "Roladex Mourning Sampler," co-designed with Carla of Roladex Stitches on flosstube. While this sampler has a more modern aesthetic, it still features aspects of traditional samplers. In particular, the weeping willow and gravestones, which are prominent images in mourning art and textiles popular in the Victorian period in the 18th century.
See below for images of some of the other sampler releases.
Prim is Still In
As within T.V. and movies, cross stitch has its own "genres" of design. You'll see patriotic, modern, samplers, and primitive styles at this year's Market.
Primitive patterns are often archaic designs with simplistically styled humans and animals. Any design can be "prim," whether it's a sampler or patriotic design, or even a modern sentiment.
This "Coffee First!" pattern by With Thy Needle & Thread is a perfect example, celebrating our modern addiction to coffee in a delightfully primitive, playful design.
The Bee Company's "Witch's Broom Chart & Finishing Kit" has the simple silhouettes of a prim design enhanced with buttons and a wooden frame.
La-D-Da's "Louisa Clark" is a lovely, clean primitive sampler recreation originally stitched by 9-year-old Louisa Hubbardston in 1825.
The delightful Steph of Lindy Stitches has been designing since 2007. Her colorful, funky designs are sweet and snarky, just like her. With a firm grounding in color, Lindy Stitches designs are brave and bold and should be stitched just as she charted them, with no substitutions. "Mary Mary Needle Worker" is a Market favorite this year, and she's releasing the chart version of last year's kit, Penelope's Posies created in partnership with Lady Dot Creates. While I saw no sign of Dirty-Face Lace on this year's designs, I'm sure we haven't seen the last of it.
Bursting onto the scene of last year's Market with the stunningly popular "Quilting Bee," The Blue Flower returns with another whimsical squirrel to add to her collection. This one pedals a bicycle with a wee little squirrel in a front basket piled with acorns. She's also releasing "Huckleberry Farm," a lovely sampler with some beautifully subdued colors that just miss being prim. A collaborative design with Bendy Stitchy, "Friendship Sampler" spotlights a Viking-style ship lined with donuts and crewed by a pink fox and a bear.
Bendy Stitchy's half of the design adds even more donuts (you can never have enough donuts) and two tiny riders on a giant swan. Aptly, the quote on this design reads, "Good ships and wood ships. Ships that sail the sea. The best ships are friendships. May they always be." 
This is Bendy Stitchy's first year at Market, and she's bringing three new patterns in addition to the Friendship Sampler and the Mourning Sampler I mentioned above. Her witch Hilde gets a third pattern in the series. Dressed for summer, Hilde rides a giant ladybug accompanied by her bat friends and surrounded by strawberries (you can find the other Hilde patterns in her Etsy shop). An Alice in Wonderland stitch called "Literary Alice" features bright colors and a simple pattern. Her final offering, model stitched by yours truly, is a modern take on a traditional fraktur pattern surrounded by snark.
The Classics are Still Classy
Many of the big-name designers in the cross stitch world are also releasing designs for the Nashville Needlework Market.
Kathy Barrick is bringing ten designs, including a quaker-style sampler and the return of Spot the horse. She's also releasing another beautiful moth pattern this year, titled B.R.'s Moth, and it's just as beautiful as her H.L.'s Moth.
Plum Street Samplers, always a favorite, is releasing another stack for this year's Market (kangaroos!), as well as another pattern in her Noah's Christmas Ark series—Llamas & Lovebirds. Her "Spring Has Sprung" design is particularly lovely, but her "Sewn in Friendship" is a must-have.
If your tastes run more modern, the ever-popular Tiny Modernist also has ten new patterns for us. "Every Season" is a 6-part SAL and is brimming with her signature bright colors. She's releasing three more biscornu as part of the Biscornu of the Month series, featuring wee beasties: an elephant, lion, and panda. Of particular note, however, is her "Unicorn Tapestry," a riotous celebration of bright shades on a peaceful, deep blue fabric.
One of my favorite designers, The Primitive Hare, presents five new patterns and four beautifully prim fabrics, one of which dances with bees and another, which boasts nautical markings and an old sailing ship. Her designs include "Mermaids of Salem Bay," a gloriously finned siren and a set of three deceptively simple animals in "Spirit of the Woods," a raven, wolf, and hare.
Market starts on March 6th. You can purchase most of these patterns at your local needlework shop or your favorite online retailer.
I've got my order in—what's in yours?