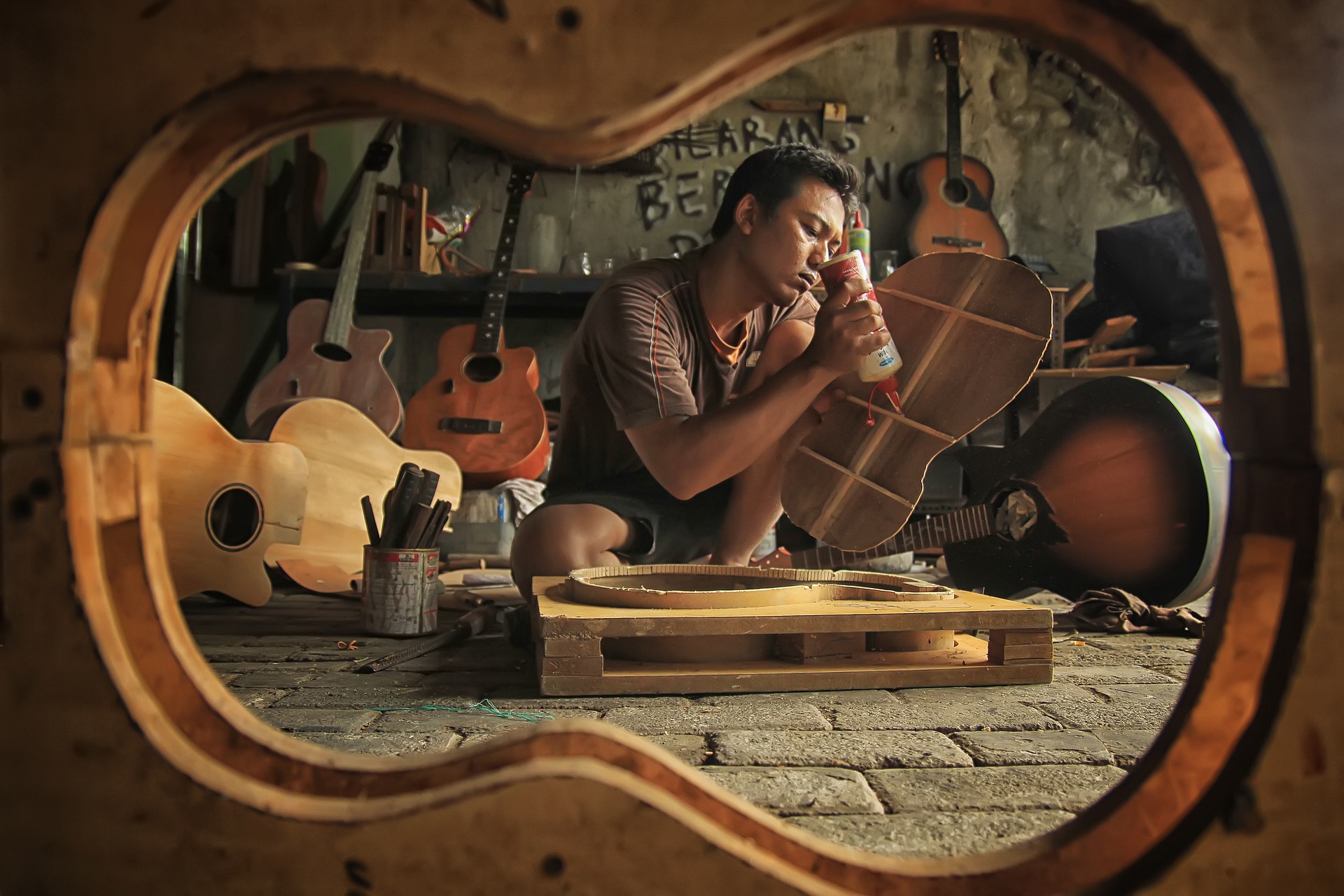 Do you love making amigurumi? Do you cross-stitch patterns like dragons or quotes from your favorite sci-fi books and movies? If you can't find a sign, blanket, pillow, or t-shirt from your favorite fandom, do you just create it?
Think about this: If you fall in love with something you've created, there's a good chance that others will like it, too. (That's the premise and belief that finally convinced me to launch this website!)
You can monetize your passion for crafting to help pay for your geeky endeavors and vacations. If you want to devote the time, you can even turn your geekcraft habit into a legitimate side business or a full-time income.
The Gig Economy by the Numbers
Thirty-six percent of working Americans have a gig as either their primary or secondary income. Forty percent of gig workers earn 40% or more of their income through their freelance hustles.
And it's not just those looking to make ends meet who are embracing the independence that comes from working freelance or owning a small business. Sixty-three percent of full-time executives would be independent contractors if they could.
More than 75% of gig workers wouldn't trade the freedom and adrenaline rush of freelance work for a full-time job. (I have to agree there!)
With so many people earning money independently – either as small business owners or 1099 independent contractors – why shouldn't you serve yourself up your own slice of the side gig pie by monetizing your passion?
Well, that's a good question.
The Downside to Monetizing Your Passion
Before we explore the "why" and "how" of monetizing your passion, let's look at some reasons why turning your geekcraft endeavors into income may not be right for you.
You don't like promoting yourself. – You can set up an Etsy store, list your crafts, and hope for the best. But your side gig can really start to take off if you begin promoting it on social media and in real life.
If you are completely uncomfortable promoting yourself and showing off your amazing creations – and you feel like this is something you can't get past – then monetizing your passion is probably not for you.
When I started Geek Travel Guide, I knew I had the marketing background and social networks to promote it. Talking about myself and my work is not my favorite thing to do. But as a content writer, I'm an expert at promoting my clients. I was able to turn those skills toward my own endeavor with GTG and build a strong following quickly. (It helps that I have a great team; I am even more excited to promote work by the other writers than my own!)

You don't work well under pressure or deadlines. – Every job comes with deadlines and mandates. When you're running your own business or even filling orders for fun, geeky crafts in your spare time, there will be occasions when you have to meet a tight deadline.
Maybe you're creating cricut tees for Fortnite fans for a boy's 10th birthday party. Or a bride wants a special cross-stitch pattern for a handfasting ceremony. Maybe you need to get multiple crafts done for a local craft show or sci-fi and comics convention.
Whatever the case, sometimes you'll have to hustle to get the job done. And that's in between the other commitments of your full-time job, family, volunteer commitments, and all the day-to-day things that need to get done. If you don't have an incredible drive to succeed – whether it's because you need the money or just thrive on challenge – monetizing your passion may not be for you.
You want the freedom to create what you want to create. – Maybe you already have a full-time job where you take orders all day. Or maybe you're lucky enough that you don't have anyone to answer to (and you like it that way!) If you want the freedom to craft whatever you want, when you want to craft it, you may not want to monetize your passion.
Sure, you could create stuff and list it on Etsy. But eventually you'll start to see what sells. Maybe you'd rather craft fairies rather than dragons, but your dragon stuff is flying out faster than you can make it. When you monetize your passion, if you want to continue making money, you are at the whim of the market.
Plus, if you're really good, eventually you may start getting requests for custom orders. Monetizing your passion involves following the market and giving customers what they want. If you're not into that, you may want to keep your geekcraft to yourself, friends and family – and that's okay!
You think making money might take the fun out of your crafting. – Personally, I feel fortunate that I can do what I love and make a living at it. I have always been like that. When I started playing paintball, I quickly found a way to write for industry publications to finance my habit.
But many people like to keep their "work" and "play" separate. Once something becomes work, with responsibilities tied to it, they no longer see it as fun. If you think monetizing your passion will ruin your crafting hobby, steer clear.
Tips to Monetize Your Passion
Still reading? Are you convinced you may be able to monetize your passion for crafting and sell your crafts for others to enjoy?
For many, the impetus behind promoting your crafts is not making money, but to share your creations with more people. Because we have limited time – and crafts inevitably cost money for materials – monetizing your hobby becomes a way to get your creations into even more hands and defray some of the costs.
But how do you start?
How to Promote Your Crafts on a Shoestring Budget
For a cottage crafter or small business owner, it's not necessary to spend hundreds (or even thousands) on a domain name, website, or content creation to help your website rank in Google searches.

Many websites, as well as Facebook, provide opportunities for geeks to sell their creations with nothing but an Internet-enabled device and access to a shipping service to get their goods to customers – either the post office, FedEx, or UPS.

The following is not a comprehensive list, but it can provide some ideas of the best places to sell your crafts.
Etsy – Known worldwide as one of the top sites to find handmade items, including geekcraft items, cross-stitch, and cricut creations, Etsy has no fees to join. You will pay a small fee for listing items and Etsy also gets a percentage of each sale. Still, the platform is intuitive and is a go-to source for many geeks looking for handmade items.

eBay – You may not think of eBay as a top source to find handmade items, but you can buy practically anything on the famous auction site. You'll pay an insertion fee and a percentage of the sale.

Facebook Marketplace – For a no-risk, no-fee option, list your items in the Facebook marketplace and local Facebook buy and sell groups. The benefit to Facebook is the intuitive platform and the fact that many people spend a lot of time on the social network.
Word-of-Mouth Marketing to Help You Grow
How big do you want your crafting business to get? The sky's the limit if you are willing to devote the time and resources. You can spend time in local Facebook groups to promote your business. You'll find many local business owners are happy to share your posts and support your business if you support theirs, in return.
You may also consider donating merchandise to a local school for a raffle or basket auction. Include business cards with your donation. Participants who don't win might be wow'ed by your creations and want to buy their own.
Most importantly, ask friends and family to support your endeavor – in person and online. This might be the hardest part of trying to build a crafting business, but even one vocal "brand-evangelist" in your network can lead to multiple sales.
Meet Your Community at Craft Fairs
Craft fairs often cost more than internet marketing if you're trying to monetize your passion. First, you'll have to create enough crafts in advance to fill a table. You'll also need to pay the craft fair organizers for the table. After all, that's how the organizers make money.
But even if you don't make a lot of sales at the fair, it's a fun way to meet people who are interested in your merchandise. Connections could lead to sales down the line.
If you choose a fun, local fair that attracts people with common interest, running a booth will hardly feel like work. After all, what's better than hanging out with geeks who love crafts and crafting as much as you do?
Should You or Shouldn't You?
Monetizing your passion gives you a chance to earn some cash doing what you love, meet other like-minded geeks, and share your art with a wider audience.
Are you going to make the leap and monetize your passion or keep your geek craft as a hobby? We want to hear your thoughts below!