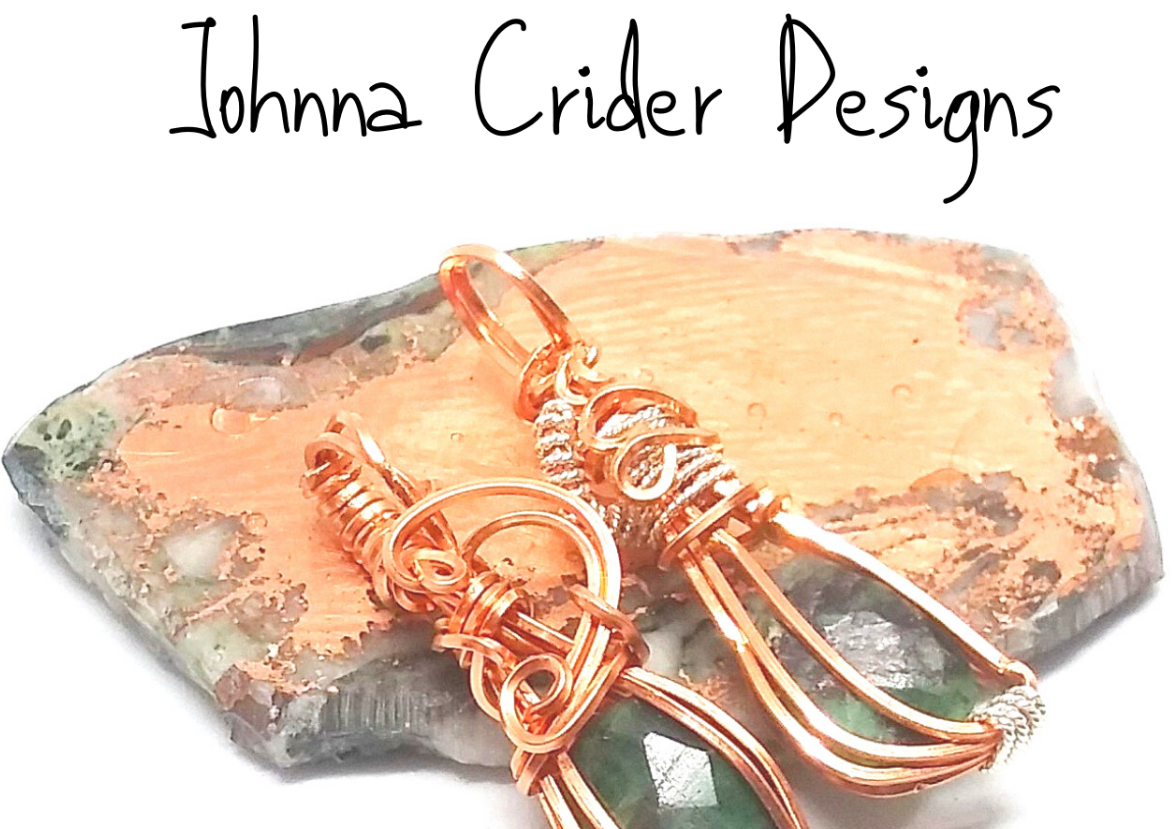 Geeks find inspiration in our crafts and creations. We find it in the TV shows, movies, characters, and games we love. Most of all, we find it in each other.

When I first met Johnna Crider on Twitter through the Elon Musk, Tesla, and SpaceX fan community, I knew she was someone I wanted to get to know.

First, her wire-wrapped jewelry is absolutely beautiful. I was inspired to share it in our Valentine's Day Gift Guide. As I got to know her, I discovered she is a strong, smart, and eloquent business owner and a fellow freelance writer. (Johnna writes about Tesla, clean energy, and more at CleanTechnica.)
Beyond her writing career, she's got stories to tell: Stories about the powers of gemstones, earning a living from her craft, and embracing lessons from Darryl Thompson and Elon Musk about success and perseverance. (Which, let's face it, is one of my hobbies, too.)
For those who don't know, what does wire-wrapping jewelry entail?
It's really simple; it is using wire to wrap a mineral or gem or crystal into jewelry. I use copper, mostly, but also silver and 14K gold-filled wire.
You literally wrap a stone with wire. No soldering, no glue, just the wire. Sometimes I weave and coil, as well. That takes more wire and time so the prices on those pieces are higher.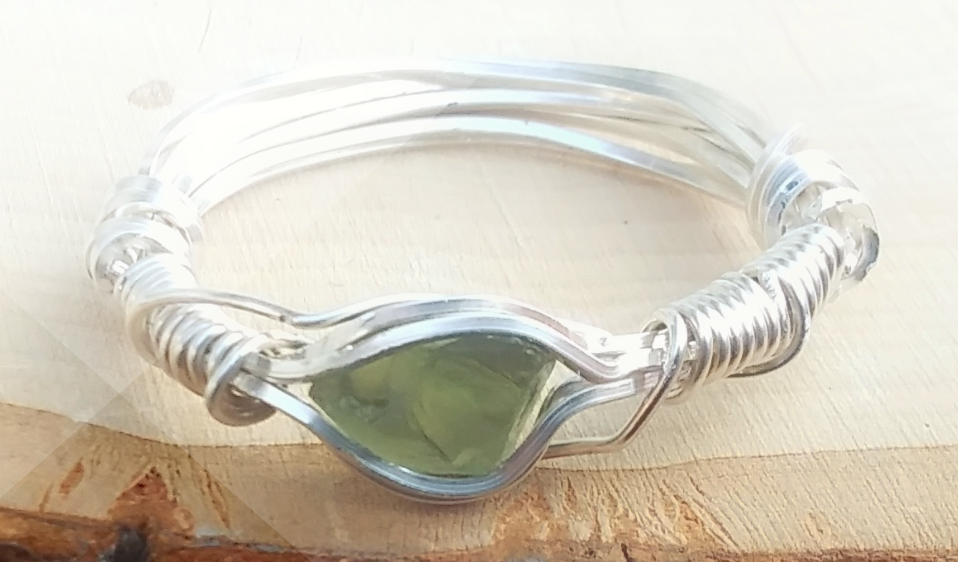 You started your jewelry-making business at the prompting of legendary jazz musician Darryl Thompson. How and why did his words inspire you?
I remember when I first met him and his wife, Denise. They were in their shop in Little 5 Points and Darryl was so knowledgeable about crystals and minerals. He could look at a mineral and tell you what it was, what its properties were and how to use it–without even glancing at a book.
If someone wanted to get started wrapping their own jewelry, what tips would you have?
Don't stop. When you do your first piece, don't wince, throw it down and say "I suck." That's what I did and Darryl told me that I would get better in time.

However, when I was first starting out, I was very insecure in my art until one day, someone asked me where I got that jewelry and I told them I made it. They paid $40 for it and I sold it off my neck.
Another tip is to start with aluminum. It's lower in price and you can afford to mess up and start again. If you're confident with trying something new, go with copper. Also, the more you wrap, the more your confidence grows.
What attracts you so much to gemstones and jewelry making? What is it about the stones?
It's all energy. Crystals, gems and minerals all have energetic vibrations. Some people think it's fake or pseudo science, but I've had some really interesting experiences.

Also their beauty–in raw, polished, and even cut and faceted forms. There is something so humble about a raw diamond before it's cut.
Do you believe that stones actually have healing properties or that their energy can help and guide people?
Yes. Energy is all around us, in us and it is us. We are energy.

If you look at a crystal under the lens of a microscope, you will see that it is in motion. Everything is made up of atoms and cells.

I'm not a biologist but I do know that crystals have influenced my life in many different ways. Some people think I'm crazy, but that's okay. Darryl always said that everyone has a path they have to walk and we need to let them walk that path without judging them.
What's your favorite stone?
I have so many, but I would go with Moldavite. It was my very first piece that Darryl wrapped in silver and used to show me how to wrap stones.
Moldavite is a gem that has a very unique history. It came to this planet 16 million years ago with a really big bang. It is linked with legends of the Holy Grail, the Emerald Tablets, and the Philosopher's Stone and is the only "emerald" that has ever fallen from the sky. Technically it is a tektite–one of two that can be cut and faceted into gemstones.
Moldavite literally made me feel as if I was buzzing with energy. Darryl told me a story that it literally healed an open wound he'd gotten when he accidentally cut himself with his tools.
In 2018, Elon Musk shared an open letter I published on my blog. I wanted to thank him with a gift. That gift I made was a Moldavite wrapped in copper.
When I wrote him that open letter, it was to thank him for not giving up on himself. My ex had just left me, and I was still under the illusion he was coming back. I was very unstable financially and I knew what I wanted to do, I just didn't have the courage to do anything business-wise.

Yet, Elon's voice saying he never gave up was in my head. I thought, "How would Elon get out of this situation? How would he solve it?"

I was working a part-time job, living with friends, and spending all my money on bus fare or food and any extra from a jewelry sale was put back into savings. I literally had nothing but a few articles of clothing, jewelry-making supplies, and what was left of my mineral collection.
Another thing I learned from Elon Musk is persistence. No matter what the haters and the media says, Tesla keeps pushing on. Tesla's Twitter account doesn't even acknowledge the haters.
Also, another thing that I have seen from Elon is loyalty: self-loyalty. You have to be loyal to yourself. This means you take care of yourself and you realize that your time is valuable.
Whatever you focus on becomes bigger. Is it worth my time for me to think about this problem or should I do something else and let that problem take care of itself, instead?
What advice would you have for any creative looking to start a business based on something they love doing?
When you make a choice to go for what you want, the Universe will conspire with you to make it happen.
That has been proven true for me so many times. Darryl told me in the beginning: "I am going to teach you a skill that will be with you for the rest of your life and you can make a business out of it."

That was in 2009. Darryl's words were prophetic. 
There was a time when I had no money, but traded jewelry for a weekly bus pass. Jewelry for food. Jewelry for other things such as lotion, clothes, and other necessities. They were all handmade from other artists.
I did something that I loved, and I survived all of my hardships because of it. Your dreams and goals will come true if you focus on them despite your circumstances.
Why do you think it's important for creatives to stick together and encourage each other?
I have always been supported by other creatives, so it's natural for me to want to support them back. We need to support each other even if we work on similar creations.
The grocery store has a bread aisle. There are about 20 different brands or more–depending on what store you are at. No matter what you have and how similar it may be to another person's creation, you are still valued. You still have something of value for someone else.
Darryl also once told me that every piece of jewelry he made is meant for someone. It may get to them right after he finished the piece, or years after. I hold that belief as well.
There is enough for everyone–enough prosperity. We should support each other because when we do, we are supporting ourselves.