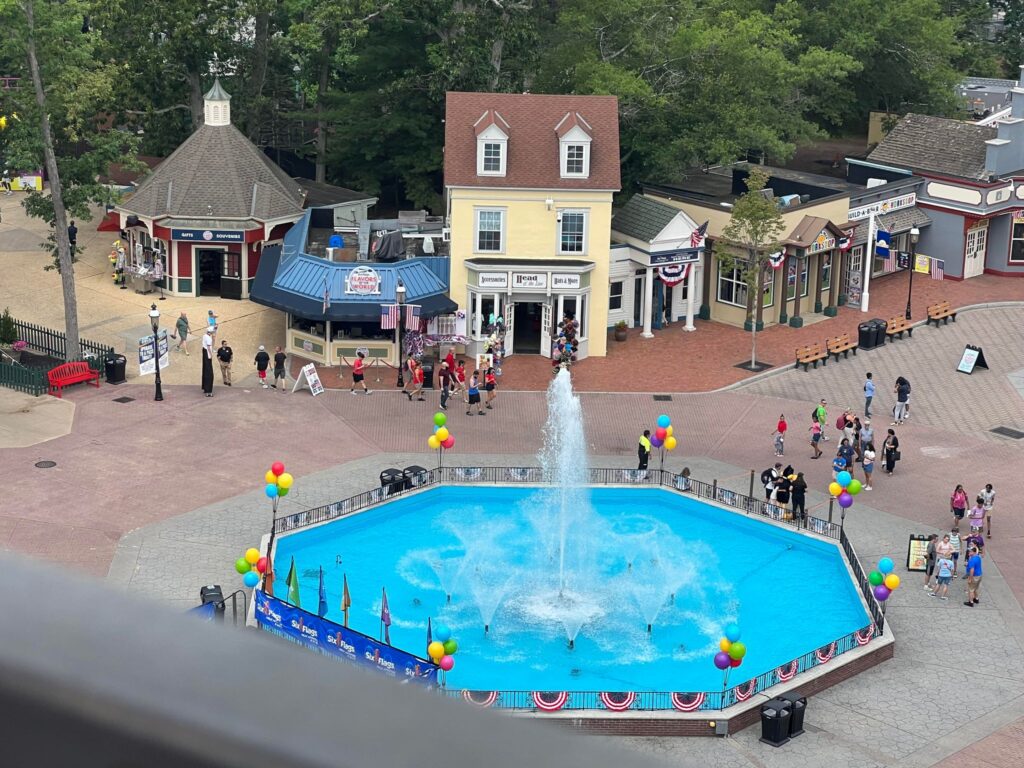 Join my family as we eat our way around Six Flags: Great Adventure in Jackson, New Jersey
In an effort to deliver more value to guests amidst price increases, Six Flags introduces the Flavors of the World Food Festival at many of its parks nationwide. Like many Six Flags fans, I love seeing the company adding special events. And, as a foodie, I love that one of their first events aims to capture our taste buds with Flavors of The World.
We ate our way around Six Flags Great Adventure in New Jersey with two Passports. Each Passport is good for 8 or 12 items in any of seven countries. Grab lunch in Greece and follow it up with Tiramisu in Italy. Grab a Chai Tea in India. It's all within a few steps of the park entrance. Here are the countries represented at Six Flags Great Adventure in New Jersey:
Mexico
Korea
Greece
France
Italy
Caribbean
India
Members and season passholders receive 12 items for the price of 8, making each item roughly $5.25. With two Passports, my family of four ate until we were stuffed. I felt like the Food Festival offered a better value than buying any other food within the park.
Join us as we share our thoughts (and some snapshots) of our Six Flags Flavors of the World experience.
France
Our culinary journey around the world began in France with ham and cheese croissants. Probably the most basic food at the festival. Buttery and delicious and more filling than we expected from their size.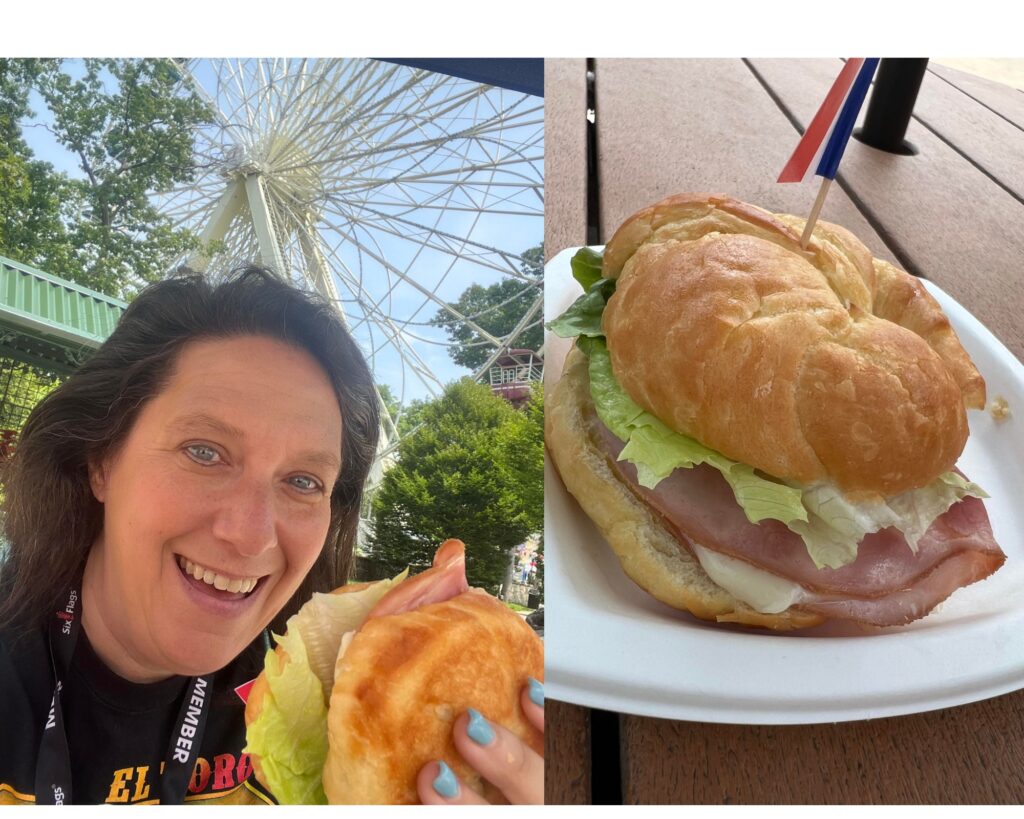 Alex went back for two more sandwiches throughout the day. We both rated them a 10 out of 10.
Later, the Alex tried the Berry Crepe, which he rated an 8 out of 10. It might have earned 10 points if he wasn't basically full and exhausted. We were trying to use the last two punches on our Passport and taste as many items as we could.
Caribbean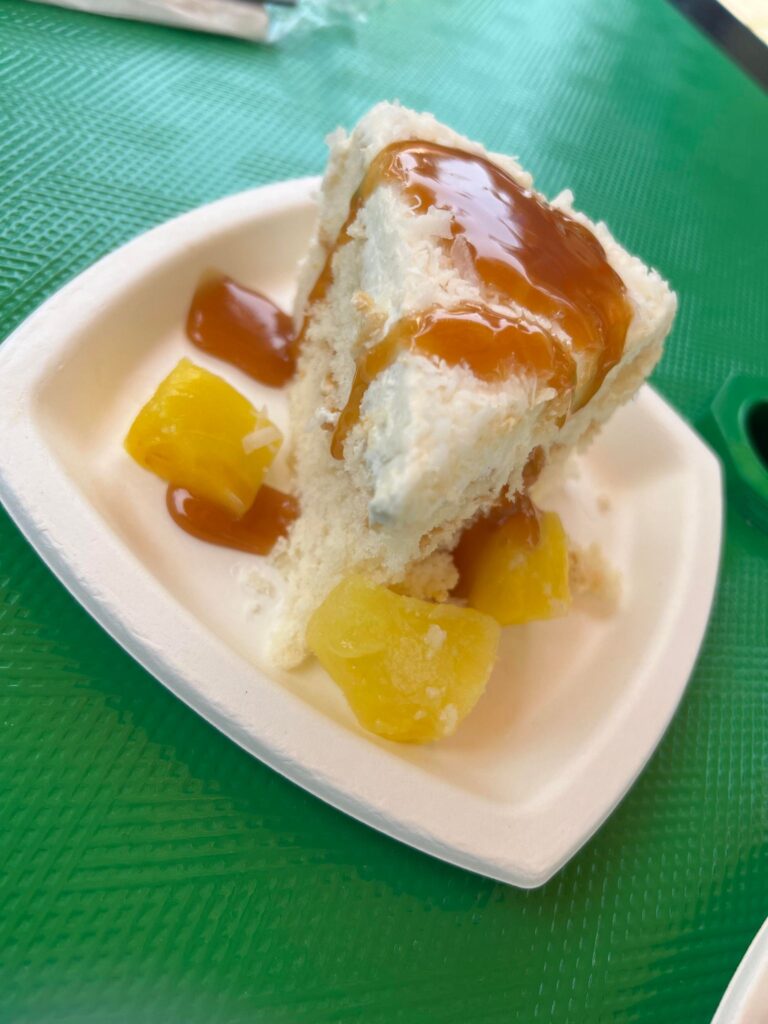 Next, it was onto Jamaica because Alex still had room for a full meal. We split Jerk Chicken Skewers, which he found a bit too spicy. The chicken was tender and the sauce had a sweet-spicy kick. Portion size was fair for the price. Alex gave it an 8 and I gave it a 10.
Alex still had room for dessert once he spotted the Coconut Pineapple Cake with caramel topping. I tasted one bite and then proceeded to polish off half the cake with him. Sweet and creamy, I'd rank this second place for desserts at the food festival. We both gave it a 10/10.
Greece
We took a break, browsed the gift shops and took another few runs on Skull Mountain before indulging in any more treats. Then, we stopped at Greece because Alex wanted to taste Spanakopita and olive leaves. At $5.25 for four small pieces of spanakopita and two stuffed olive leaves, it was a better value than buying a full portion at a Greek diner on Long Island. Sadly, the quality was not even close.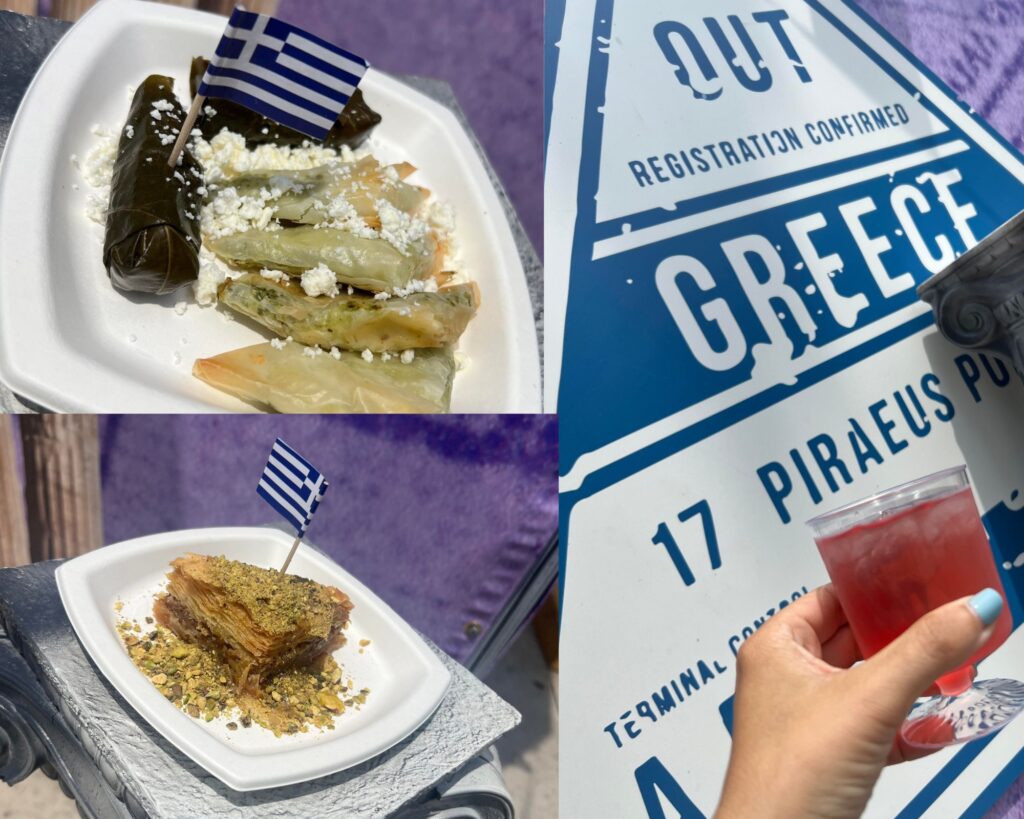 Perhaps I'm more critical of the Greek offerings because I'm a huge fan of Greek food and have eaten some of the best outside of Greece here in New York. Still, I'd rate the Spanakopita a solid 7 (Alex gave it the same) and the grape leaves a 6. Better than the usual theme park food you'll find at Six Flags, but not Long Island diner quality or what you'd find at a top-rated Greek restaurant in Queens.
Let me emphasize: If you've never tasted authentic Greek food, this is definitely worth the money. I also enjoyed the Greek Rose wine, even at $11 for 6 ounces. It was the perfect refreshing drink. I rarely drink at Six Flags due to the cost and because I know I'll be riding coasters. But with Kingda Ka closed and this specialty selection available, I had to indulge. Riding Skull Mountain after a bit of Rose was a whole new experience for me. It was a bit more… twisty! (I'm a lightweight being on keto and all of 140 lbs.)
We didn't sample the chicken souvlaki pita or the Greek gyro platter, but both looked like they could have used more meat.
We also tasted the Baklava. I don't have a sweet tooth and it was too sweet for me. Alex doesn't like honey so it was a no-go for him. As far as Baklava goes, it was okay. I've had much better. But if you've never tasted Baklava, it won't leave a bad impression. I can say that!
Korea
We caught up with my daughter and husband after they rode Nitro, El Toro, and a few other coasters. My husband decided on Korea for lunch. He's not a fan of Greek food and we were sitting in the shade at a table between Korea and Greece.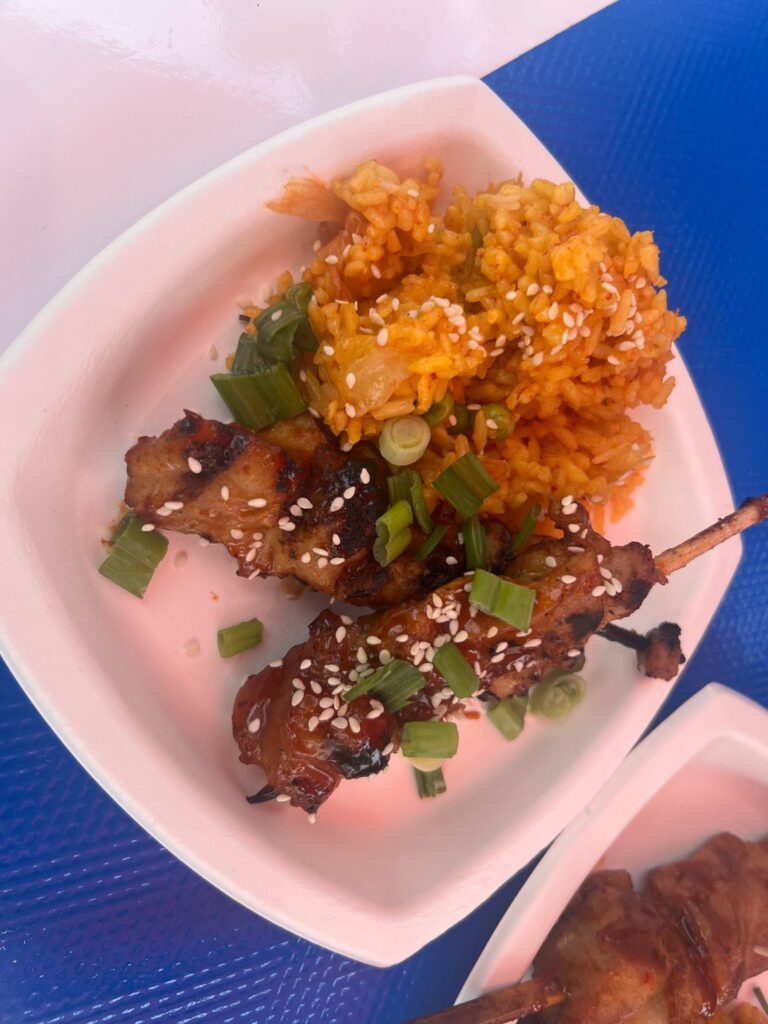 Most of the food stops had plentiful seating with umbrella tables directly in front. Except around dinner time, we never struggled to find a shady place to eat. It would be amazing if Great Adventure kept the tables up year-round – and maybe kept a few of the specialty cuisine booths, even if they charge regular park prices for the food.
He ordered the BBQ chicken skewers and bacon wrapped pork kabobs. Both tasted suspiciously like the sauce they use at JD BBQ near Jersey Devil. That was fine with me as I love that sauce. Again, I was surprised by how tender the chicken was. We gave them both a 10 out of 10.
Italy
With Italy just a few steps away, it was time for dessert (again). The kids and I shared a tiramisu, which I considered heaven on earth. It even came with a generous handful of dark chocolate covered espresso beans, which I quickly downed to combat the carb coma I was about to enter.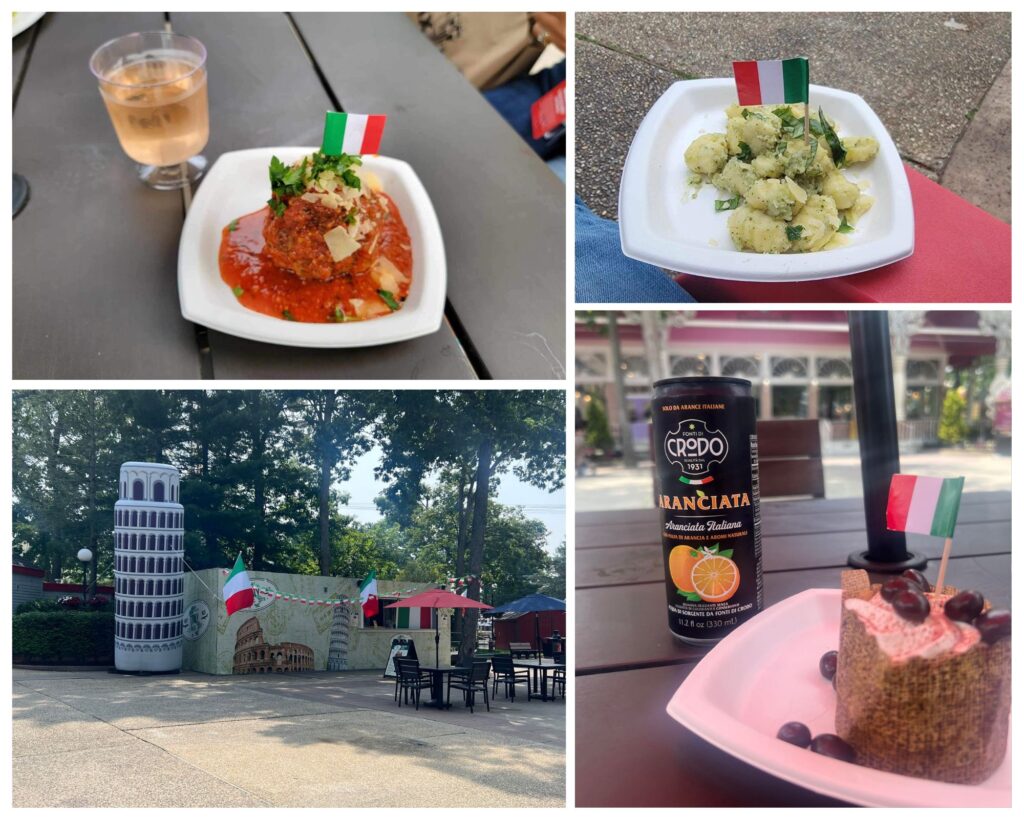 Later in the evening we split a second portion of tiramisu. I also ordered the monster meatball I had seen in various Six Flags Facebook groups. "That meatball is life," I told someone who posted the picture. Offering a generous serving, decent sauce, and a topping of what tasted like fresh shredded parmesan cheese, the meatball would have been even better if it was hot instead of lukewarm. I paired the Italian meatball with a glass of French wine, shown above.
Ashley wanted to try the potato gnocchi with pesto and parmesan. This late in the evening, the gnocchi was nearly cold. She didn't like it but I rated it a 7 out of 10 for quality. It would be a nice addition to the Six Flags menu at Mama Flora's Cucina. The portion size was more like a side dish, but I was so full, I only ate a few pieces for the sake of this review. (It's a rough life, I know!)
Both kids had Italian sodas, Sanpelligrino Aranciata. Ashley rated the orange a 6 out of 10. But Alex rated the lemon a 10 out of 10 asked me to find the beverage online to order in mass quantities.
India
The chicken tikki masala looked delicious, but I was full beyond belief. Alex and Ashley both had hot spiced chai tea, which tasted exactly like the Starbucks version. The same drink is only $4.25 at Starbucks, but Six Flags prices may be higher. Again, it wasn't as hot as I would have liked.
Mexico
Our last stop for the evening, just before the event ended at 8 PM, was Mexico. I wish we'd stopped there earlier in the day. The beef empanada was huge and delicious and served with a side of chips and salsa. Probably one of the best values at the food festival. 10 out of 10.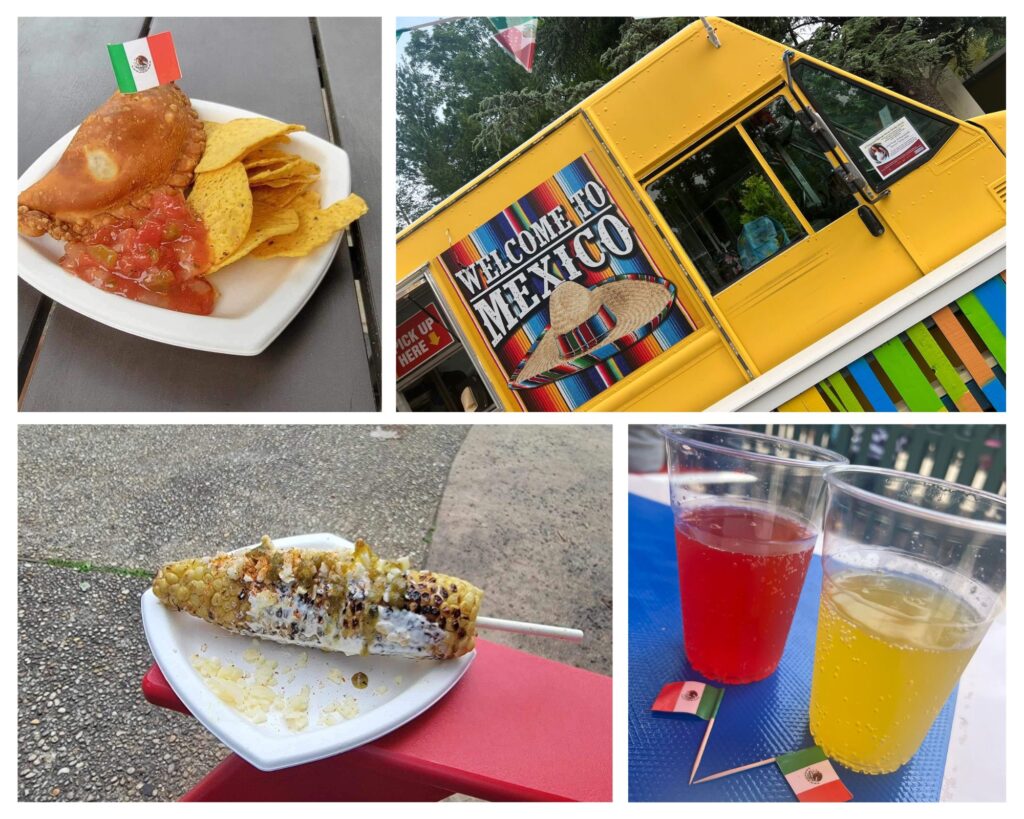 Unfortunately, the elote Mexican corn was nearly cold. Even hot, I would have given it just a 7 out of 10. The kids also loved the Mexican sodas, rating them a 10 out of 10. I did take a sip and can see why! Delicious!
Tips to Make the Most of Six Flags Food Festival
We were expecting big crowds for this first-time-ever event, so after jumping on a few coasters when the park opened, Alex and I purchased a Passport and were first in line for French food. We had our eyes on the ham and cheese croissant as a breakfast / brunch to kickstart our day.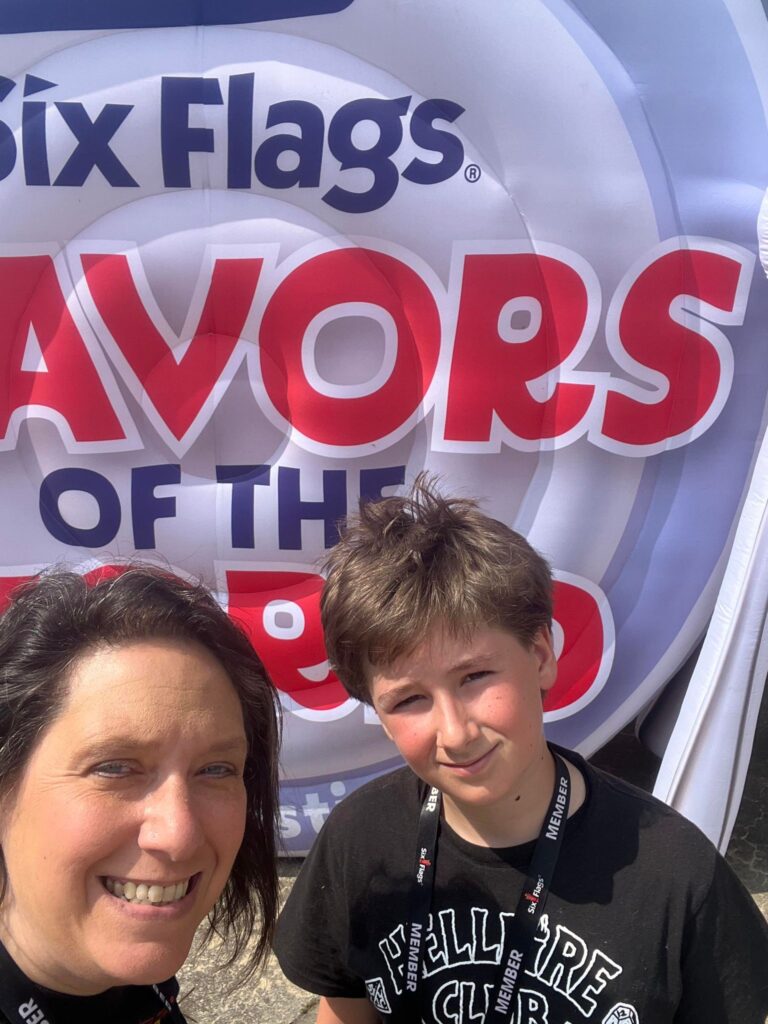 Eat Early
From noon through about 5 PM, there were hardly any lines for food. The crowds started picking up at dinner time. I'd recommend enjoying the Six Flags food festival early in the day to be sure to try all your favorites. Plan for dinner outside the park or use the meal plan to enjoy food at one of the park's regular restaurants.
We tried to get empanadas and potato skins in Mexico at dinner time and found they were sold out of both chicken empanadas and potato skins. This was after they punched our Passport, so we had to choose an item. We settled for the elote Mexican street corn, which was cold by the time it reached us. Overall, that was my only complaint regarding the festival.
If more people took advantage of the food festival, I could see all the countries getting backed up, not just Mexico. France cooked their crepes on a skillet right in front of customers, which took time. It made for better quality, fresh food, but wouldn't be sustainable with a crowd.
I'd love to see this event grow, but Six Flags will have to improve processes to serve foods faster if the booths get any more crowded than they did over July 4th weekend.
Pace Yourself
Pace yourself so you can eat and still enjoy the roller coasters and thrill rides. The servings are considered "samples," so they aren't huge. But I was comfortably full after the ham and cheese croissant. We proceeded to share chicken skewers and coconut cake in Jamaica, and I needed a break from eating for a while!
Set Your Intentions
The Six Flags website recommends you come with an empty stomach. It's probably more helpful to decide on your goals. Do you want to – like my family – sample as much cuisine from other countries as you possibly can? Or are you just looking for an affordable way to feed your family during a day at the park?
I typically follow a keto lifestyle but knew I wanted to take advantage of the Flavors of the World. Whether you eat keto, vegetarian, or practice calorie control, you can easily stick to your lifestyle at the Six Flags food festival with advance planning (to avoid temptation) and wise choices.
Each country had vegetarian, lower fat, and keto selections. The portion sizes made it easy not to overindulge if you stuck to one or two plates in a sitting. In fact, the portions were probably closer to what most people should normally eat, but we are used to super-sizing our meals in the U.S. I definitely overdid it … all for the sake of research!
Share Plates
Our goal was to try as many different cuisines as we could, so we often shared plates. Everyone got a taste. Then we went back for more of our favorites. (Tiramisu, anyone?)
Avoid Beverages to Get the Greatest Value
At $5.25 per plate, the protein dishes offered the most value. The empanadas were huge, for instance, and the Italian meatball could have been a full meal (or at least a large snack!) for me. Some visitors complained the fried shrimp tacos didn't have enough shrimp, but I found every main dish we ordered to be just the right portion size – especially for the money.
Keep in mind – I have a small appetite. Your mileage may vary!
However, the Mexican and Italian soda and the Hot Spiced Chai Tea from India weren't the best way to "spend" a Passport punch, especially if you already have unlimited free drink refills as a Six Flags member. The desserts were on the small side, but worth every bite.
Use Your Passport Across Multiple Visits
If you're traveling solo, you may need more than one day to use your 12 Passport choices. You can use your Passport on separate visits, so don't try to stuff yourself silly if you plan to return. The event runs every Friday, Saturday, and Sunday through August 13.
People Also Ask
See what people are asking about the Six Flags food festival.
Do they serve alcohol at Six Flags parks?
They serve alcohol at Six Flags, and wine and beer are available during the Flavors of the World Food Festival. These choices are not available with your Passport. You will need to pay separately and show ID.
What rides are open at Six Flags Great Adventure?
As of Fourth of July weekend, most of the rides at Six Flags Great Adventure are open for the season. El Toro has opened after repairs in 2022. Kingda Ka is open- except when it is down. It was down the Saturday we visited, but open the day before. Nitro is open after repairs earlier in the season. Congo Rapids, Medusa, and Runaway Mine Train are all opened for the season. The Log Flume appears to be under repair as of July 2023.
What are the dates for Six Flags Flavors of The World Food Festival?
Six Flags Flavors of the World is advertised for Fridays, Saturdays and Sundays through August 13, 2023. Check the website to confirm the dates for the specific park you want to visit.