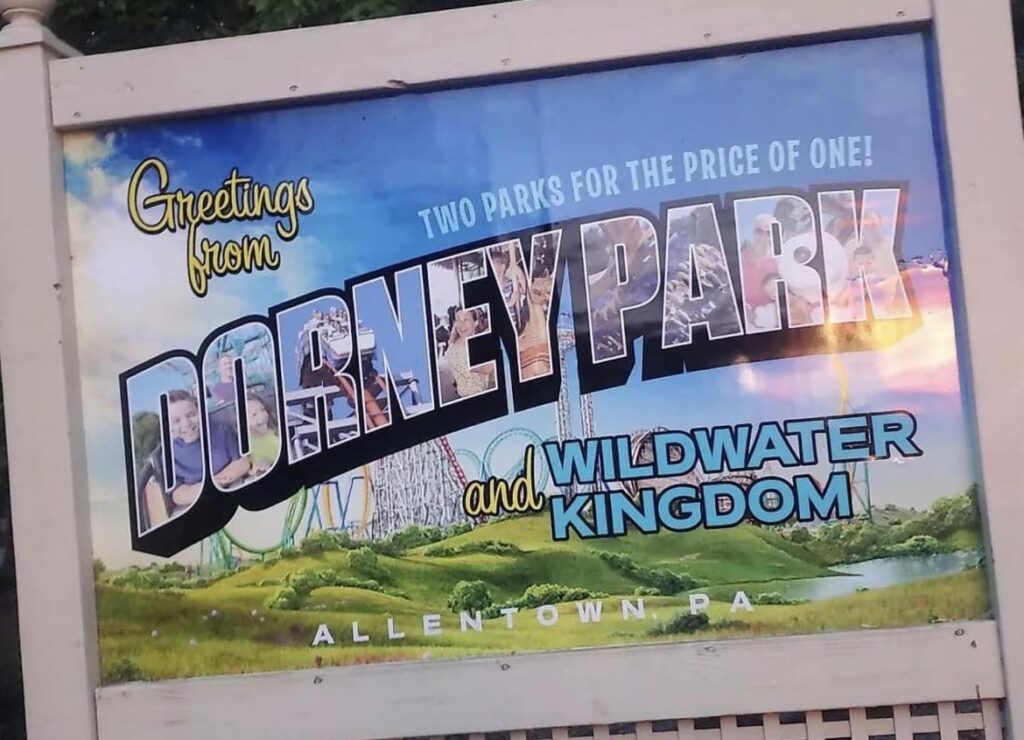 Dorney Park in Allentown, Pennsylvania, hosts Grand Carnivale on select dates through August 6, 2023. The festival of food, music, games and fun takes place every evening from 5 PM to 9 PM, except Tuesdays, from July 22 to August 6. We had the opportunity to visit on Sunday evening, July 24, 2023 and again on Monday, when it was a bit less crowded.
You may have read my review of Six Flags Great Adventure's new Flavors of the World Food Festival. It's pretty obvious Six Flags established the festival to compete with Grand Carnivale, which Cedar Fair Entertainment (parent company of Dorney Park and other theme parks) introduced to Dorney, Kings Dominion in VA, Kings Island and Worlds of Fun in 2019.
After experiencing the Great Adventure version, it's hard not to compare. Read to the end to see which is better, Dorney Park: Grand Carnivale or Six Flags Great Adventure: Flavors of the World Food Festival!
Grand Carnivale: The Atmosphere
From the moment you walk into Dorney Park during Grand Carnivale, you can tell you are there for something special. The Grand Carnivale sign adorns the entrance as the perfect photo opp, and the kiosks that are closed up during the day tease of fun to come.
At 5 PM the music and dancers started on the main stage. The music was loud but well done – covers of classic '80s, '90s and modern-day pop hits. You can immerse yourself in the atmosphere and dance while watching the colorful performers on the stage. If anyone in your party is sensitive to loud noise, you'll want to head toward the back of the park where the music isn't so loud.
And, speaking of moving away from the entrance, that's where all the food is, anyway. Tasting samples from the five countries was our main goal! So how was it?
Pricing
Season passholders did not receive discounts on the Carnivale passports. You could purchase 6 samples for $40 ($6.66 each) or 10 tastings for $60, or just $6 each. If you aren't a passholder, you can pay $40 for park admission, which includes three food tastings plus free parking.
My whole family received a Loyalty Reward of $15 each as passholders who visited the park in June. You aren't supposed to be able to stack these rewards, but due to a park error that failed to load our reward onto our passes, the merchandise supervisor, Kim, let us use three of our Rewards on one tasting passport, so we received 10 food tastings for just $15. Not bad at all!
The portion sizes were fair for the money compared to normal park food. I felt the best values were the sauerbraten sliders and the pretzel bites at the Germany booth. The folks at Lehigh Valley News said "three tasting cards are typically enough for a meal for one." I believe this may have been a typo as three tasting cards would provide 18 or 30 plates! That's a lot of food!
Like we did at Great Adventure's Flavors of the World, my family shared one passport. Three food tastings (not tasting cards, but items!) could easily make a meal! You could also buy items ala carte, which I did on our second day because I wanted another serving of sauerbraten sliders and Alex wanted pretzel bites and we only had one punch left on our card. It's more expensive to pay ala carte, but still cheaper than other park food. If you plan to eat at least four items, you'll save money purchasing the 6-taste punch card.
Games and Attractions
Before I get to the food, I want to mention the games and attractions. Carnival style games are set up near the entrance. Prices are as follows:
$15 for three plays
$25 for six plays
$75 for 20 plays
I haven't played the regular games at Dorney, but $5 a game seems about average for carnival games at a theme park. Of course, you can save the more you buy, so if you want to shell out $75 and keep your kids entertained for a while, you'll pay just $3.75 a game. The bonus is that every player wins a prize!
If you attend Dorney regularly and your kids are tired of the other games, this is a nice bonus.
They also had crafts set up, mainly for the younger kids. It looked like the type of crafts my kids did years ago at Epcot's Food & Wine Festival. The crafts are a great – and free – attraction for younger kids who can't ride the larger roller coasters.
We managed to miss the parade on multiple occasions, but based on the stage performances, costuming, and music quality, I bet it was amazing!
Now.. what you were waiting for.
How was the food???
Grand Carnivale: 10 Tastes of Food Around the World
Dorney Park brought unusual flavors from five different countries to the food festival. In my opinion, some of the tastes and selections were a bit too exotic.
Prices ended up cheaper than what you'd get if you paid for regular meals at restaurants like Chickie and Pete's or Burger Barn, where the portions are generous but food is overpriced. (Much like all amusement park fare!) You can't use any meal plan for the Grand Carnivale foods from different countries. But even if you pay for the monthly meal plan as a passholder, it's worth the splurge to try some of these dishes.
Keep reading for my review of what we tried. Admittedly, we didn't make as much of an attempt to taste everything at Dorney Park. Our research at Great Adventure Flavors of the World was exhaustive – and exhausting!
Germany
I'm not saving the best for last. I'm putting it right up front. Hands-down, Germany offered the best food at Carnivale. My husband, son, and I all went back for multiple servings of sauerbraten sliders with red cabbage on brioche buns and pretzel bites with beer cheese. My photo of the sliders don't do them justice – they looked even better with garnishes on Monday.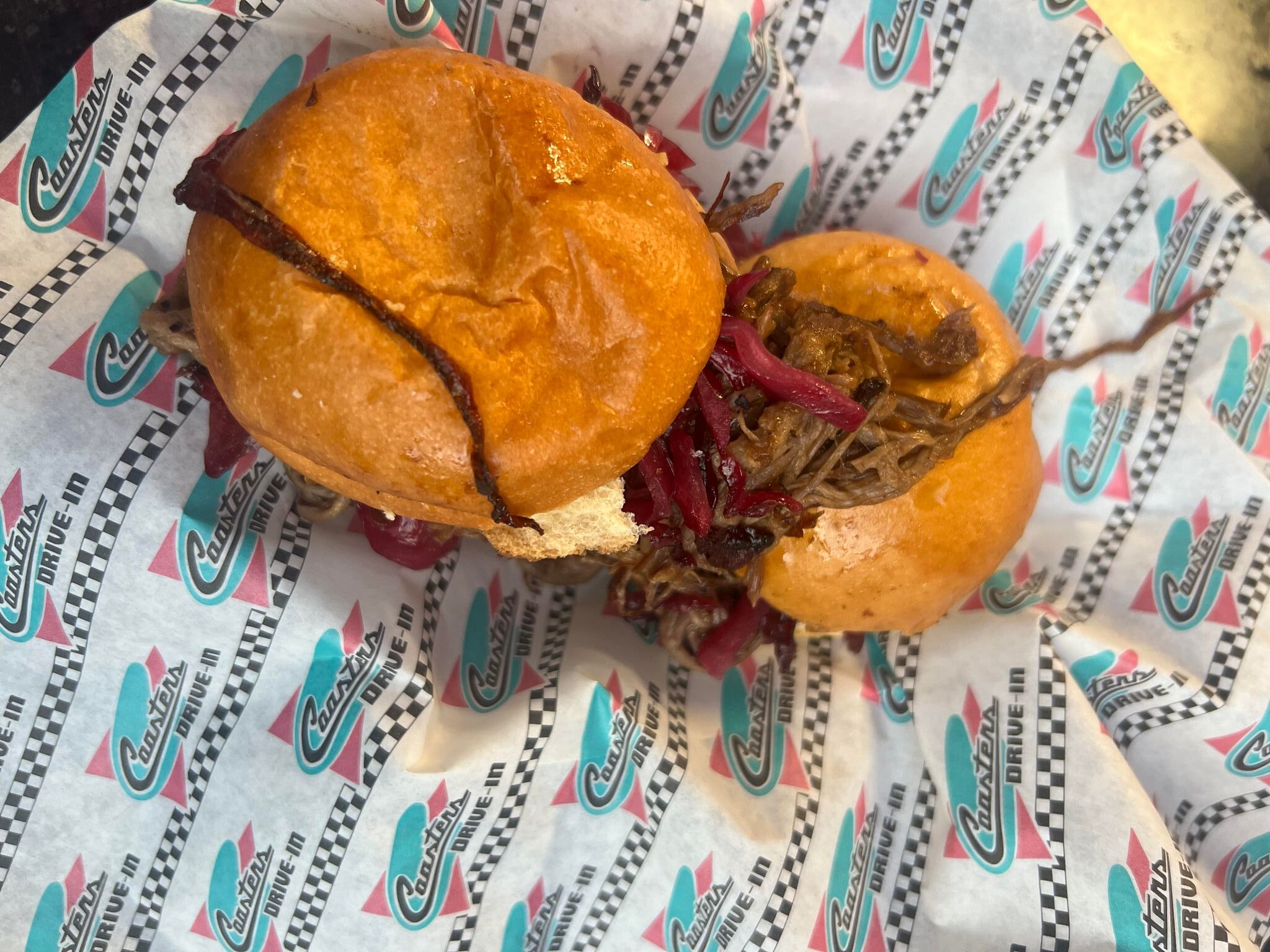 On Monday, the Sauerbraten was garnished with gherkin pickles and tomatoes, creating a more appetizing effect. But it was after dark and I didn't get a good picture.
I could have pulled the beef and cabbage off the bun to make it keto, but the entire package was a flavor explosion in my mouth. I am a sucker for brioche buns, anyway. Plus, I indulged in the pretzels, too – both days!
The Apfelstrudel looked good, but we weren't quite ready for dessert. In general, portion sizes were generous. I was full after the sliders, but we kept going… all for the sake of research.
China
Next stop, China. The Bang-bang chicken was tender and flavorful. Me and Alex weren't fans of the spicy peanut sauce – it had more of a Thai flavor to me and just didn't taste very good. But we went back for multiple servings of the chicken skewers. We skipped the Mongolian beef.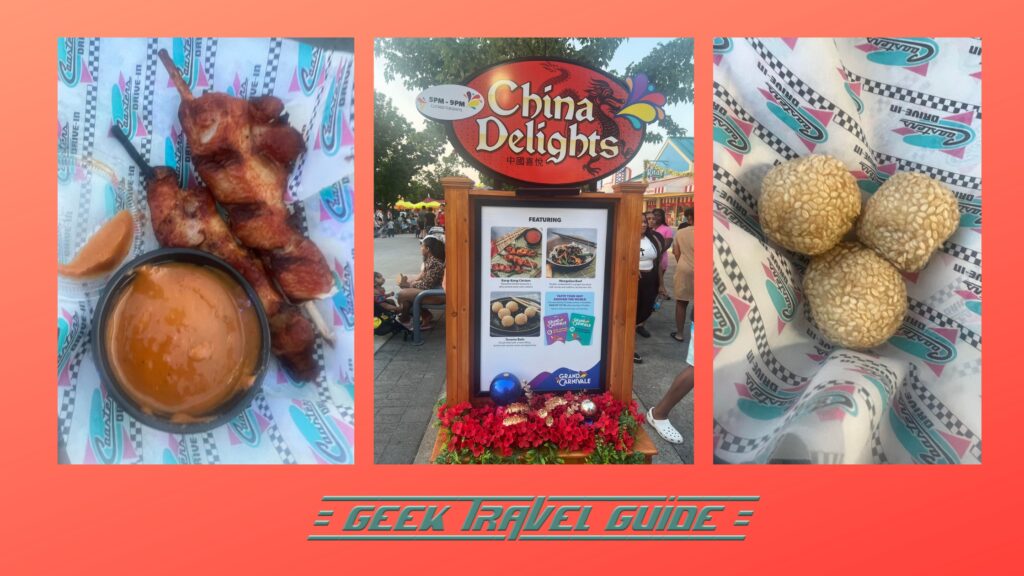 Alex tried the sesame balls, which sounded promising. It turns out we just don't like red bean paste.
We had another opportunity to try it at a sushi restaurant the following week and still didn't like it! I can't say anything bad about the sesame balls. If you like dough wrapped around sweet bean paste, they are probably fine. That's the benefit of tasting events like this – you can grab samples of things you might not have other opportunities to try!
France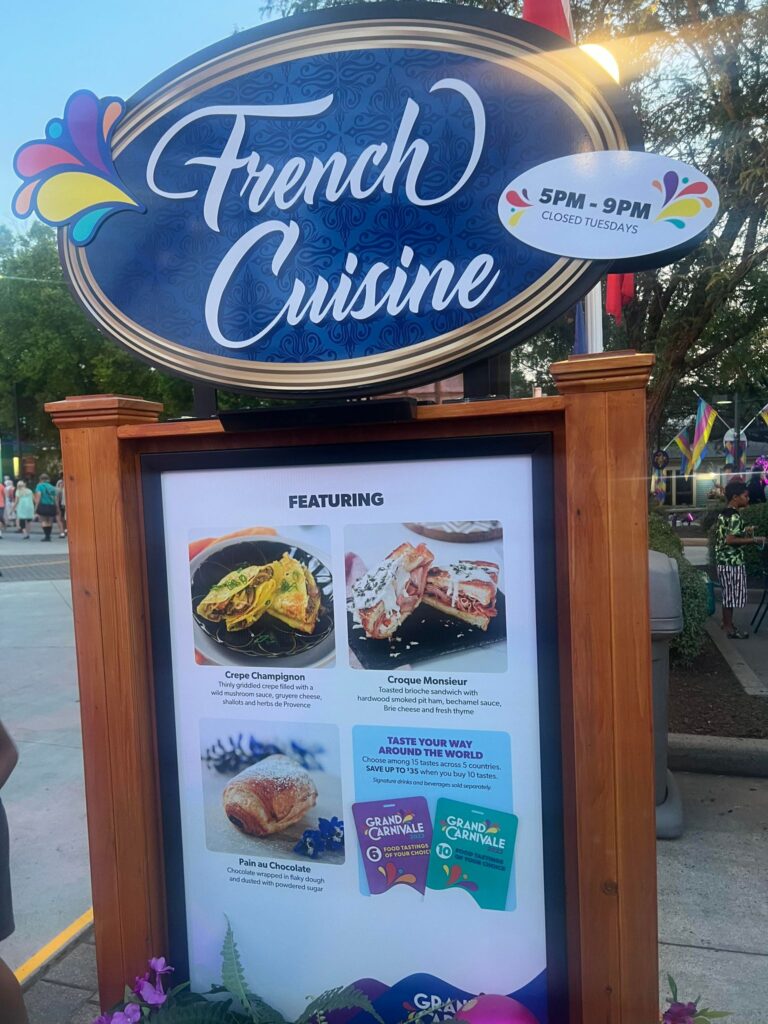 France had a line wrapped around the building on Sunday. France offers Crepe Champignon, Croque Monsieur, and Pain au Chocolate. The savory offerings sounded amazing to me but nothing appealed to Alex so we skipped it, keeping our 10-item limit in mind. It doesn't look like we will get back for Grand Carnivale again this summer, so we'll have to wait until next year!
Italy
We also decided to skip Italy. If I was practicing strict keto I could have made a meal from Germany's sliders (no buns), China's chicken skewers, and Italy's Caprese Fresca, which looked delicious!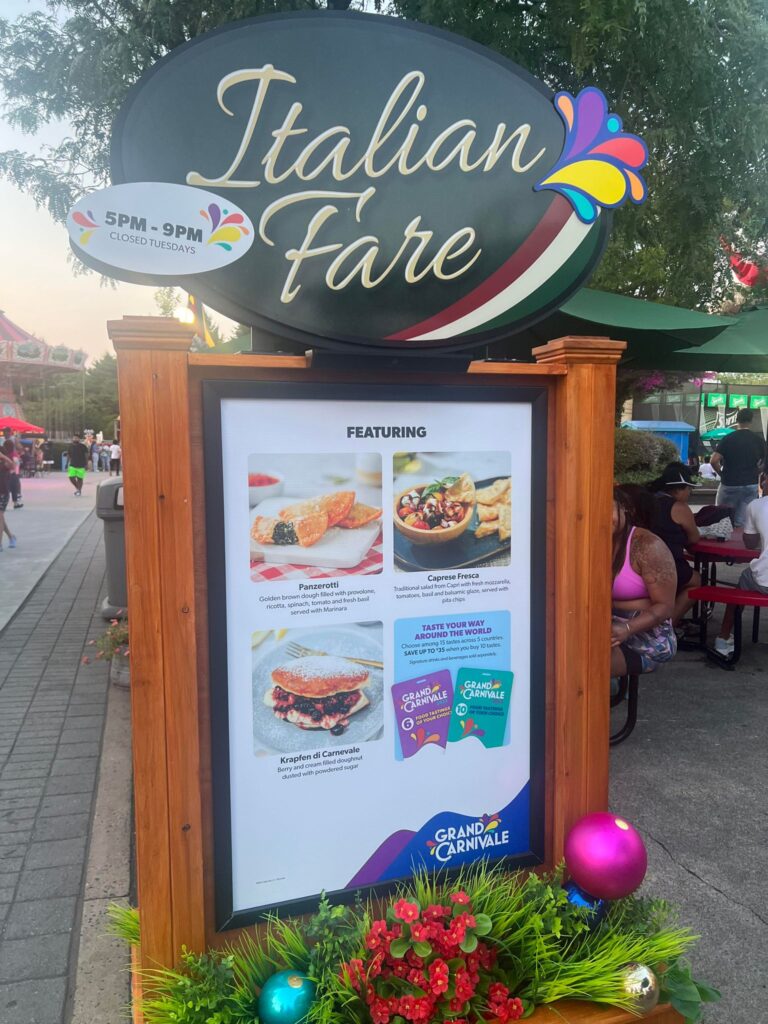 Italy also offers Panzerotti, which looks a bit like a mini calzone, made of "golden brown dough filled with provolone, ricotta, spinach, tomato, and fresh basil," according to the Dorney Park website.
Dessert at Italy was Krapfen di Carnevale, a berry and cream filled donut that looks absolutely delicious based on the website photo. It makes me want to make a another jump over to Dorney and taste that, along with other items I missed! Unfortunately, it doesn't look like that will happen this year!
Spain
Finally, already full from chicken, pretzels, and beef, we hit Spain. The Paella with shrimp, chicken and sausage looked amazing except that Alex hates everything with onion so we skipped it.
We tried the vegetable empanada. Something about an empanada with potatoes and butternut squash – sort of like an empanada trying to be a knish – didn't sit right with me. I found it unpalatable. I'm not sure if it was bad or just not my taste. The tasting consisted of only one empanada (don't let the website photo, which shows three, fool you) so it was also one of the worst values at Carnivale.
The Natillas de Leche, vanilla custard dusted with cinnamon, was absolutely delicious. But it wasn't so good that we went back the second day. Instead, we used our last card punch on more pretzels from Germany. Talking to Alex about the experience, he said, "The Natillas de Leche was really good. But I wanted more pretzels!" Sometimes, the simple, familiar food is the best.
Which Is Better: Dorney Park Grand Carnivale vs. Six Flags Great Adventure Flavors of the World?
Six Flags Great Adventure Flavors of the World offered 12 items for the price of 8 to season passholders and legacy members, for a cost of about $5.25 per item. This was slightly less than Dorney Park's deal of 10 items for $60. Portion sizes were comparable at both parks. After about three or four tastings, you'll probably be quite full.
Great Adventure's Flavors of the World had more options and more countries to choose from. However, the park seemed somewhat unable to keep up with the crowds. I'm thinking Dorney did it right by limiting the selection to keep the lines moving at all but the busiest of times. Although there was a line for Italy and France, the staff didn't seem as frazzled as they did at Great Adventure and the Dorney Team had a good system for ensuring everyone got their orders.
Dorney Park transformed regular food stands into booths for the various countries. I think this may have contributed to better logistics, since they had all equipment and staff available. They were just serving different foods.
But it meant the decorations and immersion wasn't quite there. Six Flags did a much better job of making each booth feel like the country it represented – especially in Mexico with a taco truck, and Italy, which had a leaning Tower of Pisa. Greece's columns were also spot-on.
On the other hand, Dorney's foods tasted more exotic or authentic, in my opinion. Rather than going for well-known favorites, they chose unusual varieties. Even the empanadas were an odd vegetarian combination rather than the familiar chicken or beef.
That's not necessarily a good thing if you are trying to appeal to the masses or introduce foods from other countries to younger children. Apart from the sauerbraten sliders at Dorney (Germany was not represented at Great Adventure) I would say every single item we tried at Great Adventure simply tasted better than any of Dorney's offerings.
However, if you're there for the ambiance, music, and shows, Dorney Park wins, hands-down. I'd love to see the Great Adventure event grow to something of this scale.
It seems as if you combined the best aspects of Dorney Park's Carnivale with the food at Great Adventure, you'd have a sure winner. Maybe I wouldn't even be disappointed about missing out on Epcot's legendary International Food & Wine Festival this year!