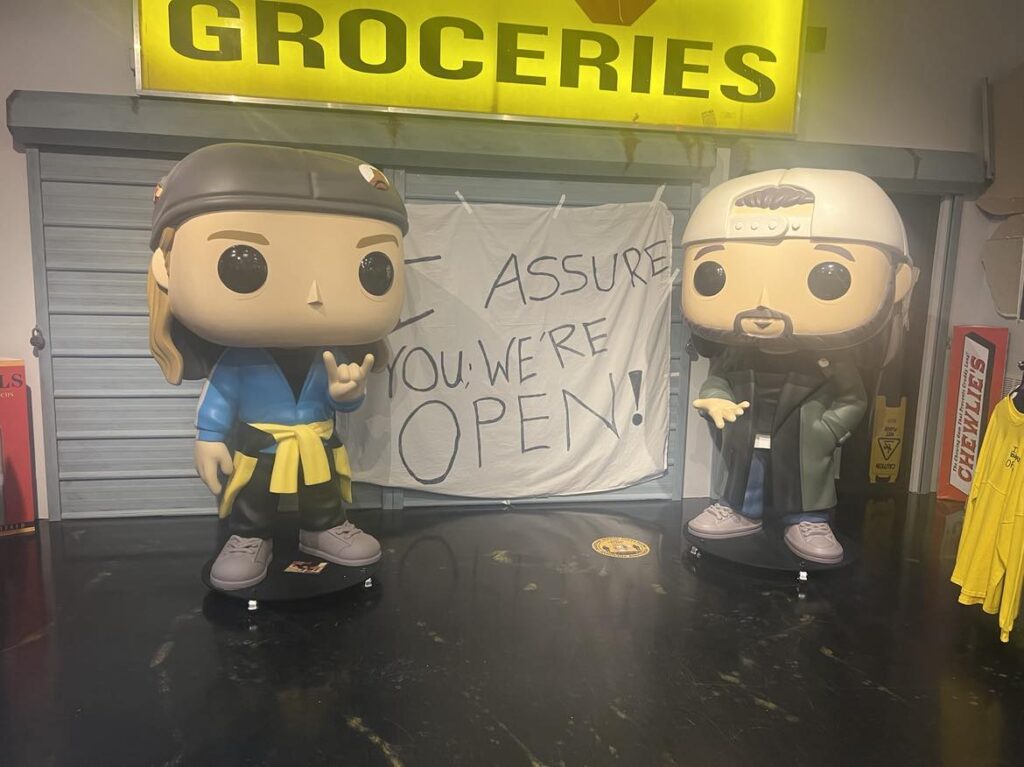 Kevin Smith geeks will love our family's quick stop at Jay & Silent Bob's Secret Stash (Clerks III spoiler alert)
On a trip home from Six Flags: Great Adventure when Nitro, Batman, and Kingda Ka were all closed, my family and I made a quick stop in Red Bank, NJ to visit Kevin Smith's comic book shop, Jay & Silent Bob's Secret Stash.
We had arrived at Great Adventure by noon and left by 3:30. But I enjoyed some tasty rotisserie chicken from Granny's Country Kitchen and a half-price ride on the Slingshot (first time ever!) so I have no complaints. As Platinum members, we have plenty of time to enjoy our favorite rides all season.
It was on to new adventures in New Jersey and filling a bucket list item as a nearly-lifelong Kevin Smith fan.
My History as a Kevin Smith Fan
I'd been wanting to visit Red Bank, NJ, and see Kevin Smith's famous comic book shop for years. I first saw Clerks as a 20-something working at Borders Books. "I'm not even supposed to be here today," became my personal mantra, stuck behind the cash register on a beautiful Saturday. I've been a Kevin Smith fan for decades and love how his movies portray real life and feelings in ways it is often hard to express.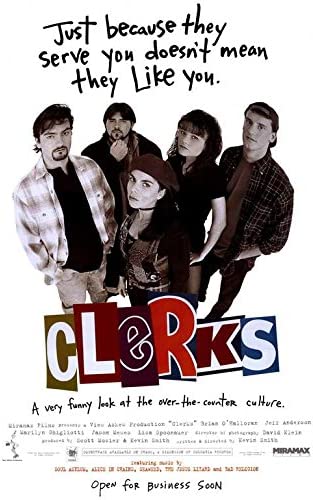 Clerks III – Wow. I think anyone and everyone of a certain age will relate to the film. Extra points if you work in media, entertainment or, of course, retail. You're likely to love the "meta" nature of the film, in which Dante and Randal make a movie that is, essentially, the original Clerks.
Clips from the original Clerks play during the private screening of the movie Randal provides to Dante after he sneaks into the hospital room to show his friend a rough cut of the film on his laptop. That's it for the spoilers. I won't mention how I cried harder than I have at any movie since Avengers: End Game. Well… Okay. I just did.
But enough about the movie.
About Jay & Silent Bob's Secret Stash
Jay & Silent Bob's Secret Stash is not a new geek destination in Jersey.
The comic book shop originally opened in 1997 on Monmouth Street, just a few years after the release of the original Clerks movie. It moved to 35 Broad Street, where Kevin Smith's reality show "Comic Book Men" was recorded. The show ran for seven seasons on AMC.
I missed my opportunity to visit that historic location. In early 2020, the store moved just one block down to 65 Broad Street.
Even though Jay & Silent Bob's Secret Stash is only about two hours from our Long Island home, we've never made the journey. For anyone more than 30 minutes away, it wouldn't be worth its own trip. But we spend enough time in the area it was worth a detour.
I think seeing Clerks III – and the revival of so much Mooby's and Clerks merch in stores recently – made me want to visit Jay & Silent Bob's Secret Stash more than ever.
With some time to kill on a Saturday and an accident on the Belt Parkway making traffic a nightmare to head home, the day had arrived! We were going to Jay & Silent Bob's Secret Stash.
The Arrival
After finding a parking spot on the street, we arrived at a seemingly darkened doorstep to see a sign on the sidewalk informing us there were no more Easter Eggs available.
"Is it even opened?" I asked my husband.
"Google Maps said it is."
It wouldn't be the first time Google Maps did us wrong, especially on a holiday weekend, so I just said, "Umm, okay…"
Some guys standing outside the door assured us, "They're open. It always looks like that."
I had a meta moment and laughed.
"They might need a better sign," I said, thinking of the famous "I assure you, we're open," sign from Clerks. (Which is available, autographed, inside the store.)
Jay & Silent Bob's Secret Stash Review
Jay & Silent Bob's Secret Stash is about what I expected, with the Buddy Jesus statue and the Quick Stop replica store front, with Funko Pop life-size statues of Jay & Silent Bob as highlights of our visit. Or should I say my highlights from the visit.
No one else cared, but I felt like I found my people. Clerks was so much a part of my 20s and all of Kevin Smith's movies hit home at times when I needed them most.
We are Marvel fans in our family but not die-hard comics geeks. Objectively speaking, the store was essentially like any other comic book shop, except owned by Kevin Smith and offering tons of movie memorabilia.
My kids tell me that they were very heavy on the Marvel comics, which is understandable. I didn't even bother looking at the comic books. I was too busy soaking in the atmosphere.
I spotted a ton of Spider-man collectibles, as well. My daughter was disappointed that they had no My Little Pony comics, since the first new volumes have recently been released.
If I had more money to spend or more space in my home office, I might have dropped a buck or two on stuff that would make me smile. I'm sure we would have left with Avengers merch, a few t-shirts and hoodies, and even some Kevin Smith movie scripts.
As it was, we breezed through in less than 20 minutes and left empty-handed. As a lifelong Kevin Smith fan, I felt as if an urge had been satisfied.
Pop Freak Collectibles: The Ultimate Corner for Geeks
We had to stop into Pop Freak Collectibles next door, as well. The shop seems to have the perfect location for geeks on the corner of Broad Street in Red Bank and directly adjacent to Kevin Smith's shop.
The store has a huge collection of Funko Pop collectibles, a handful of sports memorabilia, and action figures that brought back some fond memories of GenX  childhoods.
Another Quick Stop?
I soon learned that Quick Stop convenience store made famous by Clerks was just 15 minutes away in Leonardo, New Jersey. I would have liked to visit, but the kids were hungry and everyone was more or less done with random pilgrimages, if you will.
If you are in the New York Tri-state area, either vacationing or as a local, Jay & Silent Bob's Secret Stash, along with the Quick Stop, is worth a visit if you are a comic book fan, a Kevin Smith fan or – ideally – both.