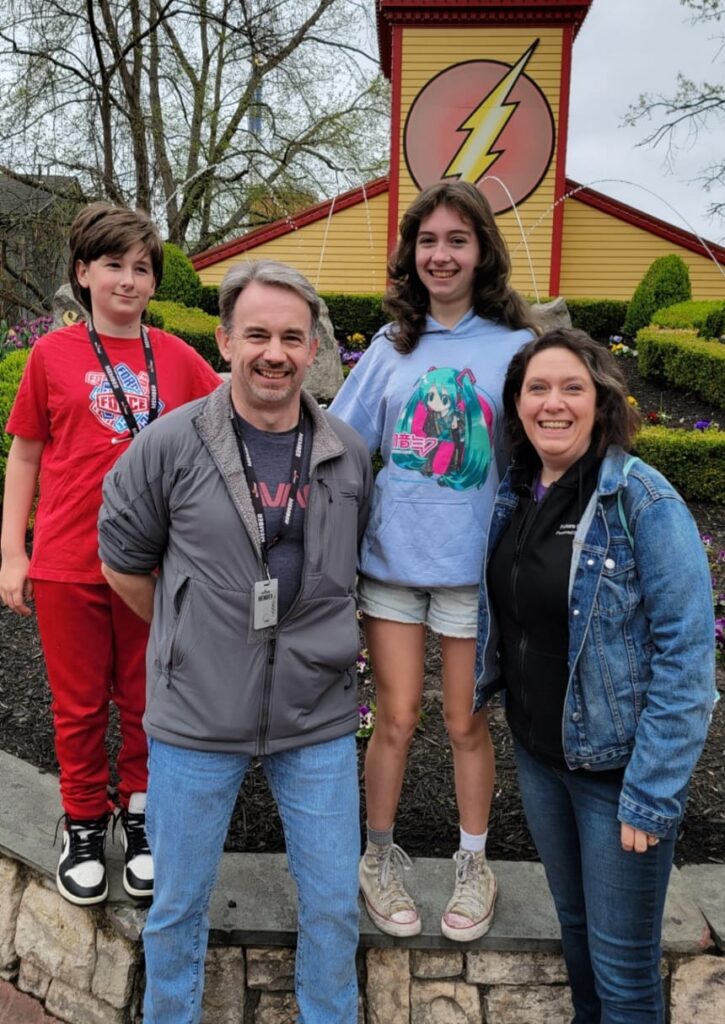 How my family spent a weekend trip to New England… and how we'd do it again…
The first time we visited Six Flags New England, I did some research and learned there was more to do in the area than ride one of the world's best steel roller coasters (Superman: The Ride) or experience the magic of an RMC hybrid coaster (Wicked Cyclone). We visited Springfield – or, more accurately, the small town of Agawam – for the amusement park, but discovered a charming corner of New England that we have since visited many times!
Not only does SFNE, as the fans call it, boast world-class coasters, it's situated on the outskirts of one of the most interesting and eclectic cities in the U.S. Springfield, Massachusetts, has a population of just 154,789, but a big city vibe in the downtown area and tons of offbeat tourist attractions. Follow along on our 48 hours-plus in Springfield, Massachusetts with kid-friendly activities and family fun.
Where to Stay
During our first trip, we stayed at the La Quinta Inn, minutes from the Naismith Memorial Basketball Hall of Fame, the MGM Springfield, and the Paramount Theater. The venue was fine for the price. The pool was clean and well-maintained. It kept the kids busy before we ventured off to Six Flags.
For those seeking luxury, consider the 4-star, AAA Four Diamond rated MGM Springfield, in the center of downtown Springfield and close to other attractions. Now that our kids are older, we may plan a stay there. Roller coasters by day and gambling at night while the kids eat gourmet Italian food from Costa in the comfort of our room.
Parents of teens: Hotel date nights are the best. You're a short walk away from the kids if they need you. Meanwhile, enjoy the amenities of good food, a laidback bar atmosphere, and – in the case of the MGM – gambling until all hours or even a show. Gladys Knight performs July 15, 2023 in the hotel's Symphony Hall.
But I digress.
If you're not looking for gambling, a bar, or high-end cuisine, and you don't mind being further from the city center, I highly recommend the Hampton Inn Springfield in nearby South Enfield or the Holiday Inn Express & Suites, Bradley Airport in Windsor Locks. Other Six Flags fans have recommended The Fairfield Inn and Suites, a Marriott property, in Windsor Locks.
SFNE fans debate the best affordable, mid-range hotels in the area in Facebook groups frequently. Some say to avoid the Locks while others suggest staying in the Locks and avoiding Enfield.
We've stayed in both areas and found them safe, comfortable and convenient. Both have dozens of kid-friendly restaurants and chain stores for last-minute items (sunscreen, toothpaste, pajamas, or even a bathing suit!) that you may have forgotten.
You can find plenty of decent, mid-priced hotels in both towns, so the one you choose may depend on your preference for one chain over another, either because of rewards programs or experiences. My husband and I like the larger pool and the hot tub at the Hampton Inn, plus the nearby restaurants. If you're flying in, you'll find the Locks more convenient since the hotels are close to the airport.
Things To Do
Now that you've settled in and maybe taken a dip in the pool, it's time to venture off. Six Flags or Springfield? For coaster fanatics like us, our first stop is always the theme park.
Six Flags New England
Six Flags New England combines world-class roller coasters with kiddie rides and attractions, character appearances, and an adjacent water park (included with admission) so that you can cool off in between roller coaster rides.
Must-do attractions for coaster fanatics in the park include Wicked Cyclone, Thunderbolt (an old wooden coaster reminiscent of the Coney Island Cyclone) and Superman: The Ride. The Riddler's Revenge delivers a rough ride at 50 mph but plenty of fun inversions.
Adventurous kids will like Catwoman's Whip, The Scrambler, and Pandemonium, a spinning coaster suitable for kids 43 inches and taller.
Gotham City Gauntlet: Escape from Arkham Asylum is a mousetrap-style ride. We've rode it a few times. If you like these kind of coasters with hairpin turns and short, bumpy stops, give it a whirl. SFNE also has plenty of other thrill rides and kiddie rides. Most are the standards you'll find at any theme park, including other Six Flags properties.
The New England Skyscreamer, a swing ride, stands 400 feet tall and travels at 35 mph. My daughter and I rode it for the first time on a recent trip and loved the view and experience.
Skyscreamer held the title of "world's tallest swing ride" until the Orlando Starflyer opened adjacent to Icon Park on International Drive in Kissimmee. That swing ride stands 450 feet tall.
If you like swing rides, the Skyscreamer at Six Flags is a must-do especially since, unlike the Orlando Starflyer, it's included with the price of admission to the park.
Make your first stop Superman since the lines can get long and the ride is prone to downtime. You'll need a locker to stow your stuff unless you leave it with a non-rider. From Superman, work your way to the front of the park for Thunderbolt, Wicked Cyclone, and the rest.
It's important to manage expectations when you visit Six Flags parks. This is not a "Disney level" experience. But you're also not paying Disney prices. SFNE has seen cleaner, brighter days. But overall, since 2021 when we first started visiting, the service at the park has been fine, lines move quickly, and the coasters are some of the best in the world.
The Zoo in Forest Park
After we had our fill of roller coasters on the first day of our trip, we continued our fun for day two at The Zoo in Forest Park & Education Center.
The not-for-profit Forest Park Zoo hosts more than 225 animals, many of them rescues who cannot be released back into the wild. Highlights of our visit included a camel that took a liking to my son, drooling on his head, and the racoons Thor and Loki.
We made it through the zoo in just a few hours, leaving plenty of time to explore the city's museums.
Springfield Museums
Tour five family friendly museums in Springfield for one price. Plan your time carefully if you only have a few days in the city, since the museums close at 5 PM. Make time to visit:
The Amazing World of Dr. Seuss Museum
George Walter Vincent Smith Art Museum
Michele and Donald D'Amour Museum of Fine Arts
Springfield Science Museum
Lyman and Merrie Wood Museum of Springfield History
The Dr. Seuss Museum and the science museum offer hands-on activities to keep the kids engaged. The kids made paper helicopters and flew them off the second-floor balcony. Take a few minutes to stroll the Dr. Seuss National Memorial Sculpture Garden, perfect for photo ops!
Alex wanted to mention the breathtaking dinosaur exhibits at the Science Museum, too. The dark atmosphere added ambiance and mystery to the Dinosaur Hall. The 20-foot life-size T-Rex replica stands center stage, and it's not just bones the way many exhibits are, but a full-fledged dinosaur with teeth and all.
The Naismith Memorial Basketball Hall of Fame
Basketball fans won't want to miss the Naismith Memorial Basketball Hall of Fame, host to nearly 200,000 visitors yearly. Itinerantfan.com says you can expect to spend an hour or two touring the exhibits, especially the third floor displays that chronicle the history of the sport.
When you're done, grab dinner and then head back to Six Flags for more fun if there's time. Lines tend to get shorter as the day wears on, so you may be able to enjoy back-to-back rides on your favorites in the evening.
Where to Eat
If you choose to have dinner at Six Flags New England, my top choice is JB's Smokehouse BBQ. The venue offers indoor seating with air conditioning and a choice of pulled pork, brisket, burgers, and more. The portions are generous. Plus, it had keto friendly options for me, since I can eat pulled pork or brisket off the bun any day!
We haven't tried it yet, but I imagine Baystate Fisheries has got to be good for New England fish & chips. Many Six Flags members with the meal plan recommend it. Still, most Six Flags members and season passholders agree that you can get higher quality, healthier food and more value for your money virtually anywhere outside the park. That brings me to a few of my favorite picks from recent trips.
99 Restaurants
Enfield has many family-friendly chain restaurants, including some you won't find outside the New England area. That's what brought us to 99 Restaurants on a recent trip. I was not just pleasantly surprised by the quality of the food and the price, I left wishing we had this chain on Long Island.
We all ate way too much, including the famous Seafood Stuffies and Mozzarella Moons as appetizers. I had the Smothered Sirloin tips with a vegetable instead of mashed potatoes. I made concessions off my keto plan for the Seafood Stuffies and Mozzarella Moons – as well as a monster-sized Samuel Adams beer. They were all worth it. I also had a house salad to start off my meal.
Saki Sushi and Ramen House
My husband and son spend every trip on the quest for the best sushi and ramen around. Saki Sushi and Ramen House combined the two at reasonable prices. This is easily a well-kept Enfield secret, nestled in the Stop & Shop shopping center next to Smashburger.
We each had the Tonkotsu Ramen – another diversion off my keto plan – and a selection of basic sushi. (Saki even calls them "Basic Rolls" on the menu!) Definitely some of the best – and most affordably priced – sushi we've ever had.
Call ahead because Saki keeps unusual hours. When we showed up the restaurant was on a break and closed between the lunch and dinner crowds. We waited about 15 minutes for the place to open. But the service was exemplary and the staff tentative, considering we were the first customers after the break. We received our food quickly and the ramen was piping hot when it arrived.
Smashburger
Smashburger is another solid choice for an affordable meal that will taste better than anything you can get at the Six Flags park. We haven't eaten at the one in Enfield, since we can get Smashburger at home on Long Island. But if you don't have the chain in your area, give it a shot for a light dinner or a hearty lunch.
I prefer the Classic Smashburger with a fried egg on top – no bun – but I've never had a bad meal there. For the health conscious, you can order a salad with your choice of protein, including grilled chicken, burger, turkey burger or a vegetarian black bean burger, on top.  
Is Springfield Worth Visiting?
Six Flags New England easily ranks in the top 5 of Six Flags parks, based on my experience and what I've heard from others. For roller coaster fans and Six Flags members or season passholders with multi-park passes, it's worth a trip from wherever you might be in the U.S.
If you can spend a few extra days, I'd spend them at the zoo and the Dr. Seuss Museum. The museum brings out the kid in anyone, with bright colors and favorite characters of our youth. Again, it's not Seuss Landing at Universal Studio's Islands of Adventure, but it's fun, engaging, and informative.
A Word for Dinosaur Lovers
It's the perfect time for dinosaur lovers to visit Springfield. Six Flags New England is hosting the Dino Off Road Adventure this season. Each Six Flags park that presents this special exhibit offers a twist. At SFNE, you'll drive your own safari-style vehicle on a track to see life-like, moving, animatronic dinosaurs on a 1,850-foot track.
Combine this with a stop at the Springfield Science Museum and your future paleontologists will have a vacation to remember.
Whether you love children's books, whimsical history, basketball, science, roller coasters, or dinosaurs, you'll enjoy a weekend stay in Springfield.