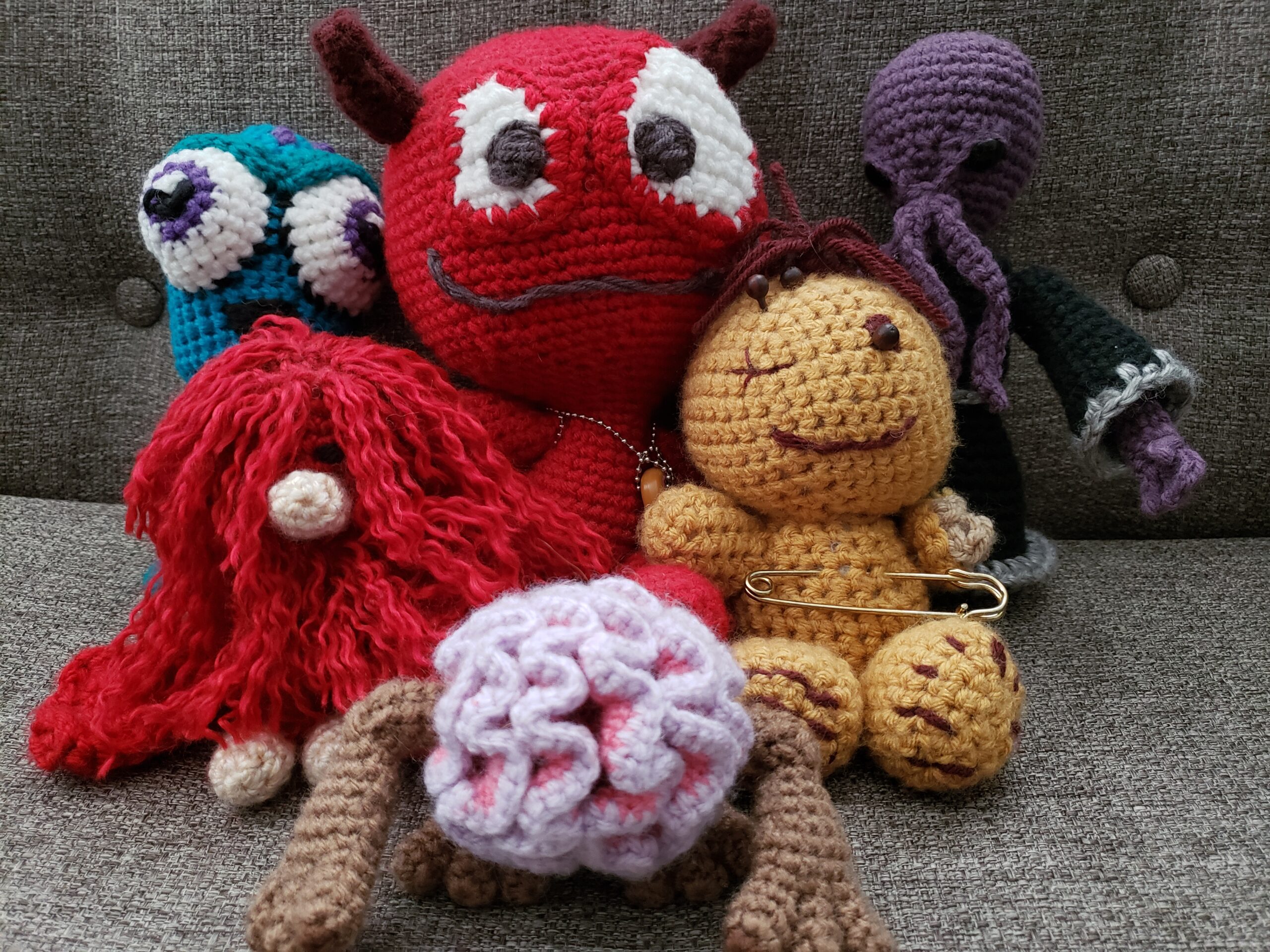 When you think of crochet, you probably think of your grandma making sweaters, afghans, and shawls in her rocking chair. I used to think of that, too—until I started crocheting.
I learned in my second year of college one night in the school library, slowly mastering the basics of chaining and single crochet until the yarn was fuzzy from being woven and undone so many times.
What started as scarves, blankets, and hats—yes, I am a 90-year-old woman in a 20-something body—quickly turned into much more.
Geekdom always finds a way to leak into other parts of our lives. If you do anything creative, you've probably noticed it, too.
I don't remember when I thought, "Hm, maybe I should start making anime-themed stuff," but soon I was making amigurumi—otherwise known as crocheted and knitted stuffed toys.
I made Pokemon plushies, keychains, sushi pillows, and fandom-themed hats and scarves in alarming quantities.
Over time, my fandoms fueled my crochet projects. I made my own patterns or freestyled one-time projects while I watched anime, somehow reading the subtitles while I stitched.
I made my favorite characters when I couldn't find official merchandise. I made Lavi and Kanda from D.Gray-Man, Licht and Hyde from SERVAMP, Makoto and Haru from Free!… Okay, there was official merch for some of them, but I do have a budget.
Geeks are one of the most innovative and appreciative groups when it comes to fiber arts. Think about the ones who make life-size crochet dragons or blankets with characters from Star Wars stitched in a shockingly realistic image.
If you know anything about crochet, you know that those types of projects involve painstakingly creating patterns, constant color changes, and hours upon hours of tearing your hair out trying to make the dragon's eyes even.
I've watched people's faces light up when they find out that this art they thought was exclusive to older women could be used to express love for a fandom in the same way drawing or writing can.
In recent years, more and more crochet booths with amigurumi have shown up at anime cons. In fact, lots of geeks are into crocheting, knitting, and other fiber arts. It's relaxing, and once you get into a rhythm, it's an easy, mindless project that you can still be proud of when it's finished.
If I hadn't loved anime when I started crocheting, I don't know if I'd have dived into it so fully. I've made plenty of things outside of fandom, but crocheting characters is what made me stick with it.
Art and creativity is one of the best ways to share your inner geek and surprise people at the same time. If you do have a 90-year-old grandma, crocheting amigurumi might help you connect with her.
Maybe your grandma isn't into Star Wars, My Hero Academia, or D&D. Using a common craft to create what you love can help others appreciate your interests and have a part in them without the pressure of becoming totally invested.
When it comes to sharing your passions, do it shamelessly. Let it touch all areas of your life and bring you closer to others, whether they share your fandom or your craft. Who knows? Maybe you'll connect with them in ways neither of you expected.
Do you have a geeky craft? Tell us about it in the comments!