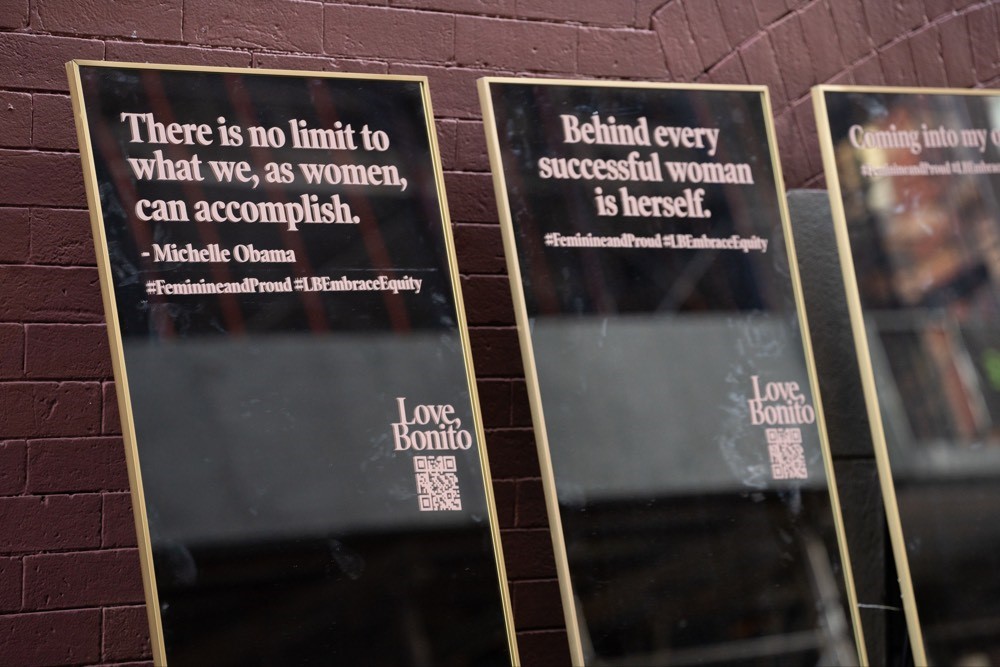 There's always something new and exciting to see in New York City. But the most beautiful sight in SoHo this International Women's Day might have been – YOU!
Female-founded fashion brand Love, Bonito placed 20 full-length mirrors across SoHo. Each mirror featured an empowering quote from a famous – often beloved! – woman on the front. Passersby could check out their appearance and feel even better about themselves by reading the inspiring words.
Studies show that three out of four U.S. women lack self-confidence. (And I'm sure the other 25% also have their moments of imposter syndrome, too.) I'm sure I come across as fairly "together" at times. But, let's face it – I'm a hot mess, as those closest to me know.
I agree with Love, Bonito and the company's mission on another important point, too: Sometimes, looking good can help you feel better about yourself.
"We believe that community can be embraced through fashion and that there is a direct
connection to looking good and feeling confident," said Stephanie Soew, the Head of North America, Love, Bonito, in a press release. "Our installation aims to spread self-love in everyday moments and remind ourselves that, even on our best days, sometimes we all need a little extra self-care."
What Does Self Care Look Like For You?
For me, sometimes self-care means drinking my ketones and snuggling up with my cat and a good book. Sometimes it's taking the time to journal in the morning while I drink my coffee.
Sometimes – although it's not often – the right outfit does it for me. I don't consider myself a fashionista. I'm just not that into clothes. But I do have a few pieces I love that always make me feel like my best self, including this sweater from Love, Bonito.
Whether it's your favorite leggings and a chunky sweater dress that's comfy and sexy at the same time, or a cute crop jacket with ripped jeans, the right outfit can make the difference.
Geek Travel Guide is definitely not a fashion blog, but looking good, feeling good, and living a healthy lifestyle all increase productivity – and that's something many of our readers geek out about!
All Good Things
All good things come to an end, as the saying goes. Even art in New York City is often transitory, like this Love, Bonito SoHo display. The art installation lasted just one day – March 8, which was International Women's Day.
Fortunately, the company caught some cool videos to commemorate the event. You can watch it here.
And Love, Bonito, will be back to the city soon as the Asia-based fashion brand seeks to open its first pop-up store in the U.S. this summer.
Maybe we will catch it in our travels!