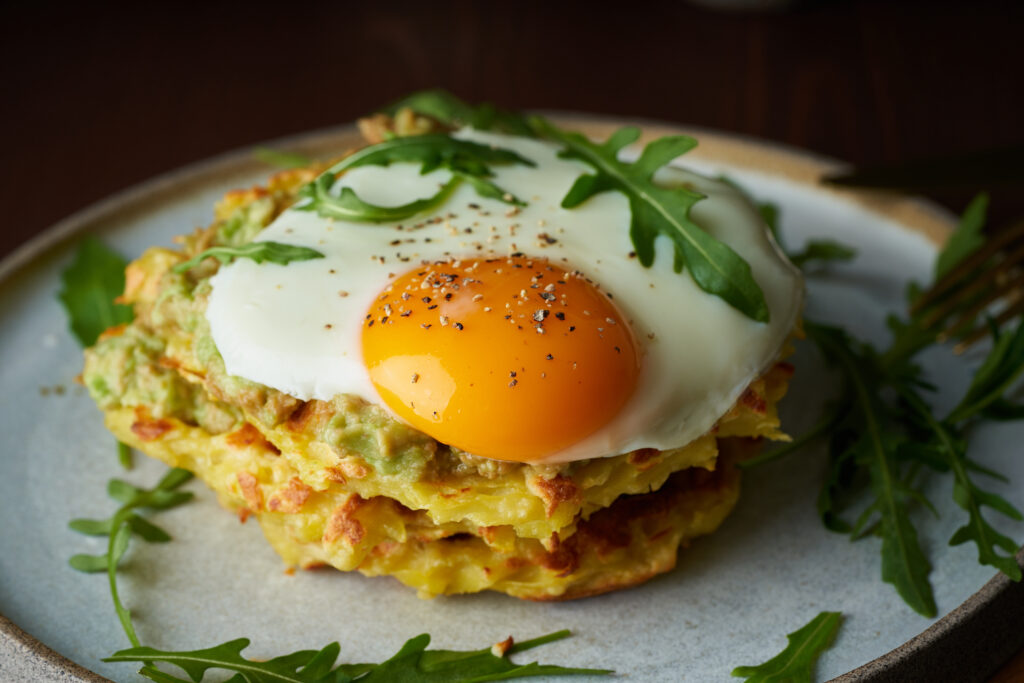 Ah, the humble chaffle. It's a staple for anyone following the keto lifestyle. But it's also a tasty alternative to sugar-filled breads, pancakes, and waffles for anyone looking to eat healthier!
The basic chaffle recipe calls for mixing one egg with ½ cup shredded cheese. I use ¼ cup cheddar and ¼ cup mozzarella. Add about a tablespoon of almond powder, mix, and pour into a mini waffle iron. This recipe makes 2 mini chaffles. You can also pour the mix into a regular sized waffle iron for one giant chaffle.
I often make one large chaffle and then add low-carb pasta sauce, mozzarella cheese, and pepperoni. Then I'll toss in the air fryer or toaster oven until melted to create four fabulous, triangle-shaped pizza chaffles!
Chaffles really are that easy! You don't have to go crazy measuring. If you leave out the almond powder, you will be able to taste more of the cheese and egg, so I recommend using almond powder. Adding baking powder offers more of a waffle or even a white bread texture. You can also add flaxseed for an added boost of protein. Experiment until you find a combo you love.
Here are some of my favorite, tried-and-tested chaffle recipes.
Pizza Chaffle (Savory)
¼ cup cheddar
¼ cup mozzarella
1/8 cup parmesan or romano cheese
2 T. almond powder
1 egg
Garlic powder
Italian seasoning
Mix ingredients and pour into mini waffle maker for two chaffles or full-size Belgian waffle iron.
For extra crispy chaffles, coat the bottom of the waffle iron with a thin layer of shredded mozzarella before cooking chaffle.
When chaffles are cooked, remove from waffle iron and top with 1 T. low-sugar marinara sauce (such as Rao's), shredded mozzarella cheese, and parmesan. You can also add toppings such as pepperoni, meatball, sausages, bacon, peppers, or mushrooms.
Bake at 375 degrees in toaster oven, oven, or air fryer until cheese melts.
Potato Skin Chaffles
Of course, these don't have the exact shape or texture of potato skins, but they taste great topped with sour cream, bacon, and fresh chives. Plus, they only have 2 simple ingredients besides cheese, almond flour and eggs.
¼ cup cheddar
¼ cup mozzarella
2 T. almond powder
1 egg
Garlic powder
Oregano
Chives (fresh or dried)
Pumpkin Spice Chaffles
½ oz. cream cheese
½ cup shredded mozzarella
1 egg
2 T. pumpkin puree
2.5 tablespoons ethryitol or stevia sweetener
½ T. pumpkin pie spice
½ tsp. vanilla extract
¼ tsp. baking powder
(For sweet waffle-style chaffles, omit pumpkin and pumpkin pie spice from this recipe.)
For more keto recipes, tips and support for your lifestyle, visit Keto Journey with Dawn.
Find out how keto works here: Why Ketones Provide Better Fuel For Your Body