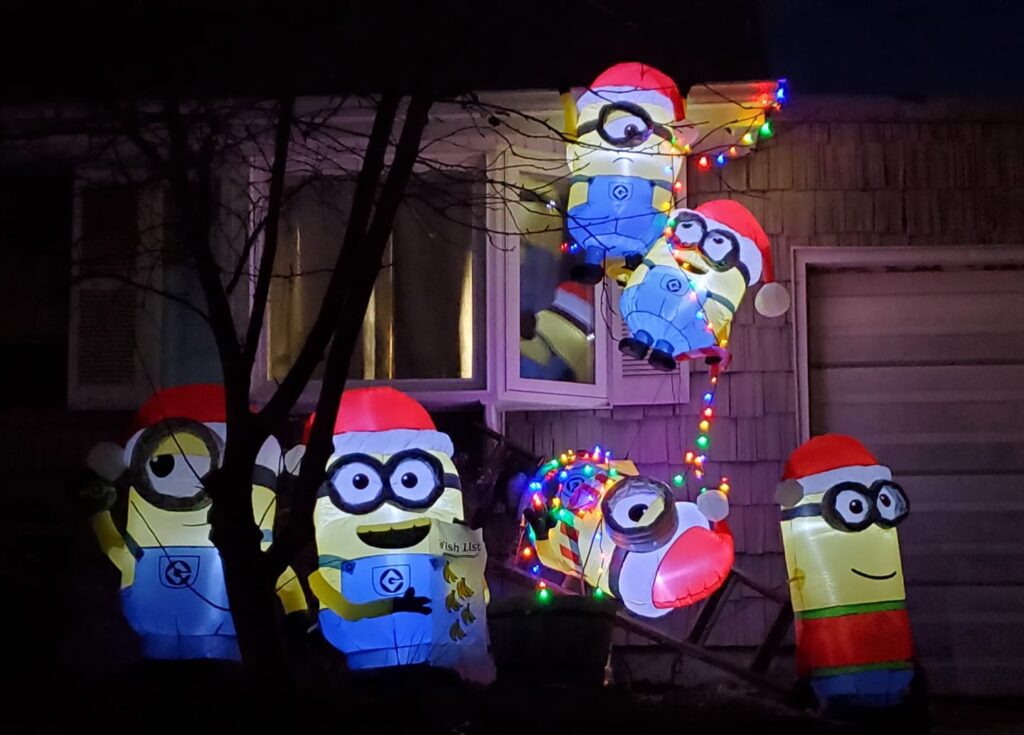 At least we still have drive-through Christmas light shows. Not even 2020 and the pandemic can take that away.
In fact, Christmas light shows promise to be bigger than ever this year as a safe, socially distant activity to get families into the holiday spirit.
Based on my research and personal experiences, here are some of the best drive-through exhibits across New York and New Jersey.
Riverhead Holiday Light Show
Held on the grounds of Long Island Sports Park, the Riverhead Holiday Light Show has been a staple of Long Island's East End for a few years now.
During the year, the complex also offers disc golf, miniature golf, and a paintball field owned and managed by the legendary Cousins Paintball.
Riverhead is known as Long Island's "Gateway to the East End" and, in recent years, has expanded its tourist attractions, shopping, hotels, and restaurants to fulfill that moniker. The light show's location in Calverton, not far from the Tanger Outlets in Riverhead, makes it the perfect ending to a day of shopping and dining. You can even visit the Riverhead Aquarium while you're there. The kids are sure to be so tired they will fall asleep on the drive home!
As far as the light show: It's a dazzling display set to music, and this year's event features more scenes than ever before. Best of all, the light show works with local organizations to help them fundraise for the holiday season.
For Long Islanders who usually frequent the Jones Beach display, Riverhead has fewer crowds, a shorter line, and all the spirit of the holidays. It's open Thursday through Sunday evenings throughout December, and then every evening beginning Christmas week through December 30. You can buy tickets online or at the gate.
Magic of Lights at Jones Beach State Park
Many New York residents consider the Jones Beach State Park Magic of Lights show as "the" Christmas light show to see for the holiday season. The Jones Beach light show went on hiatus for a time, but has come back to the beach for the past four years, running evenings through January 2, except for New Year's Eve.  
The drive-through display dazzles with 2.5 miles of LED lights and digital animations. Synched to music, the Magic of Lights show includes multiple themed scenes such as Winter Wonderland and the 12 Days of Christmas, as well as a multi-colored Blizzard Tunnel. The Toyota Mega Tree Spectacular showcases holiday scenes across 240 feet of LED Christmas trees.
The event is known as one of the best light shows in the area, and this year does not disappoint in that regard. However, it's a drive-thru only event – no roasting s'mores over open fires or pictures with Santa this year. But you can order food through an app and pick it up at the concession stands. Restrooms are also available, as well as a "Santa Letter Drop."

For readers outside the New York area, Magic of Lights events also take place at 10 locations across the U.S. and Canada, including Daytona Beach, Floria; Foxborough, Massachusetts; and Vail, Colorado. Read the full list of locations here. 
You can buy tickets online (credit only) or pay cash or credit at the gate.
Christmas Light Shows and Holiday In the Park at Six Flags Great Adventure
Each year Six Flags Great Adventure in Jackson, New Jersey hosts the Holiday in the Park event with walk-through lighting displays, shows, and costumed characters like Jack Frost. Six Flags also boasts some of the tastiest hot chocolate you'll find south of the North Pole, with free refills in your souvenir mug on the day of purchase, and $1.99 refills every visit after that. 
Holiday in the Park will continue in 2020 with all the usual attractions and roller coaster excitement by day and into the evening on Fridays, Saturdays, and Sundays throughout the holiday season.
This year, it also opens Monday through Thursday after dark for something truly special. Following the successful return of the park's drive-thru safari this past spring, Great Adventure has introduced a drive-thru light display to rival the others on this list.
Drive your car through the theme park, past the coasters and around the bumper cars, to experience Main Street Christmas with its five-story LED Christmas tree, Gingerbread Junction, Snowman City and Stewey (a three-story inflatable snowman) and the North Pole.
Six Flags president John Winkler was right when he stated in a release, "[T]heme park enthusiasts won't want to miss this extremely rare opportunity to drive through the park."
For my family, that's worth the $14.99 per person price of admission. Recalling how cool it was to re-live the Six Flags safari by car this spring, these extra attractions are probably enough to take my family's Six Flags Diamond membership status off "hiatus," an option Six Flags provided to members due to the pandemic.
Be aware that even Season Pass holders or park Members must reserve their tickets online, although your season passes and membership include free admission to both Holiday in the Park and the drive-thru Christmas light show.
The Orange County Fair Holiday Light Spectacular
The Orange County Fairgrounds in Middletown, NY, made the best of the statewide shutdown by introducing a drive-through food truck festival this fall, featuring typical fair foods like fried oreos alongside culinary delights like lobster mac and cheese from chef Austin Flores.
For the holiday season, the fairgrounds have been transformed into a drive-thru winter wonderland. Enjoy lighted displays, multimedia projection shows in a covered arena, and tasty treats – including gingerbread kits you can take home to build and decorate.
The Orange County Fair's Holiday Light Spectacular runs every Thursday through Sunday evening until December 17, and then will be open every evening through January 3. Less than two hours from Manhattan, the Holiday Light Spectacular makes for a fun evening for New York travelers.
Otsiningo Park's Broome County Festival of Lights
Typically home to Spiedie Fest and the Balloon Rally, Otsiningo Park in Binghamton, New York, has also embraced socially distant activities with the Broome County Festival of Lights. Twenty different motifs synch to music on your radio, while more than 300 trees wrapped with lights deliver a dose of eye-catching color. The event runs every evening, open until 10 PM on Fridays and Saturdays and until 9 PM every other day of the week. 
At just $15 per carload, the Festival of Lights is the best bargain on this list, but may not be as accessible to those in downstate New York. If you're local to the region, it's definitely worth a stop. Pack insulated mugs filled with hot chocolate and get set for a fun drive through the lights. 
Christmas Light Shows Start at Home
Don't forget the Christmas light shows around your own neighborhood all month.
With fewer people traveling, we can expect families to spend more time and money wow-ing their neighbors with fantastic feats of technological wonder.
Check local Facebook community groups, Patch community websites, or search Google for listings of at-home holiday displays around your town.