We've seen the info-mercials for at-home exercise equipment. From the Thighmaster to Tony Little's Gazelle, most at-home workouts have their moment in the spotlight. Then they quickly fade into oblivion – or become the subject of jokes. 
My friend and American Ninja Warrior athlete Justin Kydd started creating a series of videos making fun of at-home exercise and pain relief equipment. Here's the first.
Because, let's face it. Few of these at-home health and fitness products work as advertised. 
But the following are some of our favorites at-home workouts that work! They provide quick, efficient, and effective workouts for all ability levels. 
Because in our hearts, we're still geeks. We don't have two hours to spend working out each day. There are video games to be played, crafts to do, and books to read!
Bonus: One of these at-home workouts incorporates video games so you can get your gaming fix while working out!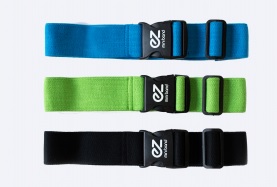 ez mini band
Confession: I've never used workout bands so they weren't on my radar. But I was looking for a convenient at-home exercise tool to carry when I travel. Weights aren't practical, of course. And while there are plenty of exercises using your own body weight, I feel a "prop" helps keep me focused and motivated.
Then I received a set of the ez mini bands for our holiday gift guide. 

I can't say how ez mini bands compare to other exercise bands, but the company's YouTube video says it all, with hilarious visuals and lines like, "Leave the latex to Trojan." I love it.
The company website provides a full array of 1-minute exercises you can do at home – most with no other equipment. But you can also search YouTube and use the ez mini bands on any workout requiring exercise bands.
As for my experience, EZ Mini Bands were easy to use but provided an incredibly challenging workout. I was only able to use the green (light) resistance band, and after a 10-minute workout, my arms were feeling it. I can see why most of the videos on their website are only 1 minute long or less!
The green band provides 20lbs. of resistance, while the blue band offers 35lbs., and the black band jumps it up to 50lbs.
Made from woven polyester and latex, with military grade stitching and a heavy duty molded plastic buckle, the bands were easy to adjust for any exercise.
ClubCal Workout Website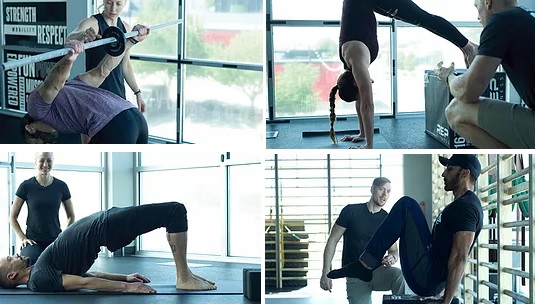 An entire library of workout videos designed for all fitness levels that you can do with or without equipment – from virtually anywhere? Yes, please. 
The ClubCal online portal is a traveler's dream, providing access to an entire library of at-home workouts for everyone from beginners to advanced level athletes. You can also choose from three online courses: 
Calisthenics for Deskworkers
Full Body Mobility 
Stall Bar
The courses come with a 28-day guide to follow, or you can work at your own pace, even combining more than one workout in a day.
Finally, there is live content streamed for those looking for an interactive workout class experience.
I found the Calisthenics for Deskworkers course absolutely perfect for beginners or those who are in shape but want a quick, easy workout in the middle of the workday.
An all-access membership to the site costs $39/mos, or you can purchase the monthly courses for $59 each.
I would prefer if ClubCal was accessible through an app on the smartphone, rather than having to access through a Web browser. But the site was very responsive and mobile-friendly, so I didn't really notice a difference not having an app; it just adds an extra step rather than reaching the at-home workouts with one click. 
Also, the $39 price seems steep when you can find plenty of free workouts online, but ClubCal really delivers a lot of value for the money, especially for those who can't get to the gym because of the pandemic.
The live instruction, printable workout sheets, and access to coaches makes the program a great investment for those who want some guidance with their workouts and exclusive calisthenics routines you can't find anywhere else.
Stealth Core Trainer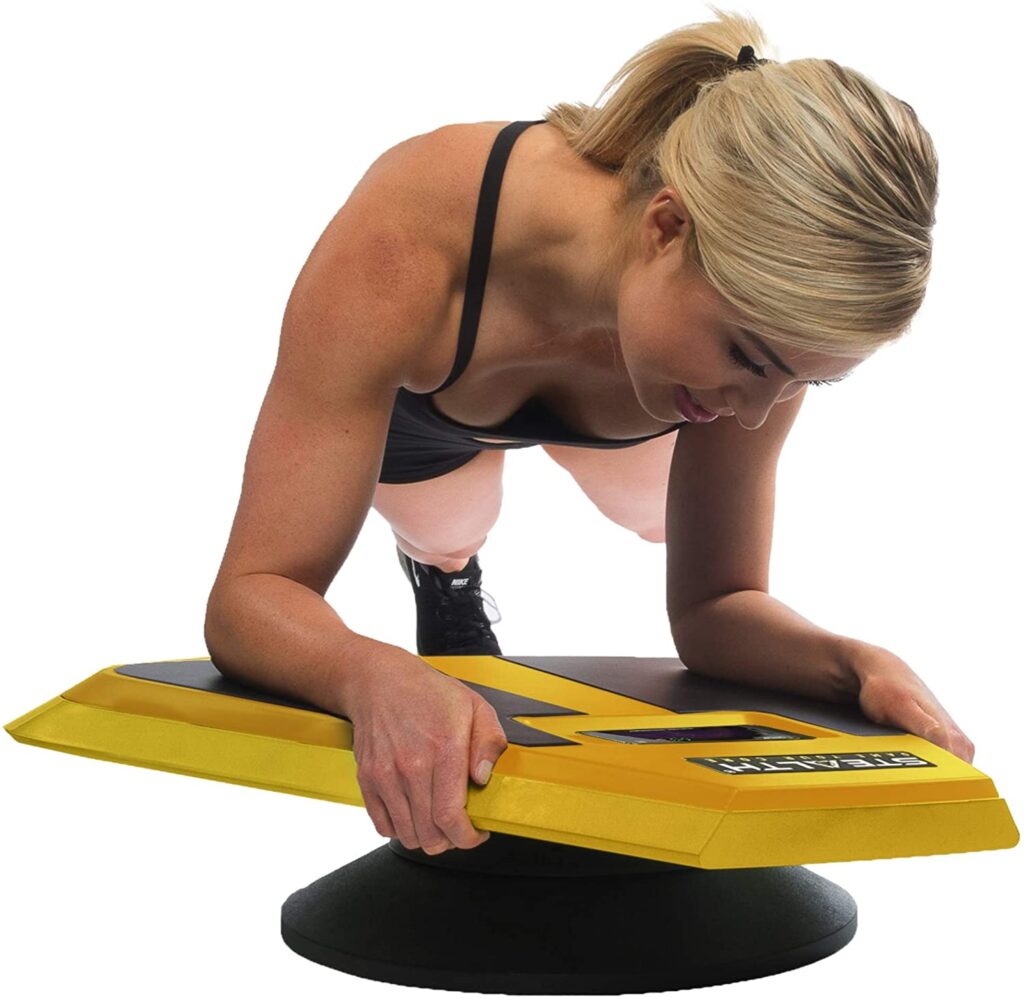 The Stealth Core Trainer was the product that launched my obsession with at-home workout gear. A well-engineered plastic platform that assists with planking exercises, the magic of the Stealth Fitness Trainer lies in its simplicity. 
Download the Stealth app, place your smartphone in the cutout, and play your way to better abs! The app comes with four free games that are fun and challenging.
My favorite is Galaxy Adventure, a space-based game where you move crosshairs over planets to blow them up. (Hmm… now that I think about it – the concept is a bit strange! Why are we blowing up planets?) It has the feel of Asteroids where the goal is to destroy objects coming your way.
You can get access to all the games for $24.99 a year. Right now, Stealth offers 16 premium games, but they frequently add new ones. I haven't found a need to invest in the premium subscription since I'm working on mastering the existing games.
The app also allows you to start challenges with friends, work to get on a leaderboard of users. The longest plank today was 1 hour, 3 minutes and 12 seconds – #goals.
The app also reminds you if you haven't worked out in a few days with a gentle prompt that your Stealth "misses you," and congratulates you on planking streaks.
The Stealth is not as versatile as other at-home exercise equipment, since it's designed exclusively for planks. Some people also use it to add a new element of challenge to push-ups.
But if you're short on time and going to choose one exercise to strengthen your core, planking is your best option. Users have seen incredible results using the planking machine in just minutes a day.
One of the things I love best about Stealth is the user community. Much like Peloton users, Stealth users are passionate about their products and love sharing videos of their workouts. A highly engaged Facebook group of 48.6K users helps keep Stealth owners motivated.
Stealth trainer Matt Morton posts live workout videos and the group also hosts challenges for members. It's a friendly and supportive community that can provide just the push you need when life gets in the way of your fitness routine.
What are your favorite at-home fitness products? Any Peloton people out there? 
(Note: The Stealth core trainer is an affiliate link and Geek Travel Guide received demos of ClubCal and ez mini bands for review purposes.)